Fans turn out to welcome back Hawks
Updated:
September 18, 2010, 9:13 PM ET
By
Jesse Rogers
| ESPNChicago.com
CHICAGO -- The Chicago Blackhawks opened their title defense in front of a big crowd at the United Center on Saturday, although not every seat was filled, as had been earlier expected.
Still, even at three-quarters full, both the new and returning players were in awe of the turnout for a couple of intrasquad scrimmages.
"That was by far the coolest practice I've ever had in my life," winger Jack Skille said. "Usually you have to manufacture that motivation, some days, to get in there and practice like that. Today it was easy."
"I've never seen something like that in all my years of hockey, to see all the support we have from the fans," Patrick Sharp said. "It was exciting to be out there."
[+] Enlarge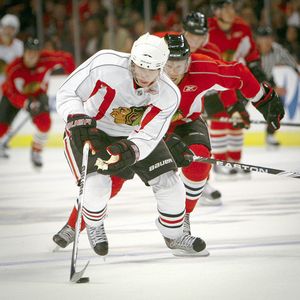 AP Photo/Charles CherneyPatrick Kane skates in front of Jordan Henry on a breakaway during the Blackhawks' first scrimmage of the year.
The fans saw two good scrimmages sandwiched between two practices.
"The building was alive, right from the outset," Hawks coach Joel Quenneville said. "I haven't seen that many people in the building watching a scrimmage at any point."
Outside the building, there were plenty of festivities, which closed some roads and made for heavy traffic. Skille had to revert to some drastic measures so he wouldn't be late on his first day.
"I had to drive on the wrong side of the road," he said. "I was driving into oncoming traffic. It was quite an experience."
The net effect of all the excitement is that the Hawks have become a team that players want to come to. It started with Marian Hossa a year ago and now even role players are looking at Chicago.
"I think it's becoming a destination," newcomer Ryan Potulny said.
Fernando Pisani didn't disagree, adding, "I wanted get into a situation where I could win again."
Although the Hawks still have to work out the kinks that go along with their overturned roster, they know the fans are behind them.
"It's a cool feeling to see the energy behind our team right now," Brent Seabrook said. "The fans haven't forgot."
ESPNChicago.com Blackhawks Blog

The latest Hawks news and notes from ESPN Chicago. Blog
Must-see: Hawks playoff gallery

Patrick Kane, who always tries to put on a show, did in one shootout drill.
"It was pretty cool to skate out there and the fans go crazy," Kane said.
Saturday was the only United Center practice open to the public, but the Hawks can expect more of the same kind of treatment when they move to Johnny's IceHouse West in the coming days.
It's the price of fame and they'll take every minute of it.
Jesse Rogers covers the Blackhawks for ESPNChicago.com and ESPN 1000.
Chicago Cubs beat reporter
Jesse joined ESPN Chicago in September 2009 and covers the Chicago Cubs for ESPNChicago.com and ESPN Radio 1000.
Soft As A Grape Women's Chicago Blackhawks Logo Slub Shirt Shop »