Barack Obama honors Blackhawks
Updated:
March 15, 2011, 12:27 PM ET
By
Jesse Rogers
| ESPNChicago.com
WASHINGTON -- Almost nine months to the day the Chicago Blackhawks won the 2010 Stanley Cup championship, they were honored at the White House by a fellow Chicagoan, President Barack Obama.
The team had a private tour of the White House before a backyard ceremony.
ESPNChicago.com Blackhawks Blog

The latest Hawks news and notes from ESPN Chicago. Blog
Must-see: Hawks playoff gallery

"I have to say, even by Chicago standards, 49 years, that's a pretty long time," Obama said in his speech. "To put that in perspective, the last time the Blackhawks won the Stanley Cup, a movie cost 69 cents. JFK had just moved into the White House. I was still in diapers."
Obama spoke for a few minutes before taking pictures with the team. He was presented with a replica Stanley Cup as well as his own Blackhawks jersey, bearing No. 44 in honor of the 44th president of the United States.
"He seemed real genuine," coach Joel Quenneville said after the ceremony. "A regular guy with a good attitude. Very bubbly. He enjoyed meeting all the guys."
Obama spoke in front of the remaining players from the championship team, including goalie Cristobal Huet and former Blackhawks defenseman Brent Sopel. Members who are new to this season's team stood on the lawn in front of Obama with family, friends and other Blackhawks staff.
Before the ceremony, Obama met the players individually inside the White House.
"Everyone was introducing themselves first and last name and [Niklas] Hjalmarsson just said, 'I'm Nik,' " Patrick Kane said. "That was funny."
The team toured the residence but did not get a view of the Oval Office. Obama spoke of what the championship meant to Chicago.
[+] Enlarge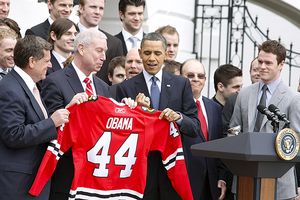 Leigh Vogel/NHLI via Getty ImagesPresident Obama is presented with a Blackhawks jersey at a White House ceremony honoring the reigning Stanley Cup champions.
"In the end, it was about more than just bringing home one of the biggest trophies in sports," he said. "It was about a city coming together behind one team and one goal. It was about a new generation of players and fans understanding what it feels like to be the best in the world. It was about getting the chance to share that experience with others."
The president spoke for about 10 minutes, rehashing some of the moments throughout the championship season as well as mentioning what it meant to people, such as the soldiers the Blackhawks visited Thursday at Walter Reed Hospital.
"I thought he had a great speech," Quenneville said. "A lot of good flashback memories about the route that we traveled. There are some highlights along the way. ... He was a part of it as well and it was great."
For the mostly young Blackhawks, getting to meet the president and tour the White House was unique.
"When it's happening it's kind of surreal that it's really going on and you don't really believe you're actually meeting the president," Kane said. "I think a lot of us when it was happening were saying this was one of the cooler things we've ever done."
And Obama wasn't unaware of what was happening in the hockey world now.
"I don't want to jinx anything, but after winning eight of their last 10 games, I think it might be time for Patrick [Kane] to start growing that playoff mullet again," he joked. "I thought it was pretty sharp, because I want to see you back here next year."
The ardent Chicago sports fan had one more message for the city's teams -- even the Cubs.
"And let me, yes, just say to all the Bears fans, Bulls fans, White Sox fans, and [pause] Cubs fans, I want to see all of you sometime soon, as well."
Jesse Rogers covers the Blackhawks for ESPNChicago.com and ESPN 1000.
Chicago Cubs beat reporter
Jesse joined ESPN Chicago in September 2009 and covers the Chicago Cubs for ESPNChicago.com and ESPN Radio 1000.