Name that '?'
Updated:
January 4, 2011, 11:50 AM ET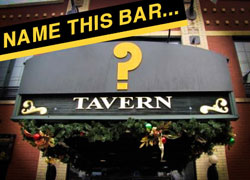 Customers, new and old, will be asked to help re-name the Tavern and for doing so will be rewarded handsomely. In addition to a name, a tag line and/or logo are encouraged.
The winning submission will receive:
WINNER will receive an all-expenses paid trip for two to Arizona for Spring Training!
PLUS a chance for a meet and greet with players!
PLUS a pre-grand opening VIP Party for up to 200 guests!
PLUS the chance to go LIVE on-air with the Afternoon Saloon from Spring Training!
Five finalists will receive four tickets for a VIP ROOFTOP viewing of a Cubs game at Down The Line Rooftop!
All five will also be invited to the VIP Selection Party on March 5 with ESPN talent!

All names submitted with a tag line should accomplish 3 objectives:
To be "the spot" for Cubs games, this would include a family-friendly environment pre-game and a more lively environment and reputation post game.
To have the single best reputation of watching every sporting event, with a focus on college football, basketball, hockey and pro football.
To have a solid Night Life following on weekdays and weekends.
Contest ends at 11:59pm CT on Thursday, February 24, 2011.