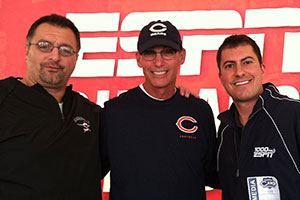 Coach Trestman stops by the booth in Bourbonnais.
Hosts: Carmen & Jurko
Weekdays 10:00 AM - 2:00 PM
E-mail: cj@espnchicago.com

Join ten-year NFL veteran John "Jurko" Jurkovic & Carmen DeFalco weekdays from 10 a.m. - 2 p.m. CT as they host the most entertaining sports talk roundtable in town.

Follow the guys on Twitter @CarmenDeFalco and @Jurko64.
PODCASTS
Never miss a show. Download or stream Carmen & Jurko podcasts.

LIVE ON ESPNCHICAGO.COM
ESPNews
6:30 PM-10:30 PM


All Times CT On-Air » Streaming »
jorgeccastillo Jorge Castillo
Here are the rules for the Mystics-Lynx scrimmage. http://t.co/Fhsn81vtx6
about 3 hours ago

jorgeccastillo Jorge Castillo
In 2nd, there'll be modified pacing rules. 20-sec shot clock, shot clock resets to 14 seconds on offenseive rebs, 1 timeout per team, etc.
about 3 hours ago

SarahSpain Sarah Spain
Very cool! RT @jorgeccastillo Mystics & Lynx playing an "analytic scrimmage" Tuesday. Two 10-min periods. In 1st midrange shots don't count.
about 3 hours ago

SarahEvonne Sarah Galo
.@Arngrim Two other important excerpts: police are secular/last resort, everything supposed to be internal http://t.co/7nMZohguWn
about 3 hours ago

SarahEvonne Sarah Galo
Gothard's materials advised reporting to authorities as last resort. #Duggars followed http://t.co/rBaF5qV1I0 http://t.co/OwZTBdQMsR
about 3 hours ago

SarahEvonne Sarah Galo
The Duggars use Bill Gothard's Advanced Training Institute for homeschooling. This is how sexual abuse is approached: http://t.co/hSqOKUk0uv
about 3 hours ago

hfactor43 Harry Sikma
What a great way to spend part of my bday tomorrow ...listening to #spainandprim @SarahSpain @ESPNPrim #womentalkingsports!
about 4 hours ago

SarahSpain Sarah Spain
Yep. 12-2ET RT @BwMcG13: @SarahSpain @ESPNPrim Do you ladies have a show tomorrow?
about 4 hours ago

SarahSpain Sarah Spain
Congrats! #GoBigRed RT @EliseMenaker: Made an announcement on air & my Facebook page today. You can check it out: https://t.co/o3RTRERM4S
about 4 hours ago

SarahSpain Sarah Spain
Closed, you say? Guess I'll have to go home... https://t.co/H1KFiF1CMI
about 5 hours ago

SarahSpain Sarah Spain
A family reunion in Cleveland is a particularly cruel kind of punishment for a newly burned Bulls fan. https://t.co/NgK48SkPGp
about 6 hours ago

SarahSpain Sarah Spain
"Presidential" seal of approval... RT @usweekly: Mike Huckabee defended Josh Duggar: http://t.co/z5O1CzmAes http://t.co/IrJHJMMEUZ
about 6 hours ago

lindacohn Linda Cohn
Unreal. http://t.co/xeL0N12A2R #bettman #CTE
about 7 hours ago

iSmashFizzle Ashley Ford
I'm sick of the world teaching girls and young women that their bodies are less valuable than a boy or man's potential to change.
about 10 hours ago

iSmashFizzle Ashley Ford
The devastation of battling your own shame, looking for protection, only to be told that he was "tempted" and "good girls learn to forgive."
about 10 hours ago

iSmashFizzle Ashley Ford
This Duggar thing makes me think about how many girls work up the nerve to tell, then watch nothing happen to their assailants.
about 10 hours ago

SarahSpain Sarah Spain
Worth it just for the Offerman note at the very end... MT @StephStradley: @GQMagazine cover story on Chris Pratt http://t.co/re8A16Tg48
about 10 hours ago

ChiCityBrian Brian Malone
Amazing GIF. Even the catcher has no idea where it's headed in the last 5 feet. https://t.co/R0NyaM5P08
about 11 hours ago

janesports Jane McManus
Angry at Isiah: @Record_Tara reacts to Thomas' post-harassment redemption bid with WNBA's Liberty: http://t.co/xFc7umLIwD
about 11 hours ago

janesports Jane McManus
Liberty have to accept Thomas, legally found to create hostile work environment for women, in order to get what other MSG teams do. #Sexism
about 11 hours ago