Commentary
Red Devils' dynamic tennis duo
Seniors could end up facing each other in state finals
Originally Published:
October 21, 2009
By
Scott Powers
| ESPNChicago.com
HINSDALE, Ill. -- If Hinsdale Central seniors Nida Hamilton and Hanna Mar meet in the girls' tennis state tournament this week, Red Devils coach Jerilyn Scardina plans on taking a seat and cheering for both.
She's going to enjoy the moment. That's it.
"You hope they meet because if they meet that means they're playing for the championship, or the very worst, a fifth-place medal," said Scardina before the tournament began on Thursday. "We won't coach them. If they're playing, it's, 'Go Hinsdale.' You hope they go out and both play well. It'll be battle if they do."
A fifth-place matchup is unlikely. It's more probable the two would face each other in the state singles championship as neither has lost all season, both have previously finished second in state, and they enter the tournament as the top two seeds. Mar received the No. 1 seed.
[+] Enlarge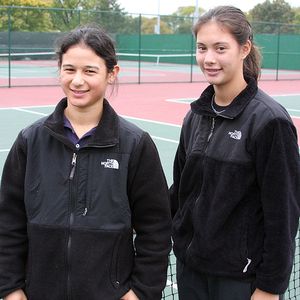 Scott Powers/ESPNChicago.comHanna Mar (left) and Nida Hamilton (right) could face each other in the state tennis tournament finals.
And if the two Hinsdale Central stars were to play in the championship, it would also likely mean the Red Devils had clinched their fourth consecutive state team title. Just don't mention that to Hamilton or Mar.
"Everyone is talking about the four-peat," Mar said. "You don't want to think about it too much. You just want to stay relaxed."
Hamilton said, "Me and Hanna, I'm sure we kind of think about it to ourselves, but don't really make a big deal about it."
Mar and Hamilton are the same in that respect and they're friends, but most of everything else about them is different.
Mar has the more outgoing personality. Her tennis game revolves around her power and aggressiveness. Her serve is dynamic. She's committed to Duke.
Hamilton is more reserved. She says little and goes about her business. On the court, she appears at all times as if she's playing on clay, with the way she glides across the court. She wins more points by using spin and angles. She's committed to Northwestern.
They do share a competitive level. They face each other in every practice, and it's never certain which way the match will end.
"Oh, yeah, our practices are so competitive," Scardina said. "Every drill has to have a winner at the end. When they hear the two-minute warning, they're running around like crazy to get those final points. Having players like Hanna and Nida on the team, it raises the level of play of everyone else because they're so competitive in everything they do.
"In fact, I was talking about people being sick at school, and I said, 'A lot of people are home with the fever, Nida.' She said, 'No one with a 104 like I had.' I said, 'No.' She said, 'I won.'"
Hamilton and Mar would have met in last week's sectional singles championship, but because Hamilton was still batting her flu and was coughing, they decided it was best not to play. Earlier in the season, the two also were set to play, but decided just to flip a coin for the winner as Mar was the one feeling under the weather then. The last time they did play in a competitive match Nida won.
So if they do meet again? No one is predicting the outcome.
"It'd be fun to play her," Hamilton said. "We've played against each other quite a bit, especially during the season in practice. Lately, we've been going back and forth. It depends on who is having a good day. It could go either way."
Mar feels the same way. Wherever their seasons and careers do end this week, Mar says she's fortunate for having had Hamilton at her side throughout.
"It's really good to have her," Mar said. "We're both playing singles. We both want to practice similarly. Being able to practice with each other every day is good for the both of us. We're both comparable in our level of talent.
"We are good friends. That's part of what makes the team so fun, to have a really good friend on the team who's with me playing singles and everything, another senior who has a lot of the same goals and expectations."
Scott Powers covers high school and college sports for ESPNChicago.com and can be reached at preps@espnchicago.com.
Reporter
Scott Powers is a general reporter for ESPNChicago.com. He is an award-winning journalist and has been reporting on preps, colleges and pros for publications throughout the Midwest since 1997.