Commentary
Something to prove
Geneva's Boenzi determined to shine at NIU after Big Ten schools passed
Updated:
February 3, 2010, 11:36 AM ET
By
Scott Powers
| ESPNChicago.com
GENEVA, Ill. -- The reality of his college football future struck Geneva defensive tackle Frank Boenzi before his senior year.
[+] Enlarge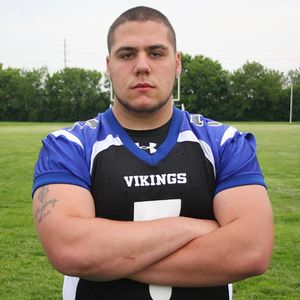 Scott Powers for ESPN.comNIU stood by Frank Boenzi despite his academic problems, and he's anxious to reward the Huskies' faith.
Boenzi had always assumed he was fated for the Big Ten. He had a Big Ten body and Big Ten ability -- as Geneva coach Rob Wicinski put it, "He has the unique body control of a 200-pounder in a 300-pound body."
The problem has never been his skill. Big Ten schools did want the 6-foot-3, 320-pound Boenzi, as they knew he has the makings of menacing defensive tackle at the next level. They just weren't so eager to have him as a student.
"I think the recruiting process humbled him, and a little bit of humbling was good for Frank," Wicinski said. "I think he found out he was going to have to go a different direction with his academics. The summer going into his senior year, when you finally start putting the numbers together, it was a real shocker for him."
Faced with the facts, Boenzi quickly realized he wouldn't be playing Division I football in the Big Ten or elsewhere unless he changed.
So he changed.
Boenzi began opening his books more and dedicating himself to the classroom the same way he did the weight room. He sought out help and took advantage of Geneva's academic support systems. In time, Boenzi made progress, and while the Big Ten schools and mostly everyone else had backed off, Northern Illinois stuck around just in case he did turn his grades around.
On Wednesday, Boenzi will sign with Northern Illinois. Although his academics still aren't in perfect order and there's a chance he may not be ruled eligible by the NCAA to play next season, Boenzi will be grinning as he inks his signature. His grades have vastly improved, and he is ultimately going to play Division I football.
"Honestly, it is what it is," Boenzi said. "I'm not going to sit here and cry about it. I'm very grateful that NIU would take a chance on me. I probably wouldn't be going anywhere if it wasn't for them, maybe a junior college, if that.
"I believe this is the program that will help take me where I need to go. If it's the NFL, then so be it. NIU gives me an equal opportunity for where I want to go."
Northern Illinois coach Jerry Kill has taken a risk with Boenzi, but it's one with a chance for high rewards. Boenzi would be a recruiting steal if everything works out.
"This is downright thievery at its utmost," Wicinski joked. "Coach Kill might get locked up. Frank's going to give them size with speed. A lot of times that's difficult to find at the MAC level. He'll give them 310 pounds and can get off the ball quick. He reminds me of the stuff [I see] when I watch bowl games."
There is more to Boenzi than his skill and size. He also has an edge. He's not simply looking to tackle a running back or sack a quarterback; he's out to punish them the first time so they're terrified of him the second, third and fourth times around.
"He finishes," Wicinski said. "He finishes his tackles. He finishes his hits. He doesn't just lay on you. He really drives. He has an urgency to get where he needs to get. That's a specialty."
Boenzi described it as his "nastiness" on the field, and where it comes from is his dissatisfaction with everything he does.
"I'm so hard on myself," said Boenzi, who had 73 tackles and five sacks as a senior. "I can have two sacks and 10 tackles, and I won't be satisfied with the way I performed. That's what pushes me to finish tackles, finish sacks.
"I hope they're scared of me. I hope going into a game they're worried about me."
Wheaton Warrenville South coach Ron Muhitch witnessed the type of impact Boenzi could have on a game in the Class 7A playoffs this season. Boenzi seemed to be in the Tigers' backfield nearly every snap.
"I saw him dominate the line of scrimmage in 2008-2009 in Geneva's run to the state runner-up, and I saw firsthand this year his abilities to physically control the line of scrimmage in our game at Wheaton Warrenville South," Muhitch said. "Northern is getting a great defensive lineman."
Boenzi still does have some academic work to do if he's going take the field for Northern Illinois next season. He has to pull off two A's this semester and pass a few online courses before the end of the summer. He also will be retaking the ACT later this month in hopes of improving on his last score of 19.
Boenzi's efforts are driven by his desire to play sooner than later, but he also would just love to silence his doubters.
"I remember after it got out to the newspaper that I committed to Northern, I was reading a blog," Boenzi said. "People were giving me a 25 percent chance to get through college. It got me going. These people don't know me. They don't know my situation. They don't know how I've changed, how I've matured.
"It's a pride issue. I can do it, and I can succeed."
Scott Powers covers high school and college sports for ESPNChicago.com and can be reached at preps@espnchicago.com.
2010 PLAYER COMMITS
Here's a list of the players verbally committed to Jerry Kill and Northern Illinois.
Reporter
Scott Powers is a general reporter for ESPNChicago.com. He is an award-winning journalist and has been reporting on preps, colleges and pros for publications throughout the Midwest since 1997.