Commentary
Turning the page
As McDonald's All-American, Richmond putting disappointing state finish behind him
Updated:
March 31, 2010, 5:13 PM ET
By
Scott Powers
| ESPNChicago.com
Waukegan's Jereme Richmond still doesn't agree with the official's charging call against him in the Class 4A state semifinals.
[+] Enlarge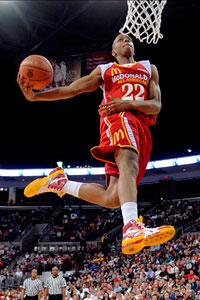 Henny Ray Abrams/HO-McDonald'sSome have speculated that Waukegan's Jereme Richmond might play just one season at Illinois before jumping to the NBA.
Since that game on March 19, people have sent Richmond photos and video of the dunk, and he's now more than certain he cleanly threw the ball down over Whitney Young's Sam Thompson.
"It was a pretty exciting dunk," Richmond said. "Unfortunately, I didn't get the call."
Although Richmond might never be able to think of the state tournament without remembering that moment, he has moved on otherwise after Waukegan took a disappointing third place at state. His focus has shifted to Wednesday's McDonald's All-American Game.
"It's over with," said Richmond after a practice in Columbus, Ohio. "It's a new chapter. This is a good way of getting over it. Being a McDonald's All-American means everything to me. I've worked toward this and proven I'm one of the best in the country."
Richmond, an Illinois recruit, doesn't have high expectations for the game. He wants to showcase himself and represent the state, but he isn't stressing about it.
"I just want to have as much fun as possible," said Richmond, who was the ESPNChicago.com Player of the Year. "We're under a lot of scrutiny and pressure with NBA scouts. The ideal game for me would be double-digit points, a couple good passes and just have fun with the guys. I just want to pick and choose my spots. I was at first worried about not shooting the ball and not being aggressive. It's no pressure to me now. I feel like we've been chosen for a reason. We just need to do what we do."
ESPN recruiting coordinator Reggie Rankin has been impressed with what Richmond has done throughout the week's practices.
"He's really exciting in transition," Rankin said. "He's showed off his ability to finish and that he can stop and pop. He's really been active. He's been able to show his skill and athletic ability."
Often, Richmond, ESPN's 23rd-ranked prospect, has faced fellow small forward Harrison Barnes, the top player in the 2010 class and a North Carolina recruit, in the practices and held his own.
"He's competed against Harrison Barnes," Rankin said. "I don't think there's a lot of separation between them. I think Harrison Barnes is a little stronger, a little more physical. He's got more of a package in terms of he can create his shot, he's a little bit better rebounder.
"Jereme's as skilled as any wing in that class. Jereme's a better 3-pointer. He has to get stronger so he can be more physical."
Some have speculated that Richmond might play just one season at Illinois before jumping to the NBA. Rankin doesn't think he'll have that opportunity. In fact, Rankin doesn't believe the 2010 class has any one-and-done prospects at this time.
"When you talk about one and done, you talk about a guy who consistently dominates," Rankin said. "I don't think there's a guy who consistently dominates in this class. I think there are guys who are consistent and good."
Richmond is the first Illini recruit since Dee Brown to play in the McDonald's game. As a state, Illinois didn't have a representative last year, but Oak Park's Iman Shumpert (Georgia Tech), Farragut's Michael Dunigan (Oregon), Simeon's Derrick Rose (Memphis and the Chicago Bulls), Crane's Sherron Collins (Kansas) and Glenbrook North's Jon Scheyer (Duke) were selected recently.
Scott Powers covers high school and college sports for ESPNChicago.com and can be reached at preps@espnchicago.com.
Reporter
Scott Powers is a general reporter for ESPNChicago.com. He is an award-winning journalist and has been reporting on preps, colleges and pros for publications throughout the Midwest since 1997.
2010 MCDONALD'S ALL-AMERICANS

The 2010 McDonald's All-American Game will feature 24 of the nation's elite high school basketball prospects. The contest, which in the past has featured stars such as Michael Jordan and Kobe Bryant, takes place Wednesday, March 31 (ESPN, 8 p.m. ET).