Thompson down to five schools
Updated:
June 9, 2010, 8:34 PM ET
By
Brendan Murphy
| ESPNChicago.com
RIVERSIDE, Ill. -- Sam Thompson has a plan.
The rising senior forward from Chicago's Whitney Young is well aware that the recruiting process, on a good day, is organized chaos. Thompson, the nation's No. 55-rated prospect, is doing the best he can to maintain some form of order.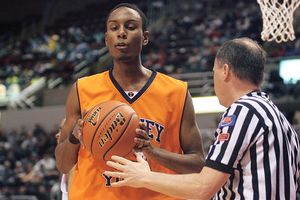 Scott PowersSam Thompson has a busy summer ahead.
"I have a top five right now," Thompson said at this past weekend's Riverside-Brookfield Shootout. "I don't know if it's completely final but that's the looks of things. Ohio State, Oregon State, Florida, Georgetown and Kansas, and that's in no particular order. & As of right now, I'm going to take all five of my visits to those schools and hopefully decide before [the early signing period in November.]"
Although he doesn't have an Illinois school on his list, many of Thompson's potential college destinations have had much recruiting success in the area.
"That's definitely something that's a plus, having a good Chicago connection, but I wasn't looking for a Chicago connection when I was making my school list," he said. "I was more looking for the best fit for me personally."
As far as the criteria that might impact Thompson's decision, he is very interested in what systems the teams run and how he fits.
"Two of the schools on [the list] run a Princeton offense [Georgetown and Oregon State]," Thompson said. "Then you have Ohio State, more of a slow down team. Florida really likes to get it out there and run along with Kansas. So I have a few different styles of play on there. & I'm going to look more deeply into that this summer."
Thompson will spend his summer playing for the ubertalented Mac Irvin Fire travel team. He also will be attending the NBPA Top 100 Camp, the Kevin Durant Skills Academy and the LeBron James Skills Academy.
"I want to have good showing at all the camps," Thompson said. "I want to have a good showing in July and try to become an all-American. I just want to play as well as I can."
Sobolewski has suitors
Benet Academy's Dave Sobolewski was one of the area's top guards as a junior, and colleges have taken notice. The sharp-shooting point guard has nearly 20 scholarship offers, the most recent of which came from Tulane.
Sobolewski has yet to garner an offer from a high-major program, but he has gotten a few looks -- most notably from Northwestern and Notre Dame.
The league that has shown the most interest in his services is the Missouri Valley Conference.
"The caliber of play [in the Missouri Valley] is great and also it's a basketball conference, which is awesome," he said. "It's definitely interesting,"
"What I'm looking for is motion, a lot of ball screens because I like to have the ball in my hands. I'm going to take a lot of time in the summer to look at everything. I'll make my decision, most likely, in the early fall."
Notes
Sobolewski is hardly the only returning star on Benet's roster. Big man Frank Kaminsky has recently landed a few high-major offers, the most recent of which came from new DePaul coach Oliver Purnell. Kaminsky, who stands 6-foot-10 and can consistently knock the outside shot, has five offers total -- Wisconsin, Northwestern, Northern Illinois and Bradley are his other suitors.
At one point, ESPNU Super 60 forward Mike Shaw (Chicago/De La Salle) ending up at Louisville with AAU teammate Wayne Blackshear (Chicago/Morgan Park) seemed like a forgone conclusion. According to Nick Irvin, who coaches both players on the summer circuit, that's unlikely to happen. "I don't think Louisville's on his list," Irvin said. "Mike Shaw's wide open."
Hillcrest (Country Club Hills) produced former Marquette guard Maurice Acker, and the school may have another player in that mold in 5-10 lead guard Julius Brown. Brown's only offer to this point is from Tennessee State. However, he is getting interest from Ohio, Western Michigan and Nebraska.

The lightening-quick Brown says he looks up to Acker.

"When he comes back [to Hillcrest] he helps me on my game and gives me advice on what I should be doing," Brown said. "It's just competitive when he comes back because we always play against each other."
Glenbard East topped Downers South in the title game of the Riverside-Brookfield Shootout. East guard Johnny Hill earned MVP honors.

Brendan Murphy is an associate editor for ESPNChicago.com.