Commentary
ESPNChicago.com's Athlete of Week
Geneva's Kat Yelle leads the undefeated Vikings
Updated:
March 11, 2010, 3:09 PM ET
By
Scott Powers
| ESPNChicago.com
GENEVA, Ill. -- If Geneva junior point guard Kat Yelle had her way, every opponent would press the Vikings.
She gets excited whenever she sees the other team setting up for it. She enjoys the challenge of dissecting whatever type of press is thrown her way. The increased speed of the game exhilarates her. She loves that every press can turn into a Geneva layup or a turnover, with one's instincts usually deciding that fate.
[+] Enlarge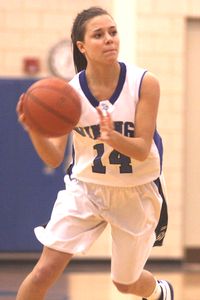 Scott Powers for ESPNChicago.comGeneva's Kat Yelle has led the Vikings to an undefeated record this season.
There's also the fact that Yelle, the ESPNChicago.com Prep Athlete of the Week, has had plenty of success at breaking presses. Her ability to set up easy baskets for herself or her teammates has been a major factor in Geneva's having won its last 51 regular-season games.
"I like the fast-paced game," said Yelle, who began starting as a freshman. "I like to get fast breaks. I want to get the shots and get the layups. It's more fun. It's the way I like to play. It's the rush, I guess."
That rush was at its peak against Hillcrest at the McDonald's Shootout earlier this month. Both teams were highly ranked, and both wanted to push the tempo. Hillcrest pressed Geneva possession after possession. With the Hawks' players being a different level of athleticism than Geneva was used to, it presented a new challenge for Yelle and the Vikings.
During the second quarter, Yelle came off the floor for a short bit, and Hillcrest immediately went on a 9-0 run. From there, she didn't leave it again. In the end, Yelle would finish with 15 points, but her presence went beyond the stats in Geneva's 66-61 win.
"She handled the ball pressure and ran the fast break well," Geneva coach Gina Nolan said. "Without her on the floor, we wouldn't have had the success we had."
A year ago, Yelle was an important piece to Geneva's Class 4A fourth-place finish at state, but it was Taylor Whitley's team. Whitley, who now plays at Indiana State, averaged 20 points per game and often had the ball in her hands.
Now, while Geneva is more of a balanced squad, Yelle has undoubtedly stepped into Whitley's shoes.
"For one thing, her scoring average is way up," Nolan said. "She's just also so much more confident, and she's really developed into one of our leaders on the floor. She's kind of our go-to person. She's there when we need to handle a press, and not many teams press, and Kat's a reason for that.
"Scoring is the thing you can see in the black and white, but she does so many things for us that don't make it into the stat sheet. I think with the graduation of a couple of strong senior leaders she knew that it was the spot she would step up into."
Yelle's game has progressed in the past year, but she's always been a confident player. She especially displays that whenever she and her 5-foot-8 frame race into the lane and look to challenge her opponents' tallest players.
Nolan will never forget how Yelle went at Lake Park's 6-foot-3 Sam Arnold, who is now playing at Michigan, and scored over her in last year's sectional championship game.
"Kat took it to the basket right up and over Sam Arnold," Nolan said. "She's confident in her ability. She's strong for her size. She plays so hard. She goes hard to the basket no matter who it's against. It's part of her competitive nature."
Yelle is out to finish off what Geneva started last season. The Vikings went undefeated last year until they reached state and then lost to Whitney Young by 21 points in the semifinals and by 19 to Wheeling in the third-place game. Yelle knows there are some doubters out there who believe Geneva can't win the big games, and she feels that the Hillcrest win was a step toward silencing those people.
"A lot of people were saying, 'They aren't that good. They're not beating anyone,'" Yelle said. "I like proving people wrong. I want to get to the championship round at state. It'll prove myself and my teammates."
Muscle Milk Performance of the Month
Find out more about Muscle Milk by becoming a fan on Facebook. More
Yelle has taken care of her college decision already. She committed to Ohio in August after being impressed by Bobcats coach Semeka Randall, a former WNBA player, and the school's broadcasting department. Her plan is to pursue a sports broadcasting career.
"It felt like home for me to be there," Yelle said.
Nolan is glad Yelle isn't leaving anytime soon for college.
"We feel lucky she's on our team," Nolan sad. "Her work ethic and love for the game are awesome. I'm glad that I have her for another year. I sometimes can't believe I have her for another year."
Scott Powers covers high school and college sports for ESPNChicago.com and can be reached at preps@espnchicago.com.
Reporter
Scott Powers is a general reporter for ESPNChicago.com. He is an award-winning journalist and has been reporting on preps, colleges and pros for publications throughout the Midwest since 1997.
PREPS PLAYER OF THE WEEK

Each week, ESPNChicago.com profiles to the top local high school athlete of the week.

Players of the Week
More links