Commentary
ESPNChicago.com's Athlete of Week
Fenwick's Tricia Liston is ESPNChicago's girls basketball player of the year
Originally Published:
March 3, 2010
By
Scott Powers
| ESPNChicago.com
Fenwick senior Tricia Liston is the type of person who is continually on the move. For most of her life, that has meant playing basketball.
[+] Enlarge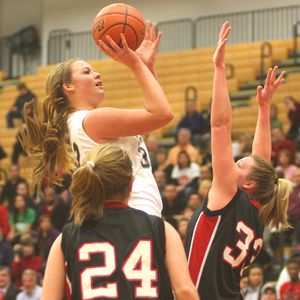 Scott Powers for ESPNChicago.comFenwick's Tricia Liston is the 2009-10 ESPNChicago girls' basketball player of the year.
Whether for Fenwick, on the AAU scene or simply shooting around by herself, Liston has rested little throughout her past four years. Even when she has had the occasional day off, she's rarely spent it at home, relaxing.
But in December, Liston was forced to do just that. Midway through what had already been a remarkable individual season, Liston was diagnosed with mononucleosis, and the only solution to get better and return to the court was rest.
Liston begrudgingly followed her doctor's orders and plopped herself on the couch for two weeks despite being devastated by the news and frustrated she was unable to help her team. Liston did surprisingly take to it at first, being unaccustomed to laziness.
"The first two days was maybe fun, but then I didn't enjoy it," she said. "I think it almost got harder as the days went on. I kept wondering when I could play."
Liston slept and watched movies to get through the boredom. There were days she would watch up to four movies.
Finally after what seemed like an eternity to Liston -- three weeks in real time -- she was cleared to play again. What type of player or what she'd be able to contribute was unknown. Liston was never worried, though. After a few weeks of doing nothing, she was prepared to do everything to get herself back to form and advance Fenwick to the state tournament.
On Monday, Liston completed that mission. After two months of pushing herself to new limits and even exceeding her individual capabilities prior to being sick, Liston and her Friar teammates raised a super-sectional championship plaque and earned a spot in the Class 4A state tournament.
However Liston's season unfolds this weekend in Normal, Ill., she plans to smile plenty. From reaching state to overcoming mono to averaging nearly 30 points a game, Liston, the ESPNChicago.com girls basketball player of the year, couldn't ask for anything more from her final high school season.
"I think it's a great senior season, a great way to end your senior year to accomplish everything," Liston said. "It definitely surpassed what I had expected. I did imagine there were chances and hopes of these things happening."
Fenwick coach Dave Power was among those who didn't know what to exactly expect from Liston when she came back to the team in early January. He realized it would be difficult for her to repeat what she accomplished early in the season. She had gotten off to such a splendid start to the year as she scored 39 points in her season debut. In November, she poured in 41 in the Niles North Thanksgiving tournament championship.
Power also realized it wasn't smart to doubt Liston. This was the same player who as a freshman had 10 points, seven rebounds and three steals in Fenwick's state championship win over Bolingbrook. Liston was known to do extraordinary things.
"Mono is certainly very scary because you just don't know how an athlete or anybody is going to respond," Power said. "I think the thing about Trish is she is so determined. You hear that over and over -- refusal to lose. She's such a competitor. She does everything possible to win, to lead her team.
"I was amazed that she was able to come back as soon as she did and play at a high level and maybe even a higher level than she did before."
Liston does believe she's playing better now. Mainly, she feels in her time off she developed a greater understanding of her teammates by watching them closely during the practices and games she had to sit out.
In Monday's win over Niles West, Liston, a 6-foot guard, deferred to her teammates often. Liston finished with a game-high 26 points, but she did so efficiently as she shot 9-for-16 for the field.
Scoring is what Liston is best known for. Twenty six points would be a great night for most. For Liston, it fell under her average as she's gone for 28.6 points per game this season. She's had seven games of 35 or more points with her career-high coming with a 43-point performance just two weeks after her comeback.
"She gets them in a lot of different ways too," Power said. "She is, in my opinion, the most exciting player I've coached and I've ever seen at a high level. She's just so prolific at putting the ball in the basket. I don't think there's anyone who's done it better."
One of Duke coach Joanne McCallie's favorite stories about her future recruit was watching Liston during a Fenwick practice.
Muscle Milk Performance of the Month
Find out more about Muscle Milk by becoming a fan on Facebook. More
"I saw her in the fall, and she was scrimmaging," McCallie said. "She hit 10 straights threes. On one particular one, she fell down. I said to my assistant, 'If she hits this one, she's unbelievable.' She was on the floor, jumped up, got the ball and made that one, too. It was one of the neatest times I saw her play.
"She has an opportunity with hard work and coming in prepared and working in the weight room to be an immediate impact for us. We don't have a lot of shooters. We don't have anyone with the confidence she has. More important with her complete game, she has a chance to be very special at Duke. We have no player like her ... I can't wait to coach her."
Like everyone else, ESPN HoopGurlz's Glenn Nelson has always been impressed with Liston's scoring. What he considers the true brilliance of Liston, though, is her knowledge of the game.
"I think her scoring during her senior season is not a shock," Nelson said. "It isn't why we liked her as a college prospect. We think she has really good size for the next level and a good assortment of tools to work with.
"She's always in the right place, which girls in general don't play in the same way or manner the boys do in high school. Somebody who has basketball instincts stands out. She's got that thinking through and being a step ahead of the defense and her teammates. Even though she's not the highest jumper and isn't seemingly quick, she can make things happen."
Liston will likely have to make a lot of things happen this weekend for Fenwick to have a chance at another state title. Bolingbrook and Whitney Young are the favorites.
Of course, a 50-point game from Liston could do wonders.
"Being a senior, I know in the back of my head that these are the last two games I will play in high school," Liston said. "The will to do anything, to not let it end, will be there. I want to go out with no regrets."
Scott Powers covers high school and college sports for ESPNChicago.com and can be reached at preps@espnchicago.com.
Reporter
Scott Powers is a general reporter for ESPNChicago.com. He is an award-winning journalist and has been reporting on preps, colleges and pros for publications throughout the Midwest since 1997.
PREPS PLAYER OF THE WEEK

Each week, ESPNChicago.com profiles to the top local high school athlete of the week.

Players of the Week
More links