Commentary
ESPNChicago.com's Athlete of Week
Evanston's Garrett Jones dropped 51 points in a game against Mundelein
Updated:
January 11, 2010, 9:52 PM ET
By
Scott Powers
| ESPNChicago.com
EVANSTON, Ill. -- Garrett Jones had an idea he was heading into a shootout when Evanston met Mundelein last week.
Jones knew Mundelein loved to run, and he knew his good friend, Iowa recruit Ben Brust, would be looking to have a big night on him.
What Jones never anticipated was he would finish with a career-high 51 points while Brust countered with 50 of his own.
[+] Enlarge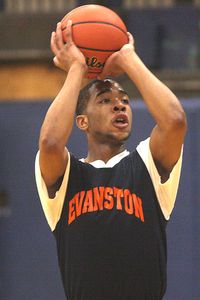 Scott Powers/ESPNChicago.comEvanston's Garrett Jones may start to get more attention from some top college programs after some big games.
That performance, along with two other 25-point games for the undefeated Wildkits last week, makes Jones the ESPNChicago.com Prep Athlete of the Week.
"It's fun scoring a lot of points and then also going against an opponent who you're close friends with because you know you're going to bring the best out of each other," said Jones, a 6-foot, 185-pound junior combo guard. "Coming out after halftime, coach [Bobby] Locke thought I should have 40 by the end of the game. I didn't think I would score 50 at all. I kept pushing the ball and kept scoring. My teammates encouraged me to keep shooting the ball, which I obviously did, and I kept making shots.
"People always refer to the basket as being as big as the ocean, but it really kind of was. It felt like every shot was going to go in. It had that feeling."
Locke was especially impressed in the type of shots Jones, a three-year varsity player, kept making against Mundelein. While Brust accounted for much of his 50 with three-pointers, Jones used a variety of moves to get his.
"Garrett was doing it every kind of way you could think of," Locke said. "He got and-one's, he got to the basket, pull ups, right hand, left hand, on the break, 15-footers, three-point shots. He showed the whole array. We had offenses called for him and he got his shot and he created on his own. He's just become more versatile. He's become a more potent, dangerous player. I'm glad to have him.
"Any coach who looks at the film will say, 'This kid can play anywhere.'"
The day after Jones' performance he received his first two scholarship offers as Loyola and Wisconsin-Green Bay liked what they saw. Locke believes Jones will end up at a high-major program, though. It's just a matter of exposure, according to Locke.
"He's a prime example of the AAU arena," Locke said. "He just didn't start playing like that. If you get the right exposure, people will follow you. I told him you have to be outstanding just to get people's attention. I told him he might have to score 40 or 50. I'm going to be honest, he's got two or three more 40-point games in him. I expect that because he can play."
Locke feels Northwestern, a school just a few miles away, would be a perfect fit for Jones, who has the type of grades to play for the Wildcats.
"I don't understand what Northwestern is waiting for," Locke said. "He's Michel Thompson, but he's bigger and stronger. Michael Thompson is having a great year for them. He's a great kid academically. I don't understand why you wouldn't come after a kid like this in your backyard who's playing in a program that I think will be one of the top 10 teams in the state by the end of the year."
Jones isn't too concerned with recruiting right now. He's concentrating on getting himself and his team better.
"I don't mind being under the radar," Jones said. "It just makes me work harder than if I was as popular around the state. I might be underrated, but it doesn't matter to me because at the end of the day I have a good team that can help get me victories and actually help me get exposure."
Scott Powers covers high school and college sports for ESPNChicago.com and can be reached at preps@espnchicago.com.
Reporter
Scott Powers is the Blackhawks beat reporter for ESPNChicago.com. He is an award-winning journalist and has been reporting on preps, colleges and pros for publications throughout the Midwest since 1997.
PREPS PLAYER OF THE WEEK

Each week, ESPNChicago.com profiles to the top local high school athlete of the week.

Players of the Week
More links