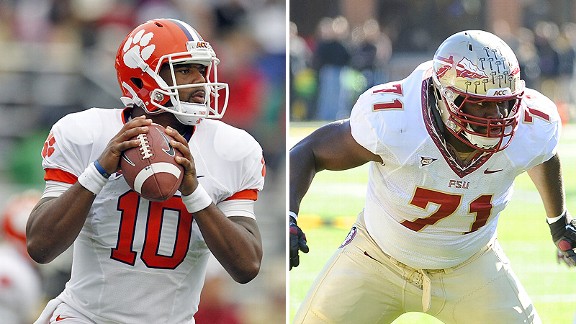 2013 ESPN TEAM RATINGS
| RK | TEAM | FPI |
| --- | --- | --- |
| 1 | Florida State, ACC | 35.7 |
| 2 | Oregon, Pac-12 | 29.3 |
| 3 | Alabama, SEC | 27.0 |
| 4 | Stanford, Pac-12 | 26.5 |
| 5 | Baylor, Big 12 | 26.4 |
| 6 | Arizona State, Pac-12 | 24.6 |
| 7 | Ohio State, Big Ten | 23.0 |
| 8 | Auburn, SEC | 22.3 |
| 9 | Washington, Pac-12 | 21.5 |
| 10 | UCLA, Pac-12 | 20.1 |
| RK | TEAM | RAT |
| --- | --- | --- |
| 1 | Stanford, Pac-12 | 96.6 |
| 2 | Florida State, ACC | 95.8 |
| 3 | Auburn, SEC | 95.4 |
| 4 | Michigan State, Big Ten | 94.6 |
| 5 | Alabama, SEC | 94.6 |
| 6 | Ohio State, Big Ten | 94.1 |
| 7 | Arizona State, Pac-12 | 94.1 |
| 8 | Missouri, SEC | 92.9 |
| 9 | UCLA, Pac-12 | 91.3 |
| 10 | Baylor, Big 12 | 91.1 |
COLUMNISTS
Ivan Maisel
Exercise in patience
The rewards of bowl season have arrived, but getting here wasn't easy -- even for Auburn and FSU.
Mark Schlabach
Auburn's improbable run continues
Auburn had more good fortune on Saturday night, pounding Missouri as Ohio State suffered its first loss under Urban Meyer.
Gene Wojciechowski
COLLEGE FOOTBALL PHOTO GALLERIES
LATEST GALLERIES
Buyenlarge/Getty Images
15 Photos
COLLEGE FOOTBALL BLOG NETWORK
COLLEGE BOWL MANIA
Bowl season is nearly here. It's time to put your college football knowledge to the test. Check your entry

LOWER DIVISION FOOTBALL PLAYOFFS
Find out who will play in the lower division college football playoffs.
RECRUITING NATION
Assistant coach Billy Napier is doing his part to keep the Crimson Tide rolling.
Jeremy Crabtree

ESPN COLLEGE FOOTBALL APP
Follow all the college football action all season long with the ESPN College Football app. Get big-play clips instantly and customized content around your team. Download »


Find Tickets:
Buy College Football Tickets and all other Football Tickets at StubHub!

See all tickets
COLLEGE FOOTBALL TEAM NEWS
Conferences:

FANTASY FOOTBALL
Check out College Football Challenge, just one of our fantasy games. Play!
MEDIA
Podcasts
ESPNU College Football
Play Podcast Matt Barrie, Ivan Maisel and Gene Wojciechowski discuss if Auburn and Florida State provide the best BCS National Championship matchup possible.
ESPNU College Football
Play Podcast Matt Barrie and Ivan Maisel discuss Washington's new hire and talk to BC RB Andre Williams and Cincinnati head coach Tommy Tuberville.
ESPNU College Football
Play Podcast Matt Barrie and Ivan Maisel present a championship week whip around with ESPN.com reporters Brian Bennett, Edward Aschoff, Andrea Adelson, Jake Trotter and Ted Miller.
Radio
Gus Malzahn, Auburn
Play Podcast Auburn coach Gus Malzahn dishes on the success of his team's running game against Missouri, what contributed to the Tigers' turnaround, Nick Marshall's performance this season and more.
Pat Haden, USC
Play Podcast USC AD Pat Haden talks about his future, the decision to offer the job to Steve Sarkisian, Ed Orgeron's reaction to Sarkisian's hiring, boosters' influence on the coach choice and more.
Mack Brown, Texas
Play Podcast Texas coach Mack Brown discusses his future, his favorite part of coaching CFB, the Longhorns' season, handling criticism and more.
TV
'CFB Live' | ESPN2, Mon.-Fri., 5 ET


Get your daily college football fix from the "College Football Live" gang.