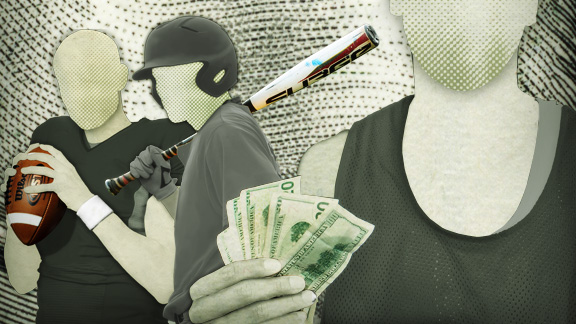 PRIMARY MOTIVES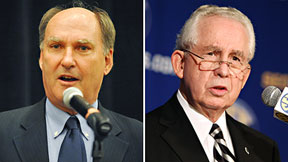 Big Ten commissioner Jim Delany and the SEC's Mike Slive support the full cost of attendance for student-athletes. What does it all mean? Our bloggers break it down. Bennett/Low »

MEDIA
Podcasts
Radio
Kirk Herbstreit, CFB
Play Podcast ESPN CFB analyst Kirk Herbstreit talks about whether Nick Saban considered leaving Alabama, the front-runners for the Texas coaching job, Chip Kelly's future, Art Briles' fit at Baylor and more.
Jameis Winston, Florida State
Play Podcast Florida State QB Jameis Winston comments on winning the Heisman Trophy, what this season has been like, preparing to face Auburn in the BCS title game and more.
Johnny Manziel, Texas A&M
Play Podcast Texas A&M QB Johnny Manziel talks about being a finalist for the Heisman Trophy after winning the award last year, his popularity, receiving advice from LeBron James, his future and more.
TV
'CFB Live' | ESPN2, Mon.-Fri., 5 ET


Get your daily college football fix from the "College Football Live" gang.



CLASS IS IN SESSION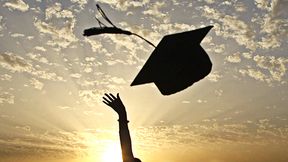 Paying college athletes to play won't work. And it never will. But paying them to earn a diploma -- and learn -- is a concept whose time has come. A former player has a proposal. Carl Ehrlich »

MEDIA
Podcasts
ESPNU College Basketball
Play Podcast Andy Katz and Seth Greenberg chat with Kentucky coach John Calipari about his team this year, Iowa coach Fran McCaffery about the rivalry with Iowa State and much more.
ESPNU College Basketball
Play Podcast Andy Katz and Seth Greenberg discuss UNC's win over Michigan State, chat with Wichita State coach Gregg Marshall, Missouri coach Frank Haith and answer questions from Twitter.
ESPNU College Basketball
Play Podcast Andy Katz and Seth Greenberg talk to Jay Wright about his "small" Villanova team. Plus, Jamie Dixon shares how he feels about his "old" Pitt team.
Radio
Jay Bilas, CBB
Play Podcast ESPN CBB analyst Jay Bilas weighs in on whether student-athletes should be paid, the NCAA's model of amateurism and more.
Eric Prisbell, USA Today
Play Podcast USA Today's Eric Prisbell discusses a link between P.J. Hairston and a convicted felon and how this may impact the North Carolina basketball program.
Jay Wright, Villanova
Play Podcast Villanova coach Jay Wright weighs in on the Celtics' hiring of Brad Stevens, the differences between college basketball and the NBA and more.
HEADLINE NEWS
Check out the latest headlines related to pay-for-play in college sports.
Matt_Fortuna Matt Fortuna
"I box my office up in the middle of the day." Our convo with #UConn's Bob Diaco, who talks #NotreDame, intros & more http://t.co/Z6QaqeKVvK
22 minutes ago

ESPN_Pac12blog ESPN_Pac12blog
Pac-12 players to watch during the bowls http://t.co/vO15dDnSJV
25 minutes ago

ESPN_ACC ESPN ACC
ACC's players to watch in bowl season http://t.co/aTfyqPgSmv
25 minutes ago

ESPNOklahoma ESPN Oklahoma
Big 12 bowl players to watch http://t.co/QpFjga6yeY
26 minutes ago

ESPNOregon ESPN Oregon
Pac-12 players to watch during the bowls http://t.co/g3X0MskKcR
26 minutes ago

ESPNFSU ESPN Florida State
ACC's players to watch in bowl season http://t.co/qHfQusbhyl
26 minutes ago

ESPNStanford ESPN Stanford
Pac-12 players to watch during the bowls http://t.co/Zy9BEGzZfA
26 minutes ago

ESPN_SEC ESPN_SEC
SEC players to watch this bowl season http://t.co/2Zo2LQCxbF
28 minutes ago

ESPNCFB ESPN CollegeFootball
Texas AD Steve Patterson has appointed an 8-member advisory committee to aid in his search for next football coach. http://t.co/bA22qEY1P7
29 minutes ago

ESPN_Pac12blog ESPN_Pac12blog
ASU investing in Mike Norvell, future http://t.co/fGvyAaYyBD
about an hour ago

ESPNOklahoma ESPN Oklahoma
Big 12 bringing in juco help http://t.co/sNGpeM039p
about an hour ago

Todd_Blackledge Todd Blackledge
"And His name will be called Wonderful, Counselor, Mighty God, Everlasting Father, Prince of Peace." Isaiah 9:6Live & Love well today!
about 2 hours ago

ESPNGeorgia ESPN Georgia
UGA redshirt review: Offense http://t.co/fLz13hBaaJ
about 2 hours ago

ESPN_Pac12blog ESPN_Pac12blog
Assistant Tosh Lupoi investigated http://t.co/aASKKU86MX
about 7 hours ago

cbfowler Chris Fowler
Exactly 15 years ago Friday, @rogerfederer became world #1 junior for the first time after winning his final junior match in Miami.
about 8 hours ago

ESPNCFB ESPN CollegeFootball
With both Michigan State & Stanford wanting to stop the run, expect an old-school type of @rosebowlgame. http://t.co/hxqkZaKvOv #rosebowl100
about 8 hours ago

ESPNTAMU ESPN Texas A&M
Jake Spavital named Texas A&M OC; DB coach Marcel Yates to Boise State: http://t.co/tgc0eTPiIM (via @skhanjr)
about 10 hours ago

wearescstaff WeAreSC.com
USC coaching candidate Tosh Lupoi under investigation at Washington, per @LATimesklein http://t.co/XR4oqkY5hG
about 10 hours ago

skhanjr Sam Khan Jr.
RT @TravHaneyESPN: I would take even the worst bowl game right now. Withdrawals.
about 10 hours ago

ESPNTexas ESPN Texas
Texas upsets No. 14 North Carolina 86-83 in Chapel Hill, improves to 10-1. Box score: http://t.co/wmkQuS4wTq
about 11 hours ago
JayBilas Jay Bilas
Talking to legends is like talking to myself. I got more flow than awards on my shelf. I gotta go to work. @Wendys #WoodenAward
38 minutes ago

SethOnHoops Seth Greenberg
iConn with a tough loss and now they travel to Seattle to take on the other Huskies in a PAC 12 back to back.
about an hour ago

PaulBiancardi Paul Biancardi
I woke up this morning in a cold sweat, when I realized I was working with @dandakich tonight on @Espn.Future stars of the college game 9:30
about an hour ago

JimmyDykesLive Jimmy Dykes
"The fear of God is the beginning of knowledge, but fools despise wisdom and discipline". Another day2 say thanks
about an hour ago

JayBilas Jay Bilas
Damn, my money sick, I need to see a doctor. Black on black Bentley, call it "Phantom of the Opera." I gotta go to work.
about 4 hours ago

ESPNAndyKatz Andy Katz
Katz: Stanford edges Napier, UConn http://t.co/G8SGhh8uIV
about 7 hours ago

ESPNAndyKatz Andy Katz
RT @KeithOlbermann: Hey, Barry Hinson! THAT was not a rant. THIS is a RANT: http://t.co/s36M62nvdF
about 9 hours ago

PaulBiancardi Paul Biancardi
RT @RonMFlores: Check out the list of players via @StudentSportsBB to watch at 2013 Tarkanian Classic (@TarkClassic) #HSBB http://t.co/bBlZ…
about 9 hours ago

GoodmanESPN Jeff Goodman
Big wins tonight for both Rick Barnes and Johnny Dawkins -- two guys who certainly are feeling some pressure to win this season.
about 9 hours ago

ESPNAndyKatz Andy Katz
"@ESPNPrim: Look who I found at the UCONN game! W/ @SethOnHoops @ESPNAndyKatz @RealJayWilliams http://t.co/jhlN1Dt65k" Only one working!
about 9 hours ago

ESPNAndyKatz Andy Katz
RT @stanfordbball: 13 points, 10 rebounds for @jhuestis, chatting here w/ @ESPNAndyKatz. 6-8 shooting in 38 minutes. Dominated inside. http…
about 9 hours ago

franfraschilla Fran Fraschilla
My Canadian friends on Twitter will be excited. Kenny Chery with 12 points, so far, in OT as Bears pull away. Poised.
about 9 hours ago

franfraschilla Fran Fraschilla
RT @ForbesWSUhoops: @franfraschilla Former JUCO coach @ #BossierParrish - 2nd All Time Leading Scorer in LA Tech history #classy #MikeMcCon…
about 9 hours ago

franfraschilla Fran Fraschilla
I'm sitting in a recliner in Dallas. What am I, Carnac? LOL RT @Chickmj06: @franfraschilla why is austin not playing
about 9 hours ago

franfraschilla Fran Fraschilla
Toughest part of playing this time of year is that players go on Christmas break but forget to tell the coach. Have to win these ugly games!
about 9 hours ago

franfraschilla Fran Fraschilla
Thanks. RT @RefLeAndre: @franfraschilla Go, Demons!
about 9 hours ago

franfraschilla Fran Fraschilla
Mike McConathy of Northwestern State is one of those guys that only other coaches (and Demon fans) know is a great coach.
about 9 hours ago

franfraschilla Fran Fraschilla
Ooohhh, Baylor and NSU Dragons in OT.
about 9 hours ago

franfraschilla Fran Fraschilla
Will always love that place! RT @LouDeMonte: @franfraschilla how about a shout out to your former Manhattan Jasper's 9-2 and 2-0 in MAAC
about 9 hours ago

franfraschilla Fran Fraschilla
Mike McConathy of Northwestern State is one of those guys that only other coaches (and Dragon fans) know is a great coach.
about 9 hours ago

franfraschilla Fran Fraschilla
Northwestern State has14 offensive rebounds vs. Baylor tonight. Bears lead 74-73 with 1:09. Uh,oh!
about 10 hours ago

franfraschilla Fran Fraschilla
Hey, @TimBrando. NSU's Sophomore PG, Jalan West is nice. Neatherton didn't tell me about him!
about 10 hours ago

JimmyDykesLive Jimmy Dykes
He was due@McGeheeCapital: @JimmyDykesLive well he missed 5 million shots already"
about 10 hours ago

franfraschilla Fran Fraschilla
Baylor on the ropes. Lead Northwestern State 67-66 with 5 to go.
about 10 hours ago

GoodmanESPN Jeff Goodman
Toledo remains undefeated. UConn does not.
about 10 hours ago

GoodmanESPN Jeff Goodman
UConn is not a Top 10 team.
about 10 hours ago

JimmyDykesLive Jimmy Dykes
Don't think I've ever seen Napier give the ball up like that for end of game shot
about 10 hours ago

GoodmanESPN Jeff Goodman
Stanford 53, UConn 51. Final.
about 10 hours ago

GoodmanESPN Jeff Goodman
.@RobDauster guaranteeing a Shabazz Napier 3-pointer here.
about 10 hours ago

PaulBiancardi Paul Biancardi
Too early. Try another one? "@Sam_Kroll21: @PaulBiancardi who would you compare seventh woods too? #CuriousFutureHsBballRecuiter"
about 10 hours ago