PRIMARY MOTIVES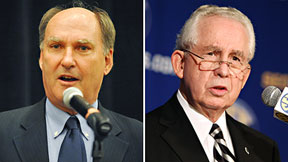 Big Ten commissioner Jim Delany and the SEC's Mike Slive support the full cost of attendance for student-athletes. What does it all mean? Our bloggers break it down. Bennett/Low »

MEDIA
Podcasts
Championship Drive - Maize and Feeling Blue
Play Podcast Rece Davis, Ivan Maisel and Gene Wojciechowski talk about Jameis Winston, discuss who will be in the playoff now and chat about Brady Hoke's job security at Michigan.
Championship Drive
Play Podcast Zubin Mehenti talks about the Jameis Winston situation with Jared Shanker, delves into K-State's matchup against Auburn and previews the rest of the weekend with Phil Steele.
Brian Griese, CFB
Play Podcast ESPN CFB analyst Brian Griese covers Mississippi State-LSU, Auburn-Kansas State, Florida-Alabama, Oklahoma-West Virginia, the perception of the Pac-12 and more.
TV
'CFB Live' | ESPN, Mon.-Fri., 2:30 ET


Catch up on the latest news and analysis from "College Football Live" on ESPN at 2:30 p.m. ET.



CLASS IS IN SESSION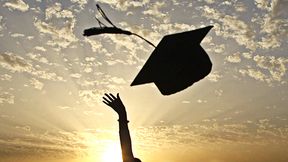 Paying college athletes to play won't work. And it never will. But paying them to earn a diploma -- and learn -- is a concept whose time has come. A former player has a proposal. Carl Ehrlich »

MEDIA
Podcasts
Radio
Jay Bilas, CBB
Play Podcast ESPN CBB analyst Jay Bilas dishes on the perception of John Calipari, his expectations for the matchup between Kentucky and Connecticut and more.
Sean Farnham, CBB
Play Podcast ESPN CBB analyst Sean Farnham weighs in on what to expect during the title game of the NCAA tournament, the selection committee's performance and more.
HEADLINE NEWS
Check out the latest headlines related to pay-for-play in college sports.
USATODAYsports USA TODAY Sports
George Washington upsets No. 11 Wichita St. to win Diamond Head Classic: http://t.co/poMWprEyzv
about 6 hours ago

GoodmanESPN Jeff Goodman
Wichita State had been playing with fire. Shockers finally lost tonight to GW after escaping against Alabama and Hawaii.
about 6 hours ago

PaulBiancardi Paul Biancardi
Grateful for this family at Christmas time and at all times! #unbeatableTeam http://t.co/qzFO4JD6pP
about 6 hours ago

mslizzylunardi Lizzy
A very merry holiday prank, brought to you by Joe Lunardi. #joe http://t.co/bukPPjnppH
about 7 hours ago

jeffborzello Jeff Borzello
Just noticed "Mean Girls" is on -- it has that one scene in Santa outfits, could definitely swing it as a Christmas movie.
about 8 hours ago

franfraschilla Fran Fraschilla
Coaches: Watch Wichita State. When defenders guarding Van Vleet, go under ballscreen, Shockers' big automatically re-screens. Must drill it!
about 8 hours ago

SethOnHoops Seth Greenberg
When you play on a team that is not committed defensively it even trickles down to committed defenders. Culture
about 9 hours ago

SethOnHoops Seth Greenberg
When you are trying to comeback you can't take a bad shot and have a wasted possession. Kyrie Irving needs to learn this.
about 9 hours ago

SethOnHoops Seth Greenberg
Coaches at every level if your team doesn't know who they are and how they win how do you expect them to play to win.
about 9 hours ago

SethOnHoops Seth Greenberg
Cavs seem to be playing to play without a plan they don't know who they are and how they win. Like taking a trip W/O a road map!
about 9 hours ago

jeffborzello Jeff Borzello
Swaggy Season Approaching. RT @BaxterHolmes: Kobe Bryant will NOT play tonight vs. Chicago Bulls. http://t.co/hHle5hZ170
about 10 hours ago

franfraschilla Fran Fraschilla
Likewise to you and your family. RT @harryjunior1000: @franfraschilla Merry Christmas Fran.
about 12 hours ago

EricPMusselman Eric Musselman
"They care about the group more than they care about themselves." Gregg Popovich on @spurs' Big 3 #WEoverME http://t.co/Hmb6RZs2Vf
about 12 hours ago

ESPNLunardi Joe Lunardi
"@sidelinephotos: Just posted a photo http://t.co/XfjbOSWtmX" Well, the beer is good looking...
about 12 hours ago

jeffborzello Jeff Borzello
Exit row to myself? Thanks Santa! http://t.co/AUS1cUJIMQ
about 17 hours ago

GoodmanESPN Jeff Goodman
Merry Christmas to all. Yes, even to all you lunatic Kentucky fans. You are what make my job so much fun (most of the time).
about 18 hours ago

SethOnHoops Seth Greenberg
Jake sporting his new winter coat from @pgberg http://t.co/1TQGTfj0EF
about 20 hours ago

SethOnHoops Seth Greenberg
Happy Holidays and Merry Christmas to all. Family Friends blessings and the @ESPNNBA
about 20 hours ago

jeffborzello Jeff Borzello
And remember, don't be that guy who sends mass "Merry Christmas" texts.
about 20 hours ago

jeffborzello Jeff Borzello
Merry Christmas all!
about 20 hours ago

toshea1 Timothy O\'Shea
Check out this article from The Providence Journal: There's no quit in these Bulldogs http://t.co/OZdzezAqw2
about 21 hours ago

ESPNInsider ESPN Insider
What does the No. 1 prospect and #LSU commit think about his next steps? Ben Simmons talks with our @PaulBiancardi: http://t.co/eD94j43RZN
1 day ago

franfraschilla Fran Fraschilla
While we all enjoy the holidays home with families, please remember all of the men & women serving our country around the world tonight.
1 day ago

franfraschilla Fran Fraschilla
Net part of basket. Merry Christmas, tho! RT @NatShupe: @RickSpung hand is under the rim, no interference.. @franfraschilla @vegasErNN
1 day ago

MattMackowiak Matt Mackowiak
I just did the math, and I'm not sure Santa can logistically do it all in one night.... http://t.co/XVTUXfzNDP
1 day ago

PaulBiancardi Paul Biancardi
Thank you to @kathleenhessert for a wonderful Christmas party! @yougotwho look what you have done!… http://t.co/Wr0ZqmF6Q9
1 day ago

franfraschilla Fran Fraschilla
They did and it was. RT @vegasErNN: @franfraschilla https://t.co/KqhI6maQXW UNLV deserved the win. No basket interference.
1 day ago

jeffborzello Jeff Borzello
Oh, so this happened. RT @GW_MBB: Mele Kalikimaka from @MikeLonergan! #RaiseHigh #AlohaColonials https://t.co/sJtW01nSyW
1 day ago

PaulBiancardi Paul Biancardi
Kentucky and Louisville will meet this weekend. @JayBilas breaks down the keys to victory.In-depth and excellent! http://t.co/5keTaFKD00
1 day ago

GoodmanESPN Jeff Goodman
This is phenomenal. @GW_MBB: Mele Kalikimaka from @MikeLonergan! #RaiseHigh #AlohaColonials https://t.co/X5cuZjPCgl
1 day ago
IL_Gear ILGear
The Blade. Is. Back. Details here on the Blade OG: http://t.co/VvIOzBeTjz @Warrior
about 20 hours ago

ESPNU ESPNU
Merry Christmas and Happy Holidays!!!
about 23 hours ago

darrenrovell Darren Rovell
Tallahassee Police reveal Florida St RB is named as an "associate" in alleged aggravated assault investigation http://t.co/HKCwTREPdh
1 day ago

Inside_Lacrosse Inside Lacrosse
Your comprehensive @NLL TV schedule here: http://t.co/Cy6agUyUq0 http://t.co/8jnHxY44QV
1 day ago

Inside_Lacrosse Inside Lacrosse
Happy Holidays from IL. Here's Peter Lasagna's wishes for a great 2015. http://t.co/wyq9yR1YRL http://t.co/1nClDKXU8R
1 day ago

McMurphyESPN Brett McMurphy
Louisville RB Michael Dyer ruled academically eligible, won't play in Belk Bowl
2 days ago

ILPreps ILPreps
A good way for lacrosse recruits to spend their holiday: recreate this photo for IL @Deadspin http://t.co/V2M1JE0n7J http://t.co/KCSdRhM2wL
2 days ago

Inside_Lacrosse Inside Lacrosse
Lots of @NLL TV/stream deals announced. Here's a comprehensive schedule of where to watch: http://t.co/RYhU1cyvFu http://t.co/B6xd9U2sUa
2 days ago

iroquoisnatslax IROQUOIS NATIONALS
Iroquois Nationals Accepting Applications for Executive Director http://t.co/0byflWFUyl
2 days ago

NovaLacrosse Villanova Men\'s Lax
Jack Curran has been named to @Inside_Lacrosse preseason all-conference team. http://t.co/QLm4FaLCIe http://t.co/cvwI67D28k
2 days ago

Inside_Lacrosse Inside Lacrosse
. @DU_MLAX tops Big East coaches' poll, 8 players on All-Conference in 2015 Face-Off Yearbook http://t.co/jjSraI0Ang http://t.co/4lmuLoGzzT
2 days ago

ILPreps ILPreps
Recruiting Roundup: 2018 to Johns Hopkins, 2017s to Penn, Fairfield, Mount St. Mary's, 2016s http://t.co/T9vOgYtNds
2 days ago

nateewell Nate Ewell
@INCH what do penguins say? "dive, whine, dive"
2 days ago

INCH InsideCollegeHockey
Especially when you mention North Dakota. RT @JoeYerdon: Everyday is Festivus when you're on Twitter.
2 days ago

INCH InsideCollegeHockey
Making it worse for me is my daughter's name is Sydney. No, she's not named for Crosby, I tell everyone. Also, she's less of a whiner.
2 days ago

INCH InsideCollegeHockey
RT @stretch3281: My kids likes penguins (the animal) as well. I have to continually remind her that we don't like the Penguins (team)."
2 days ago

INCH InsideCollegeHockey
My kid was excited to hear TBL played the Penguins. Because she likes penguins (the animal), not the team. RT @Tomjkennelly: id love to go!
2 days ago

CollegeGameDay College GameDay
It was a thriller in the first ever #MiamiBeachBowl!Memphis beat BYU 55-48 in 2OT, sealing the win with this INT http://t.co/Rv64RLawf1
2 days ago