PRIMARY MOTIVES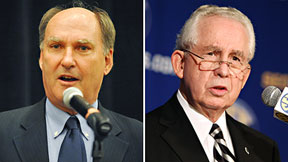 Big Ten commissioner Jim Delany and the SEC's Mike Slive support the full cost of attendance for student-athletes. What does it all mean? Our bloggers break it down. Bennett/Low »

MEDIA
Podcasts
TV
'CFB Live' | ESPN, Mon.-Fri., 2:30 ET


Catch up on the latest news and analysis from "College Football Live" on ESPN at 2:30 p.m. ET.



CLASS IS IN SESSION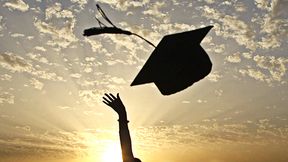 Paying college athletes to play won't work. And it never will. But paying them to earn a diploma -- and learn -- is a concept whose time has come. A former player has a proposal. Carl Ehrlich »

MEDIA
Podcasts
Radio
Jay Bilas, CBB
Play Podcast ESPN CBB analyst Jay Bilas dishes on the perception of John Calipari, his expectations for the matchup between Kentucky and Connecticut and more.
Sean Farnham, CBB
Play Podcast ESPN CBB analyst Sean Farnham weighs in on what to expect during the title game of the NCAA tournament, the selection committee's performance and more.
HEADLINE NEWS
Check out the latest headlines related to pay-for-play in college sports.
cbfowler Chris Fowler
Proof for the masses who missed it: congrats Kei Nishikori for winning the marathon that joins #USOpen history book http://t.co/CG6UnpCQC1
about an hour ago

ESPN_Pac12blog ESPN_Pac12blog
Pac-12 QB Power Rankings: Week 1 http://t.co/eBRWn4WsMB
about 2 hours ago

cbfowler Chris Fowler
Weeeeee hours. Just done calling co-latest #USOpen finish ever. (2:26( But @darren_cahill tells me "sleep is for the weak." All Nighter!
about 2 hours ago

ESPN_Pac12blog ESPN_Pac12blog
ICYMI: Oregon vs. Michigan State has a "Rose Bowl in September" feel to it. http://t.co/IBUqMWVaUx http://t.co/629GClOMUN
about 2 hours ago

ESPN_ACC ESPN ACC
Louisville's first game in ACC ended in a win. @aadelsonESPN tracked it all. http://t.co/XhzcPnn0nD http://t.co/sT95sYX1H5
about 4 hours ago

DavidHaleESPN David Hale
umm... Gonna guess introducing a Bad Company rock block? "@DennisDeitch: Going on the radio, this should be interesting."
about 4 hours ago

TravHaneyESPN Travis Haney
"Longform" doesn't have to be code for lede-burying.
about 4 hours ago

DavidHaleESPN David Hale
#ShouldofDVRed! I'm watching the Cape Fear ep now… "That's German for "the Bart, the" RT @ryanlawrence21: WHY AREN'T THE SIMPSONS ON MY TV?
about 4 hours ago

TravHaneyESPN Travis Haney
His development surprises me. RT @KevinW_ESPN: Agholor looks explosive but ball skills still a bit shaky. Biggest concern as a prospect.
about 4 hours ago

ESPN_ACC ESPN ACC
Video: Louisville coach Bobby Petrino http://t.co/xrOwcgKoDW
about 4 hours ago

ESPN_ACC ESPN ACC
Louisville 31, Miami 13 http://t.co/CmG1GAZ9OQ
about 5 hours ago

CoachTGrantham Todd Grantham
Nothing like celebrating a win with your family!! #theVillerocks http://t.co/K4tDS842RO
about 5 hours ago

DavidHaleESPN David Hale
yup, we have a winner. "@ESPNChing: Jackie Mason for Rodney Dangerfield in Caddyshack 2."
about 5 hours ago

GenoEspn Gene Wojciechowski
Actually, it wd be 2014-2015 Selection Sunday. Anyway, u know what I mean--next March. And yeah, UK fans, I'm guessing they'll show The Shot
about 5 hours ago

ESPN_ACC ESPN ACC
Louivsville's first 24 hours in the ACC http://t.co/g6ghbCifjd
about 5 hours ago

GenoEspn Gene Wojciechowski
Looking forward to trip to Eugene this week for GameDay. If I had to list my 10 favorite football campuses, Oregon would be on it.
about 5 hours ago

Matt_Fortuna Matt Fortuna
A QB, a RB, a WR, a LB and a safety earn Week 1 helmet stickers in the ACC. We spread the wealth here. http://t.co/V6VpQYLJ62
about 5 hours ago

GenoEspn Gene Wojciechowski
30 For 30 interview (nearly 3 hours--thanks, fellas, I'm missing the game) was about Christian Laettner. Will run on 2014 Selection Sunday.
about 5 hours ago

Matt_Fortuna Matt Fortuna
That's a wrap on Week 1. Here's who stood out the most in the ACC: http://t.co/V6VpQYLJ62 http://t.co/iJF5mGIkqM
about 5 hours ago

GenoEspn Gene Wojciechowski
Ville will get 12 days to prepare for FSU. But so will FSU (coming off Oct. 18 game vs. Notre Dame). Anyway, something to circle on calendar
about 5 hours ago
franfraschilla Fran Fraschilla
No, A CVS in Bilbao! Lol RT @RobDauster: @franfraschilla Based on the cover I'm guessing you got it on a visit to Bristol?
about 5 hours ago

franfraschilla Fran Fraschilla
Big day. Just picked up Sporting News College Basketball Yearbook. Prep for season officially begins! http://t.co/rwFg4xVGDK
about 6 hours ago

franfraschilla Fran Fraschilla
This @Grantland33 piece on Andray Blatche and Phillipines World Cup team is a great read. Passion for hoops there! http://t.co/6bxQndxmaE
about 7 hours ago

franfraschilla Fran Fraschilla
Thank you for for sharing. Hits home. RT @jasonWSJ: Today's @WSJ column is about tennis and my Dad: http://t.co/etcoMIcm2Z
about 7 hours ago

ESPNLunardi Joe Lunardi
When the 16-year-old is your social media expert... "@mslizzylunardi: @ESPNLunardi Dad... I think you're butt tweeting."
about 7 hours ago

ZachLowe_NBA Zach Lowe
Just wrapped Spain-Brazil. Pau loving that shorter FIBA line. Spain so good at creating off-ball threats on the weak side.
about 7 hours ago

ReggieRankin Reggie Rankin
Celtics' Green donates $1M to Georgetown http://t.co/j3aMipt08H via @espncbb
about 7 hours ago

ReggieRankin Reggie Rankin
Paul's Five underrated freshmen to know in 2014 http://t.co/8aZuDc4Zzx
about 7 hours ago

Ballislife Ballislife.com
6'2 Dennis Smith Jr (@Jhooper_3) Is The #1 Point Guard In 2016! Super BOUNCY With Major Game! http://t.co/XJgpp4Km9u http://t.co/qo5rYtcSJg
about 7 hours ago

Im_that_dude22 Jayson Tatum
In alphabetical order Arizona DukeIllinoisKansasKentuckyMizzouNorth CarolinaSaint Louis University UConn Wake Forest
about 7 hours ago

franfraschilla Fran Fraschilla
Great G@Grant http://t.co/6bxQndxmaE
about 7 hours ago

ESPNLunardi Joe Lunardi
Ooops, phone was in my golf bag.
about 9 hours ago

GoodmanESPN Jeff Goodman
Carlton Bragg's Top 5. One of top forwards in Class of 2015. RT @carltonbragg31: UCLA, Illinois, Kansas, Kentucky, Arizona
about 9 hours ago

ESPNLunardi Joe Lunardi
Okle
about 11 hours ago

BleacherReport Bleacher Report
Report: @KDTrey5 has officially signed a 10-year deal with @Nike that could reach $300M http://t.co/OzlB84P7ns http://t.co/k7Cb1vfZWw
about 11 hours ago

ESPNLunardi Joe Lunardi
ETuyyutuiiikeughiphchoh
about 11 hours ago

ESPNDanaOneil Dana O'Neil
Fare thee well, LBI. Thank you for another perfect summer
about 11 hours ago

michael12duncan Ohio Basketball Club
Bragg release his final list of 5 schools: Kentucky, Kansas, Illinois, Arizona and UCLA ! http://t.co/GLO1fzSPsY
about 11 hours ago

ReggieRankin Reggie Rankin
Bragg says coaching style system fit and campus life will be key when he visits and in the decision process @espnrnhoops
about 12 hours ago

ReggieRankin Reggie Rankin
ESPN 100 #14 Carlton Bragg has cut his list to Arizona Illinois Kansas Kentucky and UCLA @espnrnhoops
about 12 hours ago

franfraschilla Fran Fraschilla
Philippines' Gabe Norwood, who played hoops at George Mason, is older brother Baylor Football All American candidate, Levi Norwood.
about 14 hours ago

franfraschilla Fran Fraschilla
Covered! RT @EdCagg1: @franfraschilla Fran: Don't forget to tell people where Orlando Antigua played in HS on Wednesday
about 14 hours ago

PaulBiancardi Paul Biancardi
Nebraska Basketball picks up a winning PG. Analysis by @ReggieRankin: My Scout's Take: Glynn Watson to Nebraska http://t.co/xdUoMAmM3p"
about 16 hours ago

GoodmanESPN Jeff Goodman
Finalists for arguably No. 1 player in '16. RT @Im_that_dude22: Arizona, Duke, Illinois, Kansas, UK, Mizzou, UNC, Saint Louis, UConn, Wake.
about 16 hours ago

ReggieRankin Reggie Rankin
My Scout's Take: Glynn Watson to Nebraska http://t.co/GwWyw7GWNc
about 16 hours ago

cdortch Chris Dortch
Watch out for BYU hoops. Deep roster. Plenty of scorers. Renewed emphasis on on-ball defense. Battle brewing between, BYU, Gonzaga in WCC.
about 16 hours ago

OntheRadarHoops Shun Williams
2015 PF Dakota Quinn of Davidson Academy (TN) on campus at Florida Gulf Coast over the weekend @tigers950 @DakotaQuinn12
about 17 hours ago

franfraschilla Fran Fraschilla
Major upset in FIBA World Cup today. Senegal stuns Croatia for its second straight win. Gorgiu Dieng was a beast and Senegal's D excellent.
about 17 hours ago

franfraschilla Fran Fraschilla
Pumped about @ShootingTouch Gala in Boston on 9-20. Great basketball event for a great cause. Will be Celtics-themed this year.
about 17 hours ago

ShootingTouch SHOOTING TOUCH, INC.
On the 19th day till Gala, the auction has brought to me...two court sides to the Ceellticcs.… http://t.co/ou2u2sehsV
about 17 hours ago