PRIMARY MOTIVES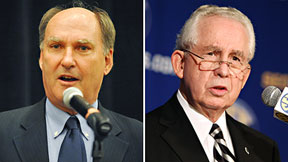 Big Ten commissioner Jim Delany and the SEC's Mike Slive support the full cost of attendance for student-athletes. What does it all mean? Our bloggers break it down. Bennett/Low »

MEDIA
Podcasts
ESPNU College Football
Play Podcast Ivan Maisel recounts his trip to Pac-12 territory with Matt Barrie. Then they talk to Mark Schlabach about his trip to Texas and the Big 12.
ESPNU College Football
Play Podcast Matt Barrie talks to Edward Aschoff about the latest in the SEC including the Dorial Green-Beckham suspension. Plus, Adam Rittenberg presents a surprise Big Ten champion.
ESPNU College Football
Play Podcast Matt Barrie and Ivan Maisel examine the impact of college players unionizing with West Virginia AD and father of two athletes, Oliver Luck.
Radio
Larry Scott, Pac-12
Play Podcast Pac-12 commissioner Larry Scott gives his takes on the National Labor Relations Board's ruling that Northwestern's football players can unionize and more and more.
Steve Spurrier, South Carolina
Play Podcast South Carolina coach Steve Spurrier comments on the scrutiny of Jadeveon Clowney, what Clowney is like, his expectations for Connor Shaw and more.
Lester Munson, CFB
Play Podcast ESPN legal analyst Lester Munson discusses Northwestern's appeal of the NLRB's ruling, Wildcats' motives for unionization, the next steps in the case, the classification of scholarships and more.
TV
'CFB Live' | ESPN2, Mon.-Fri., 5 ET


Get your daily college football fix from the "College Football Live" gang.



CLASS IS IN SESSION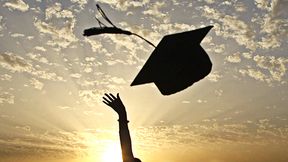 Paying college athletes to play won't work. And it never will. But paying them to earn a diploma -- and learn -- is a concept whose time has come. A former player has a proposal. Carl Ehrlich »

MEDIA
Podcasts
Radio
Jay Bilas, CBB
Play Podcast ESPN CBB analyst Jay Bilas dishes on the perception of John Calipari, his expectations for the matchup between Kentucky and Connecticut and more.
Sean Farnham, CBB
Play Podcast ESPN CBB analyst Sean Farnham weighs in on what to expect during the title game of the NCAA tournament, the selection committee's performance and more.
HEADLINE NEWS
Check out the latest headlines related to pay-for-play in college sports.
Inside_Lacrosse Inside Lacrosse
RT @BFoley82: Lance Yapor of @HofstraMLAX scores with 8.7 seconds left to make it 11-6 and that is the final against @UMassMLacrosse. @Insi…
6 minutes ago

INCH InsideCollegeHockey
RT @twolinepass: BU outshot 16-5 in the portion. RT @BOShockeyblog: BU coach David Quinn begins the awards portion of the banquet.
10 minutes ago

INCH InsideCollegeHockey
Penguins Hockey: With Marc-Andre Fleury in goal, excitement is guaranteed!
12 minutes ago

Inside_Lacrosse Inside Lacrosse
RT @BFoley82: Sam Llinares beats Oliveri high and it is now @HofstraMLAX 10 @UMassMLacrosse 6 with 4:47 left. #CAA @Inside_Lacrosse
18 minutes ago

Inside_Lacrosse Inside Lacrosse
RT @danaburn2423: END Q3: @DrexelDragons up 10-5 over @Towson_MLAX. Dragons dominant in possession in Q3, and it shows with a 5-1 run. @Ins…
23 minutes ago

INCH InsideCollegeHockey
Niskanen's won everywhere except high school, college, and the pros. RT @JessRMyers: Some people don't like winners.
40 minutes ago

INCH InsideCollegeHockey
LT: He finds those little, high-scoring Fs in little toadstools, like Smurfs. Gargamel envies Jerry York.
46 minutes ago

grahamhays Graham Hays
Watching her light up the home plate umpire, I'm reminded there is no one in college sports more ageless than Carol Hutchins. One of a kind.
47 minutes ago

INCH InsideCollegeHockey
RT @PaulGerard: @INCH Jerry York will lose his sterling reputation as soon as I discover the hidden ranch where he grows clones of Brian Gi…
51 minutes ago

Inside_Lacrosse Inside Lacrosse
RT @danaburn2423: END FIRST HALF: @DrexelDragons leads @Towson_MLAX 5-4. Close and exciting game with a lot of shots. CAA tourney seeding o…
53 minutes ago

INCH InsideCollegeHockey
I've never been a Matt Niskanen fan, but he's playing well in a walk year. Good on him.
about an hour ago

INCH InsideCollegeHockey
PIT/BC F Brian Gibbons the early favorite for La Premiere Etoile honors ...
about an hour ago

Inside_Lacrosse Inside Lacrosse
RT @BFoley82: At halftime, @HofstraMLAX leads @UMassMLacrosse 7-5
about an hour ago

INCH InsideCollegeHockey
There's really no defending that hit. RT @adamchappelle: Hawks fans already pulling the 'refs are against us' card, I see. SMH.
about an hour ago

Inside_Lacrosse Inside Lacrosse
RT @TerenceFoy: Given their size, I think there may be 4 @MLL_Lacrosse d-men in this game. Smith, Kraus @SeaGullLax, Holechek, Robinson @St…
about an hour ago

INCH InsideCollegeHockey
Strombolopolous Tonight: talk show after The National. Dude's a grade A interviewer. RT @jackhitts: Does he do other stuff on CBC?
about an hour ago

Inside_Lacrosse Inside Lacrosse
Photos: NYIT tops LIU Post in triple-OT http://t.co/dLPwEoe61l http://t.co/vMeF300sSq
about an hour ago

INCH InsideCollegeHockey
Gonna save this text for my first murder trial. MT @Rodenthater: Seabrook doesn't have a history of this; shouldn't get even 1 game.
about an hour ago

Inside_Lacrosse Inside Lacrosse
RT @danaburn2423: END Q1: @DrexelDragons leads @Towson_MLAX 4-2. Drexel's Cole Shafer with a first quarter hat trick. @Inside_Lacrosse
about an hour ago

INCH InsideCollegeHockey
No Strombo? MT @jackhitts: It's also possible "Canada's Smartest Person" is elaborate joke for Americans like me who only watch CBC for HNIC
about an hour ago