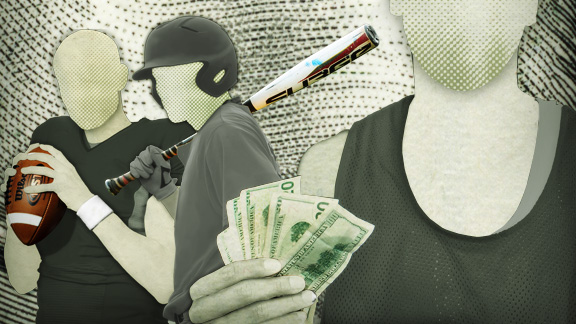 PRIMARY MOTIVES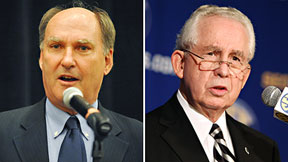 Big Ten commissioner Jim Delany and the SEC's Mike Slive support the full cost of attendance for student-athletes. What does it all mean? Our bloggers break it down. Bennett/Low »

MEDIA
Podcasts
ESPNU College Football
Play Podcast Ivan Maisel dissects the latest College Football Hall of Fame class with one of the newest members, Tedy Bruschi.
ESPNU College Football
Play Podcast Ivan Maisel talks to Bill Hancock about the formation of the College Football Playoff. David Ubben wraps up spring ball in the Big 12 and Chuck Culpepper remembers Frosty Westering.
ESPNU College Football
Play Podcast Ivan Maisel breaks down the SEC spring games with Chris Low and Edward Aschoff. Plus, Andrea Adelson discusses the big announcement from the ACC.
Radio
Brady Hoke, Michigan
Play Podcast Michigan coach Brady Hoke discusses his comments about Notre Dame's decision to end its series with the Wolverines after the 2014 season and more.
Mark Helfrich, Oregon
Play Podcast Oregon coach Mark Helfrich dishes on the thrill of taking over for Chip Kelly, discusses what aspects of the program will be the same as they were under Kelly and what will be different. Helfrich also chats about the pressure he faces due to the success of the program in the past several seasons.
Kevin Sumlin, Texas A&M
Play Podcast Texas A&M coach Kevin Sumlin talks about the improvements being made to Kyle Field, what those improvements will to for the program, the success of last year, Johnny Manziel's offseason and the expectations for the Aggies in 2013.
TV
'CFB Live' | ESPN, M-Th, 3:30 ET; Fri 3 ET


Get your daily college football fix from the "College Football Live" gang.



CLASS IS IN SESSION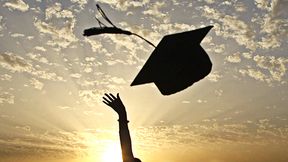 Paying college athletes to play won't work. And it never will. But paying them to earn a diploma -- and learn -- is a concept whose time has come. A former player has a proposal. Carl Ehrlich »

MEDIA
Radio
Andy Katz, ESPN.com
Play Podcast Andy Katz gives his take why top recruit Andrew Wiggins chose to attend Kansas, talks about the Wiggins' skill set, says Wiggins has the type of talent to lead the Jayhawks to the Final Four and explains why he believes Wiggins would have been the top pick in this year's NBA draft if he were eligible.
Bill Self, Kansas
Play Podcast Kansas coach Bill Self dishes on Andrew Wiggins' decision to join the Jayhawks, Wiggins' potential, the one-and-done rule and more.
On Andrew Wiggins: 5/14
Play Podcast Colin Cowherd reacts to Andrew Wiggins' announcement that he will be attending Kansas.
Podcasts
HEADLINE NEWS
Check out the latest headlines related to pay-for-play in college sports.
AschoffESPN Edward Aschoff
Bad defense always costs you games: see Pacers. Just wow
about 2 hours ago

ESPNCFB ESPN CollegeFootball
LSU 2013 CFB: vs TCU vs UAB vs Kent St vs AUB at UGA at MissSt. vs UF at Ole Miss vs Furman at Bama vs TAMU vs ARK How many wins?
about 2 hours ago

AschoffESPN Edward Aschoff
I meannnnn ... RT @JQuittner: Well, that depends... RT @AschoffESPN: Best three ever
about 2 hours ago

ESPNOklahoma ESPN SoonerNation
FYI: We've changed our Twitter handle to @ESPNOklahoma. Thanks for following.
about 3 hours ago

ESPNTexas ESPN HornsNation
According to @ESPNwilkerson, #Longhorns head coach Mack Brown checked in on one of the nation's top RBs today: http://t.co/KTzLY6rWno #Texas
about 4 hours ago

ESPN_ReceDavis Rece Davis
RT @McMurphyESPN: The late Mal Moore, of Alabama, is winner of Sports Business Daily's Athletic Director of Year
about 4 hours ago

ESPNCFB ESPN CollegeFootball
.@KirkHerbstreit visits @JManziel2 as he trains with QB specialist George Whitfield. #CFBLIVE: http://t.co/fJzU7E6CUI
about 5 hours ago

McMurphyESPN Brett McMurphy
It's unknown if former Miami (OH) WR Nick Harwell will be eligible this fall at Kansas, TBD by KU compliance & academic staff
about 5 hours ago

McMurphyESPN Brett McMurphy
The late Mal Moore, of Alabama, is winner of Sports Business Daily's Athletic Director of Year
about 5 hours ago

ESPN_Pac12blog ESPN_Pac12blog
Oregon (finally) releases NCAA notice http://t.co/xVlVTVTEgj
about 5 hours ago

McMurphyESPN Brett McMurphy
RT @SBJSBD: From #sbjsba red carpet with nominee Tom Jurich, Louisville AD and wife Terrilynn. http://t.co/5uAQaNqY3I
about 6 hours ago

McMurphyESPN Brett McMurphy
Nevada to honor former coach Chris Ault by naming field "Chris Ault Field at Mackay Stadium"
about 6 hours ago

ESPNMichigan ESPN WolverineNation
RT @TomVH: 2016 OL Erik Swenson's father talks about the "dream offer" for his son, Brady Hoke and how Michigan has impressed: http://t.co/…
about 6 hours ago

schadjoe Joe Schad
I wonder if any college programs are making lists of potential graduating senior transfers #oneanddone
about 6 hours ago

McMurphyESPN Brett McMurphy
Miami (Ohio) WR Nick Harwell, nation's No. 2 WR in 2011, transfers to Kansas for senior season
about 6 hours ago

ESPNMichigan ESPN WolverineNation
Two new 2015 offers for Michigan, per @cdowlar: http://t.co/Sft62SH9KR
about 6 hours ago

ESPNTAMU ESPN GigEmNation
Per @BPrzybylo, 2014 K Aaron Medley committed to Tennessee. Medley was offered by #TAMU on Monday. #Aggies #Vols
about 6 hours ago

ESPN_Pac12blog ESPN_Pac12blog
QBs here today, QBs gone tomorrow http://t.co/uKBfbJeXfw
about 7 hours ago

McShay13 Todd McShay
FLA secondary was loaded last yr. DS's Elam, Evans are gone to NFL but top 3 CB's (15, 5, 14) return and could all be drafted.
about 7 hours ago

ESPNMichigan ESPN WolverineNation
Michigan offers 2016 OL: http://t.co/8hhJTxargF
about 7 hours ago
Inside_Lacrosse Inside Lacrosse
.@adrenalinelax announces @pbaum15 signs with @LXMPRO Oregon native, West Coast Starz product returning home.
about 3 hours ago

Inside_Lacrosse Inside Lacrosse
Who has the edge this weekend: @StevensonLax or @RITMensLax? A comparison from @Longstick33. http://t.co/eMRkejLqf7
about 11 hours ago

Inside_Lacrosse Inside Lacrosse
RT @IL_Gear: The @NCAA_Lax Championships, in gear: http://t.co/ILK6P8xLtI @NikeLacrosse @nike @Warrior_Sports @victoryearned @TizzleSTX @Ca…
about 11 hours ago

INCH InsideCollegeHockey
Mentions ex-WMU coach Jeff Blashill as potential candidate in Dallas. RT @FriedgeHNIC: Coaching stuff & 30 Thoughts - http://t.co/toM2ZTMA3a
about 11 hours ago

ESPNU ESPNU
Report: Coach K returns to lead Team USA http://t.co/bCyHMdDtsB
about 12 hours ago

ESPNU ESPNU
Recruiting News: No.13 player in country, Theo Pinson will be a #Tarheel http://t.co/S5gvGw2H4p
about 12 hours ago

grahamhays Graham Hays
Tennessee also becomes first school other than UCLA/Arizona with three POY finalists (Monica Abbott, Tonya Callahan, Raven Chavanne)
about 12 hours ago

grahamhays Graham Hays
Per @ASAUSASoftball OU's Chamberlain and Ricketts are first teammates to be POY finalists since UCLA's Watley/Nuveman in 2002. Nice company.
about 13 hours ago

Inside_Lacrosse Inside Lacrosse
RT @IL_Gear: DISGUSTING Heat variant from @McWhittle_405 in this @GaitLacrosse Matter head http://t.co/zBPIOK2CWj @StringersShack @bluecoll…
about 13 hours ago

MechelleV Mechelle Voepel
@Annika59 is a role model; great advice for athletes looking for full lives after playing careers. http://t.co/VZFXCpdHPi
about 14 hours ago

MechelleV Mechelle Voepel
Hope you have a chance to read our "Annika at Colonial" 10-year anniversary coverage. It was amazing to be there. http://t.co/dPF3Bu7MXa
about 14 hours ago

grahamhays Graham Hays
FSU made one of the remarkable comebacks in tourney history to reach super regional. One swing can tell a story: http://t.co/6x84Q2icXK
about 15 hours ago

Inside_Lacrosse Inside Lacrosse
Release from @MachineMLL states Peter Baum not expected to play this year, citing meniscus injury.
about 15 hours ago

Inside_Lacrosse Inside Lacrosse
Release from @MachineMLL stats Peter Baum not expected to play this year, citing meniscus injury.
about 15 hours ago

Inside_Lacrosse Inside Lacrosse
Brandon Palladino of @DickinsonLax is the USILA Division III Player of the Year: http://t.co/DEYw7Ru5gg
about 16 hours ago

Inside_Lacrosse Inside Lacrosse
Merrimack's Corey Lunney is the USILA Division II Player of the Year: http://t.co/udWGjrhFqr
about 16 hours ago

Inside_Lacrosse Inside Lacrosse
Some perspective from Christian Swezey on @uncmenslacrosse's Final Four drought: http://t.co/6N8FvkVc7t
about 17 hours ago

Inside_Lacrosse Inside Lacrosse
Final Four @ESPNU Pod from @QKessenich: @DUCoachTierney @paulcarcaterra @TerenceFoy, Dionne, Rice, Keith http://t.co/U2T6TR4ccM
1 day ago

grahamhays Graham Hays
New feature on Mike White, Jessica Moore and the rise of the Oregon Ducks. http://t.co/GW42fsKwHq
1 day ago