Commentary
Dirk credits summer rest for fast start
Updated:
December 7, 2009, 8:41 PM ET
By
Jeff Caplan
| ESPNDallas.com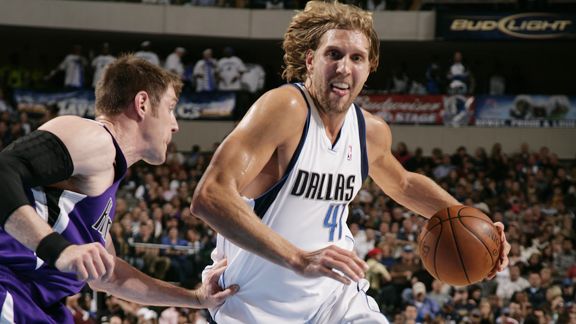 Glenn James/NBAE/Getty ImagesDirk Nowitzki worked hard this summer on driving to his right, and it's paid off in the form of more free throw attempts. "Now he's doing good both ways, so it's really tough to guard him," J.J. Barea said.
DALLAS --
Dirk Nowitzki
remains such a unique commodity in the NBA as a dominant 7-foot shooter that even knowing his tendencies isn't often much help to those mostly undersized forwards who must guard him.
The Dallas Mavericks' 12th-year power forward has averaged better than 20 points a game the past nine seasons, so no one's exactly stopping him. But at least defenders had one sure thing to lock in on when facing him up at his favored spot at the elbow.
"The scouting report on him before I got here," forward Drew Gooden said, "I always knew left-hand driver, force him to his right as much as possible and contest his shot without fouling. I still joke with him and tell him his right's nothing, but he's unbelievable going left."
Now Nowitzki's right is at least something -- and getting better.
More on the Mavericks

News, notes and analysis of the Mavericks from ESPNDallas.com's Tim MacMahon, Richard Durrett and our team.
Blog » ESPN Dallas »

"Now he's doing good both ways, so it's really tough to guard him," guard J.J. Barea said. "I know he jokes around that 'They can't send me either way now.'"
Nowitzki has consistently talked over the years about taking his game closer to the rim, and he's done a good job of driving more in recent seasons. So far this season, it's resulted in fewer 3-point attempts (down one a game this season from his career average of 3.3) and more free throw attempts. Different than past seasons, though, is when the long-legged right-hander charges the paint, he's no longer definitively going left.
Nowitzki credits his long summer of rest away from basketball -- he skipped his usual duty with the German national team -- for his fast start to the season. When he did get back in the gym with personal coach Holger Geschwinder, Nowitzki went in with a plan.
"I did work on some of the drives, you know, [going] right. I think that really helps me sometimes now rip through and go right a little more because I know a lot of the guys really played my left," Nowitzki said. "I talked with Coach [Rick] Carlisle and that was one of the things we talked about, I've got to mix in going right more. I should feel a lot more comfortable going that way now."
Defenders will always first be wary of Nowitzki's arching, step-back jumper from either side of the elbow, still one of the prettiest and deadliest shots in the game. Add his improving ability now to drive the ball to either side of the rim and Nowitzki is on pace to challenge his career highs for free-throw attempts in a season (708 in 2004-05) and scoring average (26.6 in 2005-06).
Through one-quarter of the season, Nowitzki's 26.7 points and 8.5 rebounds have lifted the Mavericks (14-7) through a series of injuries to lead the Southwest Division.
However, a team-wide offensive blackout, which snapped Nowitzki's string of 14 games with at least 20 points, has the Mavs dragging their first losing streak of the season into Tuesday night's home game against Nowitzki's old pal, the ageless Steve Nash, and the restored run-and-gun Phoenix Suns (15-6).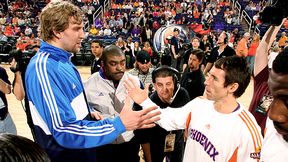 Jesse D. Garrabrant/NBAE/Getty ImagesDirk Nowitzki takes on Steve Nash and the Phoenix Suns on Tuesday. "He's amazing," Nowitzki said. "I watched a couple of their games and it doesn't look like he's lost a step."
"He's amazing. I watched a couple of their games and it doesn't look like he's lost a step," Nowitzki said. "He does all the creating for everybody driving off pick-and-rolls. If opposing teams switch, he's taking his man off the dribble, creating. I mean he still looks great, so I'm happy for him."
But, Nowitzki added, "We have to find a way to win that game."
Nowitzki's scoring is up despite that his shooting percentage dipping to 46.4, a reflection of his high-frequency trips to the free throw line. His shooting percentage is the lowest since the 2004-05 season (45.9), which, not coincidentally, is also the season he took 708 foul shots, 110 more than in any other season, and averaged 26.1 points.
Nowitzki is currently on pace to shoot just fewer than 700 free throws, a good indicator that he's taking the ball to the hole with greater urgency. However, Nowitzki stands alone in that category. The team's overall lack of aggression was a major hindrance in the past two losses to Memphis and Atlanta when the Mavs set consecutive season-lows with 82 and 75 points, respectively.
The Mavs didn't attempt a free throw in the second half against the Grizzlies and took just eight in the first half against the Hawks. That's eight free throws in four quarters.
"Some nights I think I have to do more," Nowitzki said. "[Friday] night was one of those nights I should have driven a lot more. We didn't get any free throws in the second half. I was a little disappointed after the game. At least I got to the line 10 times [against Atlanta]. If I would have done that [at Memphis] I think we would have had a shot."
Gooden said Nowitzki is doing everything he saw Nowitzki do during his MVP campaign of 2006-07. He's actually doing more. Nowitzki is averaging 1.5 blocks a game, the first time he has had more than one a game since 2005-06. Steals are up, too, to 1.1, the first time he's averaged more than one a game since 2004-05.
Yet, one stat to keep a watchful eye on is minutes played. Nowitzki, 31, is averaging a team-high 38.4 minutes, up more than two minutes from his MVP season. Stretched over the course of 82 games, it could become a burdensome load.
But Carlisle has had little choice through the first injury-plagued 21 games. Josh Howard has missed all but three games, and Shawn Marion, Quinton Ross, Erick Dampier and Gooden all have missed multiple games. Ross and Howard continue to be sidelined.
"Hopefully," Nowitzki said, "Josh will be back in the mix here soon and I don't have to play that many minutes anymore to get some wins."
Jeff Caplan covers the Mavericks for ESPNDallas.com. E-mail him at jeff.caplan@espn3.com.