Commentary
Jason Terry backs up his big talk
Brash guard walked the walk with multiple big plays as Mavs put away Heat in Game 5
Updated:
June 10, 2011, 12:58 PM ET
By
Jeff Caplan
| ESPNDallas.com
DALLAS -- Jason Terry was backing up his big talk with a big Game 5 when -- as will sporadically occur with the enigmatic "Jet" -- his mind aimlessly wandered into no-man's land while the Dallas Mavericks' hard-fought fourth-quarter lead was on the verge of surrender.
"I blew an assignment on offense," Terry said. "I walked through the motions after setting a cross-pick, and that's not good basketball."
Mavs coach Rick Carlisle didn't think so, either. In the first quarter, Carlisle emphatically stomped onto the court and slapped his hands together for timeout after Terry allowed Mike Bibby to walk by him for an easy jumper.
[+] Enlarge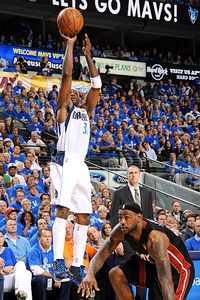 Andrew D. Bernstein/NBAE/Getty ImagesJason Terry made two of his three 3-pointers in crunch time as the Mavs closed out LeBron James and the Heat.
This time, with 5:16 left in Thursday night's crucial contest, Terry's mental malfunction led to a slam dunk and a 96-95 Miami Heat lead, their first of the second half.
Carlisle quickly signaled for a timeout and yanked Terry just 92 seconds after putting him back in for the stretch drive.
Terry repeated with clarity the seven words Carlisle said to him: "He said, 'Refocus. I'm putting you right back in.'"
Fifty-three seconds later, between Dirk Nowitzki free throws that made it Heat 99, Mavs 97 with 4:23 to play, Terry checked in and finished the job.
The mouth of the Mavs, preoccupied this week with repeatedly predicting a breakout shooting game for himself and his team while prodding fourth-quarter defensive nemesis LeBron James with a guard-me-if-you-can refrain, scored eight of his 21 points and dished two of his six assists in another decisive fourth quarter for the 112-103 victory and a 3-2 NBA Finals lead.
"It's my job," said Terry, who made eight of 12 shots. "All season long, ever since I've been a Maverick, I've been the guy in the fourth quarter they depended on to either make plays or make shots."
Terry entered Thursday's game in a shooting funk going back to his remarkable second-round series against the Los Angeles Lakers. In the Finals, he had made just 31.3 percent from beyond the arc and 38.8 percent overall -- numbers far too similar to his past two disappointing postseasons.
Those numbers, along with his fourth-quarter production, are trending back up.
In the final 3:18, Terry flexed his postseason muscle, including the biceps with the Larry O'Brien trophy tattoo. He drilled two of his three 3-pointers, the first to tie the game at 100 and, finally, a dagger from 26 feet near the American Airlines Center logo -- as Jason Kidd saw it -- with 33.3 seconds to go.
In between the 3s, Terry laid down a brilliant right-to-left crossover dribble that froze James. Terry shuffled into the lane and dished a laser out to Kidd at the 3-point arc. Kidd buried his third bomb of the game for a 105-100 lead with 1:26 to go.
NBA Finals on ESPN.com


The Mavericks defeated the Heat 4-2 to win the NBA title. Get your championship coverage on ESPN.com:

• Finals page | Finals schedule
• Mavs Center | Blog | ESPN Dallas
• Heat Index | TrueHoop | Playoffs

"I had some opportunities in the third quarter where I wasn't as decisive," Terry said. "So I knew once Coach put me back in the game, I had to get something done immediately. I was really looking to get to the basket and draw a foul. My outlet was Jason Kidd. The right decision. The right play to make."
Terry's obsessive-compulsive talking seemed so over the top -- directed at the 6-foot-8 James with Terry 0-of-6 against him in the first three games -- that Nowitzki admitted that at times he'd love to muzzle his longtime sidekick.
"We all know Jet is a confident young man," said Nowitzki, Terry's only teammate from the 2006 Finals collapse to the Heat. "He always has a lot to say to us in the locker room. He's always talking. He's just an energetic guy. He loves to talk and he loves to hear himself talk."
Even the wife of original franchise owner Don Carter, who holds courtside season tickets, had heard enough and told Terry before Game 5 that he better walk the walk after all that talk.
"You talked it up," Carter said his wife, Linda Jo Carter, told Terry. "And you better do it.
"And he did."
2011 NBA Finals: Champion Mavericks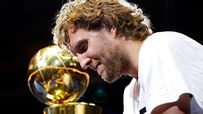 Review: Best of 2010-'11

Worst


Parade: Taking it to streets of Big D


Title Time: Mavericks' celebration


Download: Mavericks Wallpaper »

Game 1: Heat 92, Mavericks 84


Game 2: Mavericks 95, Heat 93


Game 3: Heat 88, Mavericks 86


Game 4: Mavericks 86, Heat 83


Game 5: Mavericks 112, Heat 103


Game 6: Mavericks 105, Heat 95


More: Mavs Center » Mavs Blog »
And suddenly, Terry is the LeBron killer. After going scoreless against him in the first three games of the series, Terry has scored 12 points on 5-of-10 shooting when James is guarding him. Terry has 16 points in the past two fourth quarters.
He's doing it by mixing up his game. Terry isn't settling for catch-and-shoot jumpers, especially against James, who dwarfs him by 6 inches. Terry has found great success in putting the ball on the floor, running James through screens and taking the open floater or short jumpers.
"Just being a student of the game, watching this series play out, Games 1 and 2 you feel it out, you get things on film that you can see where you can be successful," Terry said. "Obviously, I know what I'm best at: catch-and-shoot. But I can put the ball on the floor. I think that's something maybe they weren't as prepared for."
Terry has had his odd moments in this tremendous playoff run. From dribbling the ball off his leg twice for backcourt violations against Portland to the foul on Lamar Odom's half-court heave in Los Angeles to giving James Harden a four-point play to Thursday's gaffe.
Yet, he just keeps coming back.
"It's the total game that we've all been preaching to Jet really since the playoffs began," Carlisle said. "And tonight, he did a terrific job."
Expect Terry to keep preaching, too.
Jeff Caplan covers the Mavericks for ESPNDallas.com.
2011 NBA FINALS: MAVERICKS BEAT HEAT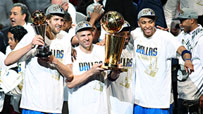 The Mavericks are world champions!
Mavs Playoff Center | Mavericks Blog
Heat Index | TrueHoop | Playoffs


Mavs win best-of-7 series, 4-2