Commentary
TCU's potent offense on display vs. Utah
The Horned Frogs proved they can play on both sides of the ball
Updated:
November 15, 2009, 2:13 PM ET
By
Richard Durrett
| ESPNDallas.com
FORT WORTH, Texas -- The Horned Frogs made one thing clear Saturday: This isn't just a defensive team anymore.
It's easy to focus on All-American Jerry Hughes, linebacker Daryl Washington and the rest of a stingy unit that is an annual fixture near the top of most defensive categories nationally. But it's difficult for a defense to win championships -- and big games -- if the offense doesn't move the ball and finish off drives.
No. 4 TCU is doing that this season. Saturday's 55-28 win over No. 14 Utah was the latest example. When it has counted the most, TCU's offense has made the plays. Quarterback Andy Dalton led a fourth-quarter touchdown drive to beat Clemson in a downpour on the road. The offense put up 14 points in the first quarter of a 38-7 whipping of BYU in Provo, Utah. They managed 393 yards of offense in icy mist in Air Force. And they were at their best in completing drives early in Saturday's game.
[+] Enlarge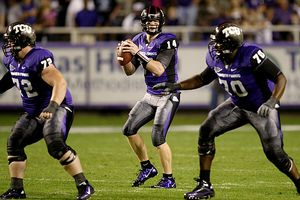 Ronald Martinez/Getty ImagesAndy Dalton led an offensive attack that accounted for 549 total yards from scrimmage
TCU took the opening possession and drove 87 yards on eight plays to take an early 7-0 lead. The drive set the tone for the game as TCU mixed up formations, chewed up yards on the ground, and used the hurry-up to limit Utah's defensive substitutions. The result was a potent offensive attack that had Utah's defense -- ranked No. 18 in the country coming into the game -- struggling to keep up and committing costly penalties in the process.
TCU just kept pouring it on, scoring 28 points in 6:36 during the first half.
"I looked up at the scoreboard and there was 10 minutes left in the second quarter and it was 35-7," Dalton said.
Utah hadn't allowed 35 points in a game since Oct. 5, 2007. And it was 19 years ago -- Nov. 3, 1990 -- that the Utes last had an opponent put at least 55 points on the scoreboard against them.
The offensive performance was certainly different from the Utah game last year, when TCU piled up the yardage but struggled in the red zone. Penalties, turnovers and poor execution prevented the Frogs from beating the Utes despite dominating the statistics. A 13-10 loss left most of the TCU players crying in the locker room after the game, a scene that Patterson has talked about repeatedly this year as one of the toughest he's faced as a coach.
There was no disappointment in the Frogs' locker room Saturday. This time, TCU's offense got it done. A tipped ball that turned into an interception and a missed field goal were the only blemishes for the offense, which scored six times when in the red zone. The Frogs had 549 offensive yards, including 342 on the ground. It was the third straight game in which TCU had accumulated more than 500 yards of total offense and more than 300 yards rushing.
The Frogs did it with nine players getting at least one carry. Freshman Ed Wesley led the way with 138 yards on 12 carries and a touchdown. Freshman Matthew Tucker added 69 yards and two touchdowns and senior Joseph Turner had 63 yards on 11 carries.
"One of our plans at the beginning of the season was to rotate guys and keep people healthy," Patterson said. "Everybody has been talking about the running backs, but the offensive line deserves a lot of credit."
So does the coaching staff. When TCU offensive coordinator Mike Schultz left for Illinois after last season, Patterson named Jarrett Anderson and Justin Fuente as co-offensive coordinators. Fuente calls plays from the press box and Anderson signals them in and handles the offense from the field. Both coaches have benefited from the experience of wide receivers coach Rusty Burns, who was an offensive coordinator at several stops, including SMU, Cincinnati, Wyoming and Memphis.
The coaching staff is overseeing an offense that is more experienced and confident.
More on the Big 12, area colleges
ESPNDallas.com weighs in on issues facing Big 12 South teams, as well as Texas A&M, TCU, SMU, UNT and other area colleges. Blog
• Big 12 Blog
• Blog network: College Football Nation
"We're more mature, but we've done some things with formations so we can get the ball in the hands of [Jeremy] Kerley, [Ryan] Christian and [Jimmy] Young," Patterson said. "We have chemistry, and they've done a tremendous job the last four weeks."
On Saturday, TCU worked routes to the middle of the field to attack Utah's zone, but also had Dalton throwing quick balls out wide to put some playmakers in space. Christian caught a pass at the line of scrimmage, near the sidelines, and made one tackler miss on his way to a 16-yard touchdown in the first quarter. Kerley and Young got some nice yards on similar plays.
It left Patterson praising the offense.
"Everybody says I'm a defensive head coach," Patterson said. "It's a lot easier to coach defense when you're standing on the sidelines with your arms folded or drinking your Gatorade."
Patterson, of course, doesn't ever stand on the sidelines with his arms folded for long. But you get the point.
TCU now has a productive offense to go with its tenacious defense. And that's why Horned Frogs fans basked in the glow of national attention Saturday. They could experience even more of it with their team playing in a BCS bowl in January.
Richard Durrett covers college sports for ESPNDallas.com. E-mail him at richard.durrett@espn3.com.
MORE COLLEGE FOOTBALL HEADLINES