Commentary
Texas A&M's special teams a liability
Independence: Aggies held their own against Georgia when offense, defense took field
Updated:
December 29, 2009, 9:32 AM ET
By
Richard Durrett
| ESPNDallas.com
SHREVEPORT, La. -- The line of brake lights leaving the Independence Bowl just as the fourth quarter began had a maroon tint to it. Georgia led by 24 points early in the fourth quarter and finished with a 44-20 victory over Texas A&M.
But don't let the scoreboard fool you. It wasn't the Texas A&M defense that sent most of the Aggies faithful -- a bunch that made up at least two-thirds of the 49,653 in attendance on a chilly Monday night -- streaming out of the stadium early.
Blame the special teams. What was a close, defensive battle turned on the Aggies' inability to make key plays when the offense and defense weren't on the field.
The Aggies had a field goal blocked in the second quarter with the game scoreless. They then gave up a momentum-killing kickoff return in the first half moments after taking the lead.
"It's a downer," Texas A&M coach Mike Sherman said. "There's no question about that. We were so euphoric after scoring, and you take that away. It was a short kick with no hang time. It was returned by a great returner."
Less than a minute later, Georgia blocked a punt and scored one play later. All of a sudden, a 7-0 A&M lead had turned into a 14-7 deficit.
"Those two plays late in the first half really got us going, got us charged up," Georgia coach Mark Richt said.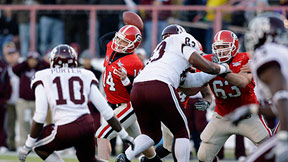 Brett Davis/US PresswireTexas A&M's defense rose to the challenge against Joe Cox and Georgia, but the Aggies' special-teams effort proved costly.
Jerrod Johnson and the Texas A&M offense managed to put a nice drive together to start the second half and tie the score. But it was a 17-14 Georgia lead midway through the third quarter when A&M's Corey Gibas snapped the ball over punter Ryan Epperson's head. That gave Georgia the ball at the Texas A&M 24-yard line. The Bulldogs scored on a third-down pass and took a 10-point lead.
The Aggies side of the stadium seemed to deflate at that point.
"It was a huge swing," Sherman said. "You talk about the kickoff return and the ball sailing over our punter's head, a blocked punt and a blocked field goal. That's 24 points there, possibly."
The miscues weren't limited to special teams. Texas A&M's next two drives ended in interceptions, and the second one was particularly costly. Johnson threw an ill-advised pass into double coverage on a long pass to the Georgia 13-yard line, and it was returned 59 yards to set up Georgia deep in A&M territory. The Aggies' defense held stiff near the goal line for a couple of plays but couldn't stop a play-action fake on third down that gave Georgia a 17-point lead.
"When you turn the ball over, it hurts your team," Johnson said. "I have to find a way not to turn the ball over."
But Johnson was trying to make plays. He did a lot of what he did against Texas on Thanksgiving night. He scrambled and turned busted plays into first downs with his feet. He eluded defenders and bought time to find open receivers.
He also probably was pressing a little harder than normal because of the hole the special teams had created. It ruined what was, except for the interceptions, a solid offensive game for the Aggies. Texas A&M had 92 plays and 471 yards of total offense, nearly 100 more than Georgia. The Aggies had nine more first downs than the Bulldogs and managed to move the ball with nice drives.
And the defense, which came in with lots of questions, held tough against Georgia. The Aggies made key stops on third down and held firm, even after the Bulldogs made big plays. But after giving up just 99 yards of total offense in the first half, Texas A&M surrendered 267 yards in the second. A lot of that was in the fourth quarter, when the defense clearly was tired. The Aggies also had to defend the short field too often because of the special-teams problems.
"The defense played their hearts out and rose up to the challenge," Sherman said. "Everyone was talking about both offenses and not talking about defense. I thought the defense stepped up and played the best ball they've played all year long."
Maybe it's a step in the right direction for an inconsistent defense. The same can't be said for special teams. Changes are clearly needed. It's a unit that didn't fare well on kickoff returns all year, allowing touchdowns at the absolute worst times. Monday's return near the end of the first half was a crusher. So was the return for Texas after the Aggies had made it a three-point game midway through the fourth quarter. Texas A&M then missed a late field goal.
More on the Big 12, area colleges
ESPNDallas.com weighs in on issues facing Big 12 South teams, as well as Texas A&M, TCU, SMU, UNT and other area colleges. Blog
• Big 12 Blog
• Blog network: College Football Nation
The Aggies had all kinds of issues against Oklahoma, fumbling two kickoffs that turned into touchdowns in a 65-10 rout. They missed a field goal and fumbled a punt return in a one-point loss at Colorado.
It's certainly something Sherman will have to address as he gets ready for the 2010 season. The outlook of that campaign remains cloudy after Monday's game. The Independence Bowl was a chance for the Aggies to make a statement and seize momentum for next season. They did grab a little, with the improved performance of the defense and the continuing growth of Johnson. But the loss left Georgia feeling good about itself as fans chanted "SEC" as the game ended.
"I told them before the game that no matter what happens -- and we expected to win the game -- that we've gone through a journey and we've had our peaks and valleys, but we've come together as a team," Sherman said. "We are a better team now than we were at the beginning of the year. They've done everything I asked them to do. I feel bad we couldn't deliver a win for these seniors. I'm disappointed and frustrated, but I'm proud of my guys."
Richard Durrett covers colleges for ESPN Dallas. You can follow him on Twitter or leave a question for his weekly mailbag.