Commentary
Spieth brings his energy to the Nelson
Updated:
May 21, 2010, 12:36 PM ET
By
Richard Durrett
| ESPNDallas.com
IRVING, Texas -- Instructor Cameron McCormick had one final piece of advice as his 16-year-old pupil, Jordan Spieth, prepared to hit his first PGA Tour shot in Thursday's opening round of the HP Byron Nelson Championship.
"Calm down," McCormick told him.
Following that advice wasn't easy, even for a high school junior with a golf résumé that includes a U.S. Junior Amateur Championship and two consecutive Class 5A Texas state high school titles. When Spieth's name was announced on the No. 10 tee, where he started his round, he heard a loud roar from the large gallery following him.
"Everyone went nuts and I thought, 'Whoa, this is what it's going to be like today,'" Spieth said.
He stepped back and prepared to strike the ball.
[+] Enlarge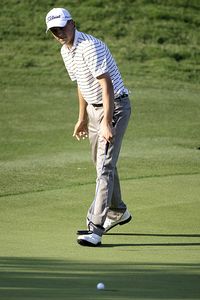 AP Photo/Tony GutierrezDallas amateur Jordan Spieth, 16, says playing in the HP Byron Nelson Championship is "a dream come true."
"I've never been as nervous as I was hitting that first tee shot," said Spieth, who later told his playing partners the same thing as they walked down the fairway. "I stood over that and was like, 'All right, take it back smooth and let it fire. There's no reason to hold back.' It ended up perfect for me."
Spieth's round, which started 3 hours and 45 minutes late thanks to a weather delay, still wasn't over. He played the remaining seven holes Friday morning, recording two birdies and finishing with a 68 that put him two shots off the lead after the first round.
"Overall, I think the day went really well," Spieth said Thursday.
It ended with a curling, 6-foot par putt with a few feet of break on the par-3 second.
"That last putt was sick," Spieth said. "When that fell in, it got me going. I wanted to keep playing. I didn't care how dark it was."
The long day was one that might have rattled most other teenagers.
Already eager to play, Spieth arrived at the course to find a delay for lightning in the area. That left him searching for a way to pass the time. He bought a hat and shirt at the merchandise tent and spent some time putting across the carpet near the locker room.
He also played pingpong in the media center (of all places) with his caddie, Kyle Baginski, a former Jesuit High School teammate who fittingly goes by the nickname "Bags." Once play resumed, Spieth was at the driving range well before his tee time and was "jumpy," according to McCormick. So he went inside and rested a little.
He came back out ready to play, especially after that first tee shot split the fairway. The nerves even ended up subsiding after five or six holes.
His father, Shawn, watched every shot, marveling at the size of the crowd cheering his son on. It had a pep-rally feel to it, with most of the gallery consisting of Jesuit students. They yelled and screamed at every good shot -- and there were plenty of them -- and they helped Spieth make his way around the course.
One Jesuit school official said he expects plenty of students to be out with "Nelson flu" Friday to watch Spieth finish his first round and play his second.
The roar was the loudest at No. 14, when Spieth hit a shot to within 3 feet and then made the birdie.
"That was special," Spieth said.
At that part of the course, the No. 10 green and No. 11 tees converge with the green where Spieth's putt went in. Rickie Fowler and Sean O'Hair, two "young guns" on the Tour, were within earshot of Spieth, and both glanced briefly toward the teenager when they heard the roar. They may find an even younger gun competing with them this weekend if Spieth can keep this up.
A lifetime of golf
For Spieth's father Shawn, it's one more golf memory to add to a growing list. The fact that his son is here, the youngest amateur to ever receive a sponsor's exemption into the Nelson, wasn't a part of some grand plan from birth.
Spieth swears he didn't push his son into golf. He did nudge him a little, but more out of a desire to get two of his three kids out of the house and occupied for a few hours. It was also the best way for the elder Spieth to keep playing golf himself.
"I'm an 8 handicap," said Spieth, a 47-year-old in the computer software business. "But don't invite me to any scrambles right now. I don't think I could play to it."
He's content to follow his son, whom he brought to the Nelson nearly every year since he was 5 years old.
"It's a dream come true for me to play this tournament. It really is," Jordan Spieth said this week.
It was here, at TPC Four Seasons Resort & Club, where Spieth's golf fire was stoked. He remembers one year, when he was around 7 years old, and Phil Mickelson's shot nearly hit him and his brother, Steven, just off the green at No. 2.
"Phil came over and I asked him if he wanted me to move the kids," Shawn Spieth said. "He said to them, 'You think you guys can be still?' They nodded they could and Phil hit a shot near the hole and putted out. He came back over and thanked them for standing still."
Nearly a decade later, Spieth is inside the ropes.
The idea of Spieth actually getting an exemption to the Nelson at 16 seemed surreal to his father. It took some cajoling from several local golf officials just to get the Spieths to send Nelson officials a letter politely asking that Jordan be considered for a spot in the event.
Of course, the tournament jumped at the chance to include an up-and-coming phenom from Dallas in the field.
Spieth said he's tried very hard to allow his son to be a teenager, even curtailing his tournament schedule to avoid too many trips out of town away from family and friends. But Jordan's parents knew their son was a golf enthusiast when they couldn't get him home from Brookhaven Country Club as a 10-year-old.
"He would play on the short course in the summer with the junior golfers," Shawn said. "Some of the juniors would play 9 and go to the pool or 18 and eat lunch. Jordan would go back out in the afternoon and play with the retirees. He was never the kid that said, 'I'm done. I'm going to the pool.' We knew he was serious about it."
It wasn't long before Jordan was beating kids a few years older than he was. He practiced relentlessly and spent most of his weekend time at the course. He started working with McCormick four years ago and has matured into a golfer with a game well above his age level.
"I have to make sure he knows there is no perfect," McCormick said. "The closest we get is in a player's ball control. He does a good job of differentiating between working on his golf swing and still getting the ball flight he needs. That's rare in someone that's 16."
Lofty goals
Jordan's drive and competitive nature have helped push his game along. His success helps give him lofty aspirations.
"I've always dreamed of winning the Masters," Spieth said. "I was running into the library in between periods this year to check the scores online."
Spieth says he wants to compete and beat the best in the world. But he's able to say it without sounding arrogant. He's won a ton of events and is competitive in nearly everything he enters. He's even played with Dallas Cowboys quarterback Tony Romo and considers him a friend. But none of that has given Spieth a big head.
He takes wins and losses in stride. He finished tied for first at the state high school tournament last week because the entire field didn't get through 36 holes, so they counted the scores after 27 holes. But the co-champions did get through 36 holes, and Spieth was actually a stroke behind. According to several people in attendance, Spieth told UIL officials to give the trophy to the other player, saying he had earned it. But the rules said they were co-champions.
Spieth does have a stubborn side, though, like most 16-year-olds.
"He's the type of personality that takes some convincing," McCormick said. "But I like that about him. He's always thinking, and if he's going to do something he's not sure about, he wants to know why."
Some of that youth was on display Thursday. Spieth said he lost focus on his second shot at No. 18. After executing a difficult tee shot, Spieth had 110 yards and a sand wedge.
"Perfect club, perfect yardage, and I just lost focus on it," he said. "Right after I hit it, while it was in midair, I was like, 'Bags, I just hit it in the water.'"
Spieth dropped and got up and down for bogey, his only blemish of the day. He missed a few makeable birdie putts but also made some gritty par saves.
Many friends and classmates came up to him before and after the round, reminding him to enjoy the experience.
"That's what I plan on doing," Spieth said.
His first goal is to make the cut. But don't mistake that for the attitude of a teenager who's just happy to be here. He says he doesn't enter any event he doesn't think he can win.
His attitude and play impressed playing partner Blake Adams, who had to remind the youngster that he was playing with the big boys. Spieth started to take the pin out on one of holes and Adams said, "That's what you pay caddies for. You're not playing amateur golf anymore."
No matter what happens, this won't be the final PGA Tour event this season for Spieth. He was given an exemption into the St. Jude Classic, played the week before the U.S. Open in June, because he was the AJGA Player of the Year last season.
It's the beginning of what looks like a promising career. Spieth's future will include teeing it up for the University of Texas, a team he's pulled for his whole life. After that, he'd like to see if he can play the tour full-time.
"I'm in no rush," he said. "Those things will come. I want to have fun and keep improving."
Richard Durrett covers golf for ESPNDallas.com. You can follow him on Twitter or leave a question for his weekly mailbag.