Cowboys' Austin is on a historic tear
Updated:
October 30, 2009, 12:58 PM ET
By
Alok Pattani
| ESPN Stats & Information
By now, you've probably seen some of the amazing numbers that Cowboys receiver Miles Austin has put up over the past two games: 16 receptions, 421 receiving yards and four touchdowns.
The 421 yards smashed Anquan Boldin's previous post-merger record for the most receiving yards by a player in his first two NFL starts -- Boldin had 279 yards in 2003. Not only that, but Austin's two-game total was the fourth-highest in back-to-back games for any player in the Super Bowl era, putting him in some very nice company, historically speaking.
Most Receiving Yds. in a Two-Game Span (since 1966)
| Year | Player | Team | Yards |
| --- | --- | --- | --- |
| 2006 | Chad Ochocinco | Bengals | 450 |
| 1989 | John Taylor | 49ers | 448 |
| 1995 | Jerry Rice | 49ers | 442 |
| 2009 | Miles Austin | Cowboys | 421 |
| 1989 | Flipper Anderson | Rams | 413 |
How important has Austin become to QB Tony Romo? Consider that over the past two games, Romo has targeted the undrafted fourth-year veteran 23 times, while throwing in the direction of the other Cowboys' receivers just 17 times (10 to Patrick Crayton, five to Roy Williams and two to Sam Hurd).
Austin has accounted for over 63 percent of Romo's passing yards and four of the Cowboys' five receiving touchdowns over the past two weeks. He leads the Cowboys with 502 yards and five touchdowns this season despite being thrown to only four times in the season's first three games (35 targets overall).
For some perspective, Dallas' last "No. 1 receiver" -- that guy wearing No. 81 in Buffalo -- had 367 yards and five touchdowns through six games last season, and that was with Terrell Owens' being targeted 48 times in that span.
If he keeps this up, Austin will provide the deep threat that the Cowboys have lacked since the glory days of the mid-1990s. Austin's average of 23.9 yards per reception not only leads the NFL this season but also is the highest single-season mark by a Cowboys player since Alvin Harper averaged 24.9 yards per catch in 1994.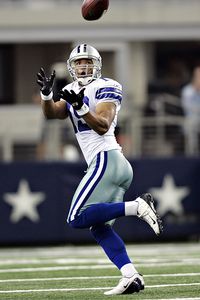 Tim Heitman/US PresswireMiles Austin's 421-yard total in a two-week stretch is a team record.
Dallas' new primary target has been picking over half of his yardage after the catch by making guys miss and using his breakaway speed to turn medium-range passes into huge gains. If Austin maintains his average of 12.0 yards after catch (YAC) this season, he will surpass Az-Zahir Hakim's mark of 10.8 YAC with the "Greatest Show on Turf" -- the 1999 Rams. Hakim's average is the highest single-season mark by any qualifying receiver since 1992, which is as far back as that statistic goes, according to STATS LLC.
Of course, among these superlatives is the question that looms: Can Miles Austin keep this up for the rest of the season?
Only time will tell, but at least a small step back should be expected with Sunday's matchup against Seattle. While the Seahawks' pass defense is mediocre, they have done a good job of limiting big pass plays thus far this season. Seattle allows just 10 yards per reception, third-lowest in the NFL -- the league average is 11.5 yards. And the defense has limited opposing receivers to an average of 4.5 yards after the catch.
The Seattle secondary has been doing this against some guys known for making exciting plays with their feet: the Colts' Reggie Wayne, the Bears' Devin Hester and the Cardinals' big-play triumvirate of Larry Fitzgerald, Anquan Boldin and Steve Breaston. Only Fitzgerald has been able to compile a 100-yard receiving game against the Seahawks, so another monster performance from Austin doesn't seem likely Sunday.
More on the Cowboys

Tim MacMahon, Todd Archer and Jean-Jacques Taylor have the Dallas Cowboys blanketed.
Blog » ESPN Dallas »
Top 50 Cowboys

But clearly the Seahawks, who gave up 353 passing yards and two TDs to Peyton Manning and 276 yards and two TDs to Kurt Warner, are not impenetrable.
Seattle has allowed opponents to complete 68.4 percent of their passes this season, the fourth-highest percentage in the NFL this season. Tony Romo and the Cowboys would be wise to dink and dunk and take the what the defense gives them, as the Seahawks are allowing opponents to complete 74.3 percent of their passes within 15 yards of the line of scrimmage.
This is where Austin comes in: as a decoy. With Seattle sure to be paying attention to Austin on the outside, that should open up room for tight end Jason Witten in the short-range passing game.
This season, Witten has caught 32 of the 35 passes thrown his way in that range of 14 yards or closer to the line of scrimmage. Not only that, but Witten posted season highs of nine receptions and 115 yards in the Cowboys' 34-9 win against the Seahawks on Thanksgiving Day last year.
So even if Austin doesn't get the long touchdown catches and the historic yardage totals, look for him to play an integral part in the Cowboys' passing attack Sunday.