Commentary
Defenses taking notice of WR Austin
Updated:
November 20, 2009, 5:48 PM ET
By
Tim MacMahon
| ESPNDallas.com
IRVING, Texas -- The element of surprise evaporated after Miles Austin made NFL history in his first two starts for the Dallas Cowboys.
He'll have to earn every catch now.
Austin seldom sees single coverage these days. The Philadelphia Eagles and Green Bay Packers primarily played a cornerback underneath and a safety over the top of him, according to receivers coach Ray Sherman. Austin didn't have a catch until the fourth quarter of either game, although his one reception against the Eagles was a 49-yard game-winning touchdown.
For the first time as a starter, Austin didn't make a significant impact in last week's loss at Lambeau Field. He had four catches for only 20 yards.
"

He's just got to get the ball more because of how well he does after he gets it in his hands. Covered or not, we need the ball in his hands.

"

-- Owner/GM Jerry Jones on
Cowboys WR Miles Austin
"It's part of the education," Sherman said of Austin, who morphed from a reserve to a potential Pro Bowler with a magnificent month.
Nobody at Valley Ranch expects Austin to produce at the insane level he did in his record-breaking first two starts, when he torched two teams that rank among the league's worst in passing defense for 421 yards and four touchdowns on 16 catches. But the belief is still firm that Austin is a blossoming star.
"He's improving," offensive coordinator Jason Garrett said. "He's got a great approach every week. Every day, he comes to work. He's improving as a player and we're excited about him."
Added Austin, who never got caught up in the hype swirling around him: "The challenge is just trying to get better every day."
Every foe from now on will make covering Austin a significant part of their game plan. But there are still plays for to be made by Austin.
The keys are figuring out ways to get Austin open when teams are shading a safety toward him and seizing the opportunities when he does see single coverage.
"You've just got to move him around," Sherman said. "He knows all the different positions, so you've just got to move him around and get him in position where he has the opportunity to get a chance."
[+] Enlarge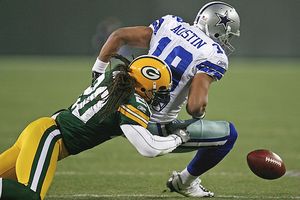 Jonathan Daniel/Getty ImagesThe Cowboys hope Miles Austin can take advantage of Washington's aggressive secondary.
Austin got wide open twice in the past two games when the defense gave the Cowboys a "single-high" look, which means there was only one safety deep in coverage as a center fielder. Austin got Eagles cornerback Sheldon Brown to bite badly on a slant move, breaking upfield for an easy touchdown to give the Cowboys the lead. He was just as open on a deep corner route on the Cowboys' first possession against the Packers, but he couldn't make a highlight-reel grab of a ball Tony Romo threw high and behind him.
"I'm going to try to catch that," Austin said when asked if he should have made the play. "I'm going to put any ball that touches my hands on me regardless."
The 6-foot-3, 214-pound Austin established during his breakout month that he's more than just a deep threat. His two touchdowns in the overtime win against the Kansas City Chiefs came when he caught short passes, broke a tackle and outraced the safeties to the end zone.
The man who signs Austin's paychecks wants to see him get more of those kinds of opportunities.
"I know that he was open practically every snap against Philadelphia," owner/general manager Jerry Jones said. "He's just got to get the ball more because of how well he does after he gets it in his hands. Covered or not, we need the ball in his hands. I expect Miles to have a lot more chances to use his run-after-catch skill."
So do opposing defenses.
Tim MacMahon covers the Cowboys at ESPNDallas.com. E-mail him at tim.macmahon@espn3.com.
ESPNDallas.com
Joined ESPNDallas.com in September 2009
Covers the Dallas Cowboys and Dallas Mavericks
Appears regularly on ESPN Dallas 103.3 FM
COWBOYS vs. REDSKINS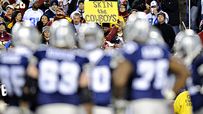 The Washington Redskins come to town as the battered Cowboys try to maintain their hold on first place in the NFC East. Preview »
COLUMNS / BLOG POSTS
VIDEO
AUDIO