Commentary
Stop me if you've heard this one ...
Updated:
November 3, 2009, 7:35 PM ET
By
Matt Mosley
| ESPNDallas.com
PHILADELPHIA -- A guy walks into a bar and sees Eagles tight end Brent Celek, Olympic gold medalist Carl Lewis and the cast of MTV's "Jackass" all hanging out together.
No, I'm serious.
With some time on my hands after covering the Eagles' 40-17 win over the Giants on Sunday, I made my way over to a popular South Philly sports bar, Chickie's and Pete's, to watch Game 4 of the World Series. The game was being played two blocks away.
Celek, who will soon be a household name in the NFL, was standing at the bar with Eagles defensive end Victor Abiamiri, who will not become a household name because it's too difficult to pronounce. The main guy from "Jackass" not named Johnny Knoxville was in the corner with two members of Philly's entry in the venerable Lingerie Football League, the Philly Passion.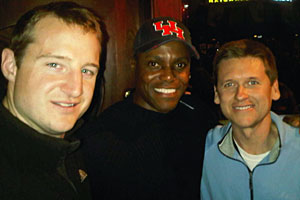 ESPN Dallas It seems as if Olympic track legend Carl Lewis will hang out with just about anybody these days. It's still not clear if security was summoned to take away the guy on the right.
(If you think Eagles-Cowboys is big, you've never seen a matchup between Philly Passion and Dallas Desire).
Celek, a longtime enthusiast of my ESPN.com NFC East Blog, pointed out Lewis to me in the other corner of the room. It turns out that Lewis grew up just outside Philly and he's been a huge fan of the Eagles dating back to the days of quarterback Roman Gabriel (1973-77). In case you're wanting to feel really old today, Carl Lewis is 48. He still looks pretty much like the guy who matched Jesse Owens' feat of winning four gold medals in the 1984 Olympic games in Los Angeles.
And for once in my life, the fact that I have instant recall of every participant in the Dallas Times-Herald Invitational at Reunion Arena in the early 1980s came in handy. Lewis was caught off guard by my mentions of former Abilene Christian pole-vaulting great Billy Olson and the underappreciated Baylor sprinter Raymond Pierre. So in one of the more surreal moments of my life, I sat down and watched the final four innings of the World Series with the great Carl Lewis. He seemed pleased with my explanation that Brad Lidge should've covered third base when Johnny Damon took advantage of a defensive overshift in the top of the ninth.
Lewis, a former Houston Cougar, recently purchased a home in Texas and has attended three of his alma mater's football games this season. He's spearheading an effort to get some of his pals from the school's famous Phi Slamma Jamma basketball teams more involved with the school.
At the end of the evening, I bumped into Lewis in the bar's crowded restroom. He announced rather loudly, "This is Matt Mosley, the NFC East blogger for ESPN.com!"
There was no applause.
Now let's quickly move on to the next topic:
The Eagles look like the team to beat in the NFC East -- for the moment: As you know by now, I was in Philly for what was supposed to be a division showdown between the Giants and Eagles. Unfortunately, the Giants never arrived. Quarterback Eli Manning was a made man in New York after leading the Giants to a Super Bowl in '07, but right now he's playing like the third best quarterback in the division.
[+] Enlarge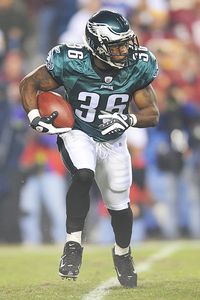 James Lang/US PresswireRunning back Brian Westbrook might return Sunday vs. the Cowboys, giving the Eagles an added dimension on offense.
Manning's playing on an injured foot, but that's no excuse for some of the awful decisions he's making on the field. With an ill-advised throw to rookie Travis Beckus early in Sunday's game, Manning effectively took his team out of the game. Cornerback Asante Samuel intercepted the pass and the Eagles quickly had a 13-0 lead. At 5-3, the Giants desperately need a win over the Chargers on Sunday.
Meanwhile, the Cowboys and Eagles meet Sunday night in a battle for NFC East supremacy. Donovan McNabb bounced back from two sub-par outings with a nearly flawless performance against the Giants -- and I'm not sure the Cowboys have anyone who can cover wide receiver DeSean Jackson.
With Brian Westbrook likely returning to the lineup, the Eagles have more weapons than ever. And the scary thing is that their patchwork offensive line is starting to jell. The unit blew open holes against the once-vaunted Giants front four and fullback Leonard Weaver and rookie tailback LeSean McCoy both had long touchdown runs. Teams rarely have to respect the running game of the Eagles, but the Cowboys will see a team with a different look. And it's not like the Cowboys had much luck against the old-look Eagles from last January in a season-ending 44-6 loss.
It's a loss that lingers in the minds of Cowboys player and coaches -- especially offensive coordinator Jason Garrett and quarterback Tony Romo. With a win in Philly, the Cowboys would serve notice that they're a serious playoff contender.
Right now, the only NFC teams that are clearly ahead of the Cowboys are the Saints and Vikings. After that, it's a crapshoot.
[+] Enlarge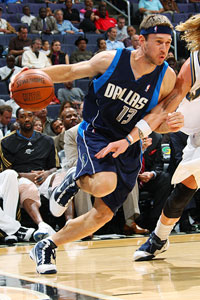 Ned Dishman/NBAE/Getty ImagesIs that Bjorn Borg? Nope. That's just Mavericks headband-wearing wonder Matt Carroll.
The best NBA team on the West Coast this past weekend? That would be the Dallas Mavericks: With the season-opening loss to the Wizards, it was easy to sense another poor start to the season. But the Mavs responded in a big way against the Lakers on Friday. Shawn Marion looked like the Matrix of old as he took over the Lakers game in the fourth quarter. His tear-drop shots from 8-feet were a thing of beauty and the win should give the Mavs a lot of confidence heading into Tuesday's home game against the Jazz.
A letdown Saturday night against the Clippers would've been understandable but the Mavs showed a lot of grit in getting a win on a night where they weren't shooting particularly well. I thought Marion and Jason Kidd were the heroes of the Lakers win. And I want to see more of Kris Humphries. Those were what I like to call quality minutes.
I also loved Jeff Van Gundy completely destroying Matt Carroll over that ridiculous headband that appeared to be cutting off his circulation. No white man this side of Bjorn Borg should go with that look -- especially if you have a short haircut. Mike Miller needs a headband because he has hair that most women would die for. Carroll's the last guy who needs a headband. I'm petitioning David Stern to ban the use of headbands or rubber bands for all white males in the league.
OK, we're rolling out a new feature this week. It's Matt Mosley's Obstructed View NFL Power Ranking on ESPNDallas.com. This could be huge in the local community.
1. Saints: Sean Payton has this team poised for a Super Bowl run.
2. Vikings: Brett Favre changed the landscape of the NFC.
3. Colts: Sometimes you need to grind out a win.
4. Patriots: Still a very dangerous team.
5. Broncos: You're allowed one or two hiccups.
6. Steelers: Just sort of lurking until the playoffs.
7. Eagles: Blowout win over the Giants was impressive.
8. Cowboys: Took care of a bad team. It's a good sign.
9. Bengals: My favorite story this season.
10. Texans: I smell a Governor's Cup Super Bowl (kidding!)
Matt Mosley writes weekly on the Dallas-Fort Worth sports scene for ESPNDallas.com.
Dallas Cowboys Merchandising Youth Miles Austin Navy T-shirt Shop »