Commentary
Sure to be a December to remember
Updated:
December 1, 2009, 7:50 PM ET
By
Matt Mosley
| ESPNDallas.com
IRVING, Texas -- One of the things that you have to admire about Wade Phillips is his uncanny knack for being able to suspend reality, often for months at a time. Dressed in a Cowboys fleece jacket (available online), Phillips seemed amused Monday by all the questions about his team's struggles in December.
It's a disturbing trend that dates back more than a decade, but in Phillips' mind, it's a non-story for people who are enamored with numbers. Never mind that the numerical data points to the Cowboys choking just in time for the holiday season each year, Phillips acts like it's part of a vast media conspiracy. For now, he wants to keep his players focused on the New York Giants, not the December demons.
[+] Enlarge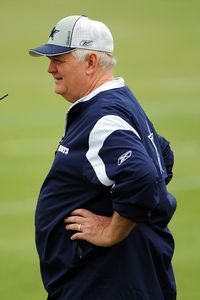 Ronald Martinez/Getty ImagesWade Phillips' job security seems to be getting stronger, as the Cowboys are in first place in the NFC East heading into December -- a month dreaded by Cowboys fans of late.
"You've got to get them focused on what they're doing right now," Phillips told reporters Monday. "We can't do anything about the whole five games. You don't play five games at once. You play one. That's what I have to do. Get them focused in on one. Yes, there are a lot of people out there coming up with baseball stats and so forth. Baseball stats -- we lost at night, at 3 o'clock in the morning or something, I don't know."
Come to think of it, the Cowboys have always struggled with 3 a.m. kickoffs. But that's something for the baseball geeks to figure out.
Right now, Phillips is in danger of coaching himself into one more season as head coach of the Cowboys. We all sort of assumed this would be Phillips' swan song because he's in the final year of his contract. Meanwhile, the Cowboys have stacked eight wins and are threatening to pull the plug on the Giants' playoff chances Sunday in the Meadowlands.
Those of us who keep trying to run off Phillips underestimate how much Jerry Jones enjoys being the center of attention. In some ways, Phillips has become the forgotten man in this Cowboys season. His defense has been outstanding after a shaky start, but most of us have been focused on the team's Princeton-educated offensive coordinator, Jason Garrett. On his weekly radio show Tuesday, Jones gave Garrett the dreaded public endorsement for 2010.
Perhaps he was blown away by the Cowboys' high-powered performance against Tom Cable's Raiders on Thanksgiving. Or maybe we've prematurely handed Garrett the pink slip as well.
No matter what, Sunday's game in the New Jersey swamps is the key to what could be a successful December. The last time the Cowboys played a desperate team on the road (Packers), they were summarily dismissed and nearly shut out. On Sunday, they will encounter a Giants team that has lost five of its last six games.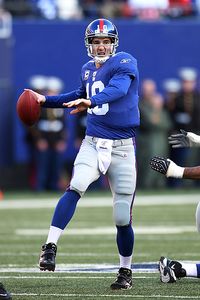 Jim McIsaac/Getty Images The New York Giants' tailspin has coincided with Eli Manning's foot injury.
If Tom Coughlin has one last stand in him this season, it has to happen immediately. But fortunately for the Cowboys, this is not the Giants team that came roaring down the stretch in '07 or even the one that ran away with the division title in '08. Eli Manning was a made man in New York after leading his team to a Super Bowl title and he was rewarded with a huge contract before this season. Now some Giants fans are experiencing buyer's remorse.
The Giants' tailspin has coincided with an injury to Manning's right foot. He insists that he's not limited by plantar fasciitis, but an ESPN report Sunday indicated that Manning's suffered a stress reaction from the injury that could lead to a stress fracture. There's also the news that linebacker Antonio Pierce will miss the rest of the season with a neck injury.
On paper and in the standings, the Cowboys are a better team than the Giants right now. But that's also what we said about the Cowboys heading into a game against the Giants at Texas Stadium two years ago.
Phillips says he has a new plan for coaching his team in December. Who knows, maybe it will include a Christmas miracle.
The part where I say something about the Mavericks: I can accept a lackluster loss to Cleveland on the second night of a back-to-back, but why does this team have so much trouble with the dregs of the NBA? The 76ers are beyond awful, but they were able to fight back from a nine-point deficit Monday night and tie the Mavs with five seconds to go. Jason Terry hit the game-winner with one second left, but this team still needs to learn how to close out games especially against bad teams.
They had a nine-point lead in the loss to the Warriors last week. On Monday, I watched J.J. Barrea make a lazy pass that was stolen by the 76ers with just over a minute left in the game. If you're going to be a contender in the West, you can't depend on buzzer-beaters to win games once-a-week. I know this team is off to a better start than last year's team, but at this point I think they're only incrementally better.
If Shawn Marion and Josh Howard could both get healthy at the same time, this team might be able to make some noise. But those are two big "ifs" at this point.
Matt Mosley writes weekly on the Dallas-Fort Worth sports scene for ESPNDallas.com.