Commentary
Jockey enjoys ride alongside his sons
Lone Star Park spring thoroughbred season has been family reunion for McNeils
Updated:
July 7, 2011, 4:21 PM ET
By
Master Tesfatsion
| ESPNDallas.com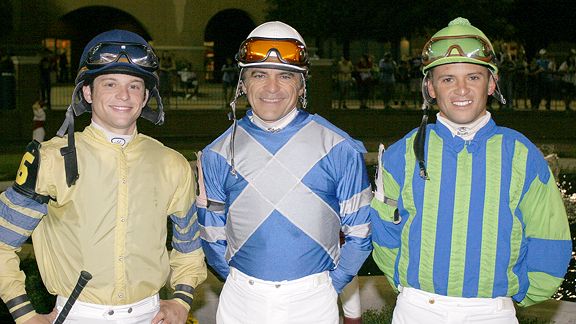 Reed Palmer Photography Jockeying is a family business for Tony McNeil and sons Erik (left) and Bryan.
GRAND PRAIRIE, Texas -- As Lone Star Park's 2011 spring thoroughbred season comes to an end this weekend, Tony McNeil will part ways with his two sons once again.
Tony will finish his second complete season with his sons Sunday at his favorite track in Texas, the only planned season together for the trio this year.
The 54-year-old jockey may be a seasoned veteran on the track, but having his sons revitalize his injury-plagued career is what he remembers most.
Tony suffered from a number of spills since he started riding thoroughbreds in 1978. His injuries include seven broken legs and he's undergone nine leg surgeries.
Lone Star Park At Grand Prairie

Spring thoroughbred season final weekend schedule and highlights (live racing resumes in September):
Friday: Gates open at 5 p.m., first live race at 6:35 p.m. (Reckless Kelly and the Josh Abbott Band will perform after the final race )
Saturday: Gates open at 11:30 a.m., first live race at 1:35 p.m. (Dwight Yoakam will perform after the final race)
Sunday: Gates open at 11:30 a.m., first live race at 1:35 p.m.
What he planned as a year off from riding in 1996 eventually turned into a nine-year hiatus working as a racing official.
"What made me think about [coming back] more was when Bryan was going to start riding," Tony said. "When he got hooked on riding, that's when I started back."
Tony always knew Bryan, 27, would become a jockey. As a young boy, Bryan would eagerly wait for his father to wake up every day at 5 a.m. so he could clock his two hours of work before school.
After watching Bryan progress through the ranks and become a thoroughbred jockey, Tony decided it was time to return to the sport he loved.
"When he came back to riding, I was happy because for years growing up we simply loved coming out to the races watching him ride and stuff," Bryan said.
Tony's return had a domino effect on his younger son, Erik.
Erik received a full scholarship to Texas A&M International University in Laredo for cross country and track, and Tony figured he wasn't too interested in horse racing.
"It was devastating watching him get hurt all the time," Erik, 24, said of his father. "That's when I didn't want to do it, when I was little."
Once Erik watched Tony quickly win two races in San Antonio, it sparked a passion to follow his father's footsteps.
"But then when I saw him come back from all those years and then he won those two races, I said I want to do it," Erik said.
While Erik was working on becoming a jockey, walking horses and watching his brother win (and get all the women, Erik said with a grin), Bryan and Tony participated in their first race together. Tony won and Bryan finished fourth at Sam Houston Race Park in Houston. Tony chuckled as he recalled telling Bryan down the stretch, "I'm coming to get you!"
Erik wanted to be a part of these family races.
"Erik said, 'Dad, please don't retire again until I start riding,'" Tony said. "So I waited for him to come. ... I was supposed to retire after he started, but it ain't happened yet."
Tony said his wife keeps asking him when that day will come, but he isn't sure. Whenever it does come, the McNeils can look back and be thankful Tony did return.
The first time all three raced together, in July 2009 at Lone Star Park, Erik grabbed first on Stormin Maggy, Tony took second and Bryan was third.
In 2010, Tony and Erik combined to win five straight races at Sam Houston Race Park. This year, all three won on the same card, becoming the first father-son tandem to accomplish the feat at Lone Star Park.
The McNeils are approaching 1,200 combined career victories, though Tony admits his sons do most of the winning these days. Bryan and Erik are expected to place above Tony when the season ends Sunday, but he doesn't see that as a terrible thing.
"I had a couple guys one time when they were winning a bunch of races, they told me in the backside, 'Hey, they're making you look bad,'" Tony said.
"I said, 'No, they're making me look good.' ... When they win, I win."
Master Tesfatsion is a reporter for ESPNDallas.com.