Commentary
No solution until connection is made
Updated:
November 6, 2009, 9:52 AM ET
By
Calvin Watkins
| ESPNDallas.com
IRVING, Texas -- Cowboys quarterback Tony Romo said the media will not divide his team.
What Romo needs to worry about is the on-the-field relationship with wide receiver Roy Williams.
The two have little or no connection on the field.
Williams has just 14 catches for 249 yards and two touchdowns this season. In 16 games with the Cowboys, Williams has produced 33 catches for 447 yards and three touchdowns.
Terrible.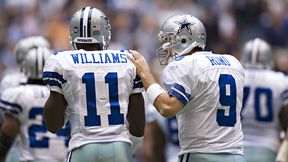 Wesley Hitt/Getty ImagesCowboys coach Wade Phillips has said Roy Williams and Tony Romo have connected fine during practices, just not during games. "I can't tell him where to throw it," Williams said of Romo.
Romo has completed fewer than 40 percent of his passes to Williams, lowest on the team among the main receivers -- Patrick Crayton, Miles Austin and tight end Jason Witten.
Yet, Romo defended his receiver Thursday, which is a good thing.
"You just have to keep working," Romo said before Thursday's practice. "You just have to keep getting better and keep throwing footballs. I think that's part of anybody's quarterback-receiver position. I'm sure there are stats like that you could have made up last year with somebody else on the team. Every year, there's always going to be something."
This in some ways shouldn't be a story. The Cowboys have won three consecutive games and are tied for first place in the NFC East with the team they play on Sunday night, the Philadelphia Eagles.
But this has become a story because Williams is being paid like an elite receiver. He signed a five-year $45 million contract last season after the Cowboys traded for him with Detroit.
He's not producing like that on the field.
More on the Cowboys

Tim MacMahon, Todd Archer and Jean-Jacques Taylor have the Dallas Cowboys blanketed.
Blog » ESPN Dallas »
Top 50 Cowboys

Williams is running good routes, even stretching out for passes over the middle despite playing with three bruised ribs.
But the connection between quarterback and wide receiver still isn't happening.
"It has surprised me because they spent so much time in the offseason and [organized team activities] and training camp," quarterbacks coach Wade Wilson said. "During training camp, I thought they were making great strides. Early on in OTAs and things, they were having a little bit of a problem. But being this deep in the season and still having miscues is a big shock.
"There no one reason to figure out why that's happened."
Williams and Romo work after practice to try to fix this lack of chemistry. There are no clashing personalities -- Williams is trying to avoid saying anything bad about Romo, and vice versa.
Maybe there are no real solutions to this issue.
Williams' situation is magnified because he's not the first receiver to join a new team or get a new quarterback.
This season, the Jets traded for wide receiver Braylon Edwards. In his first game, Edwards caught five passes for 64 yards and a touchdown from rookie quarterback Mark Sanchez.
Edwards' current numbers for the season: 13 catches, 192 yards, two touchdowns.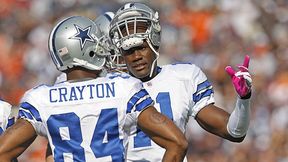 AP Photo/Jack DempseyIn 16 games with the Cowboys, Roy Williams has 33 catches for 447 yards and three touchdowns -- a far cry from the Pro Bowl numbers he put up for the Detroit Lions.
Last season, Bernard Berrian joined the Vikings and had 48 catches for 964 yards and seven touchdowns with quarterbacks Gus Frerotte and Tarvaris Jackson.
Green Bay's Donald Driver had 74 catches for 1,012 yards and five touchdowns in Aaron Rodgers' first year as the full-time starting quarterback. Driver never went more than three games without a touchdown last year.
Williams is concerned about his lack of production but understands the Cowboys' offense is doing a strong job without him.
Dallas has the second-best offense in the league, and its passing (seventh) and rushing attacks (sixth) are highly regarded.
"Everything is working for us -- offense, defense and special teams," Williams said. "The only thing that isn't working for us is Romo-to-Williams and it's a big deal. It's the only thing that y'all have to talk about."
Calvin Watkins covers the Cowboys for ESPNDallas.com. E-mail him at calvin.watkins@espn3.com.
ESPNDallas.com
Calvin Watkins joined ESPNDallas.com in September 2009. He's covered the Cowboys since 2006 and also has covered colleges, boxing and high school sports.
COWBOYS vs. EAGLES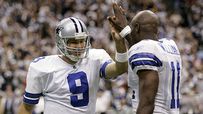 The Dallas Cowboys head to Philadelphia to battle the Eagles in a showdown for NFC East supremacy. Preview »
COLUMNS / BLOG POSTS
VIDEO
AUDIO