Commentary
Dallas beats Philly with beauty, grit
Cowboys rise to top of NFC East with 20-16 payback win over Eagles
Updated:
November 9, 2009, 8:55 AM ET
By
Calvin Watkins
| ESPNDallas.com
PHILADELPHIA -- This game meant everything to the Dallas Cowboys.
The last time they visited this city, their season was destroyed. The trip ended in a 44-6 defeat to the Eagles in the 2008 regular-season finale. The Cowboys' chances of reaching the postseason died like an off-Broadway play after a bad review.
But Sunday night, on a national stage, the Cowboys made a powerful statement. They beat the Eagles 20-16 to move into sole possession of first place in the NFC East.
"Our players left history in the past, I think," coach Wade Phillips said. "This is a new team, I've said it all along, new year, and we came in here to play our game and I thought we did a good job of that."
More on the Cowboys

Tim MacMahon, Todd Archer and Jean-Jacques Taylor have the Dallas Cowboys blanketed.
Blog » ESPN Dallas »
Top 50 Cowboys

Dallas is now 6-2 and one of only three NFC teams with five wins in conference. For all the discussions about how good the New Orleans Saints are at 8-0 and what the Minnesota Vikings could do at 7-1, the Cowboys have the third-best record in the NFC at 6-2.
Yes, this win over the Eagles was ugly at times, but there was some beauty and some grit to go with it.
The beauty came in the form of a nice pump fake from quarterback Tony Romo combined with a slant-and-go from wide receiver Miles Austin that beat Eagles cornerback Sheldon Brown in the fourth quarter.
Romo's pass was the only catch of the night for Austin, who was brilliant the previous three weeks. But Austin's 49-yard touchdown broke a 13-13 tie and gave the Cowboys a 20-13 lead with 8:04 to play.
"We gave them a little pump on the play," Romo said. "I thought, they've been jumping it a little bit throughout the game, and we went with it, and I tried to sell the fake for a while and they bit. A couple of guys went to it and I gave [Austin] the ball and he did the rest."
The grit first appeared in the third quarter. The Eagles were ahead 13-10 and faced a third-and-2 at their own 41. QB Donovan McNabb completed a short pass to RB LeSean McCoy, but inside linebacker Bradie James' tackle pushed the running back away from the first-down marker.
Philadelphia, which thought it had a first down, challenged the play and lost, forfeiting its second timeout.
On fourth-and-1, the Eagles tried a hard count to get the Cowboys to jump offside. But it was the Eagles who jumped. Left tackle Jason Peters, perhaps worried about outside linebacker DeMarcus Ware, committed a false start, forcing his team to punt with 6:39 to play.
More grit was displayed in the fourth quarter, when the Eagles failed to gain a yard at the Dallas 45 on three consecutive run plays.
McNabb tried to sneak past the defensive line on fourth-and-inches, but defensive end Marcus Spears snagged him short of the first down. The Eagles again challenged the play, and again the play was upheld on replay. The Eagles lost their final timeout.
"I felt like half my body was past the marker, which I've seen," McNabb said. "I landed on top of one of our guys and just slid and kept on moving. ... We thought we had the first down, but unfortunately, I guess twice we didn't.
The Eagles settled for a field goal with 4:33 remaining in the game, a 52-yard kick from David Akers, to cut the Cowboys' lead to four. That's when the Cowboys produced even more beauty at Lincoln Financial Field.
"MB [running back Marion Barber] comes walking down our sidelines and says, 'I got this, don't you worry guys,'" inside linebacker Keith Brooking said. "I believe it in all my heart, I knew we were going to run the last [four minutes] off the clock, and sure enough they did it."
The Eagles had no timeouts or impact tackles to stop Barber.
On first down, Barber ran for 16 yards. Then he rushed for another 6. Both plays were to the left side of the offensive line, where tackle Flozell Adams and guard Kyle Kosier command attention.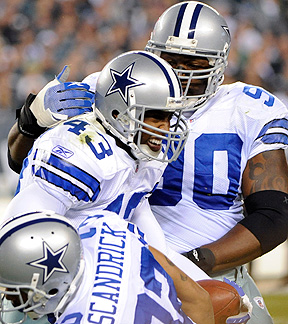 Howard Smith/US PresswireCowboys defenders Gerald Sensabaugh (43) Jay Ratliff (90) and Orlando Scandrick celebrate Sensabaugh's first-quarter interception.
On a third-and-3 from the 46, the Eagles had one last opportunity, but Romo found his best friend.
Jason Witten ran a slant to the sidelines, and Romo made a beautiful throw that landed perfectly in the tight end's hands for the first down.
Witten pumped his arms several times, and Phillips screamed with joy.
"Tony told me he was going to come to me on that play," Witten said. "I just knew to get the first down and get down and stay in bounds. It's kind of my role. They're playing off and bringing pressure, and that ball had to come out quick."
The Cowboys are in first place. By themselves.
Forget about what happened last year in this city, because the Cowboys have. Let's not talk about December, because that's another story for another day.
Enjoy it.
"Big statement," wide receiver Patrick Crayton said. "We're in first place, that's the only statement we wanted to make, man. We wanted to come out here, and I think everybody was like, 'How are they going to respond to big games? Big stage? Only game on TV. How are they going to respond?' I think we did pretty good. We passed the test."
Calvin Watkins covers the Dallas Cowboys for ESPNDallas.com. E-mail him at calvin.watkins@espn3.com.
ESPNDallas.com
Calvin Watkins joined ESPNDallas.com in September 2009. He's covered the Cowboys since 2006 and also has covered colleges, boxing and high school sports.