Commentary
Less December drama for Cowboys
Players have bought into Wade Phillips' one-game-at-a-time philosophy
Updated:
December 23, 2009, 11:35 AM ET
By
Calvin Watkins
| ESPNDallas.com
IRVING, Texas -- The Dallas Cowboys have various reasons why this December feels different than last year.
Sure, the Cowboys are 1-2 this month and remain one game behind the Philadelphia Eagles in the NFC East. But they're not panicking.
Last year, things might have been different. But the big change this season is team chemistry.
More on the Cowboys

Tim MacMahon, Todd Archer and Jean-Jacques Taylor have the Dallas Cowboys blanketed.
Blog » ESPN Dallas »
Top 50 Cowboys

There's no Terrell Owens feuding with Jason Garrett, Tony Romo and Jason Witten. Tank Johnson and Pacman Jones, negative influences in the locker room, are gone.
Now, the Cowboys have Keith Brooking encouraging players on the sidelines every Sunday. There's Marion Barber, Romo and Witten getting on their teammates for mistakes. Bradie James said the team can't use the media as distractions anymore because it's time to look inward.
"There was drama because of you guys," defensive end Marcus Spears said of the media. "But within the locker room last year, the goals and the feel and the work was still the same. We had some distractions in other places, but not much has changed since I've been here."
Several players have bought into what Wade Phillips has said about the regular season: It's not over until the first week in January.
In years past, players said they'd looked too far ahead and took their overall record for granted, which could explain the Cowboys' failures to make the postseason last season and their exit in the NFC divisional round the year before.
Now you hear players echo Phillips' sentiments. They don't quote the Bill Parcells-isms of the past. There are no more stories about old boxers battling from adversity and players trying to figure out what message Parcells was trying to send.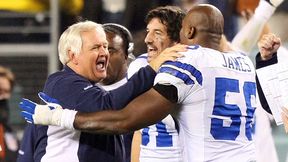 Al Bello/Getty ImagesKeith Brooking (center) and Bradie James are just two of the players who have bought into coach Wade Phillips' approach of having a short memory and focusing on the here and now instead of what's happened in the past.
The 2009 season is more about taking it one game at a time. Having a short memory, especially after losing the first two games this month, has also worked. The Cowboys showed that by knocking off the previously undefeated New Orleans Saints last Saturday to end a two-game losing streak.
"Those previous two weeks, I think we were all frustrated," Witten said. "But we're still a confident group. And all week, I think everybody had confidence and believed it was going to happen."
Making plays on the field has been critical.
Romo has thrown six touchdowns with no interceptions this month. He hasn't had a quarterback rating under 100 the last three weeks.
The running backs are healthy, unlike last season when Felix Jones was out in December and Barber played hurt. Dallas has a full complement of running backs this year, and the Cowboys have rushed for 298 yards this December.
Wide receiver Miles Austin is developing into a Pro Bowl-caliber player with his 23 catches for 314 yards and three touchdowns the last three weeks. His third-down catch on a slant pattern extended a drive in the fourth quarter against the Saints.
Outside linebacker Anthony Spencer is playing fantastically with seven quarterback pressures the last two weeks. DeMarcus Ware's two-sack performance against the Saints, after coming back from a strained neck, inspired the team.
Like any season, there are issues to deal with.
If the Cowboys finished tied with either the New York Giants or the Green Bay Packers, the Cowboys would lose the tiebreaker because of head-to-head losses to each.
Phillips needs to win a postseason game for a possible return in 2010.
And Jerry Jones finally released Nick Folk, who missed a NFL high 10 field-goal attempts, and signed Shaun Suisham.
But that's the only drama the Cowboys have right now.
Whether these changes work is uncertain. But if they don't, Phillips takes the blame.
"He's been around enough to know that comes with the territory," Jones said.
Calvin Watkins covers the Cowboys for ESPN Dallas. You can follow him on Twitter or leave a question for his weekly mailbag.
ESPN.com
Calvin Watkins covers the Houston Rockets and the NBA for ESPN.com. He joined ESPNDallas.com in September 2009. He's covered the Dallas Cowboys and Texas Rangers as well as colleges, boxing and high school sports.
Nike Youth Home Game Jersey New Orleans Saints Drew Brees #9 Shop »