Commentary
Tony Romo seeks keys to elite QB club
Cowboys passer has wins but needs them deeper in the playoffs to complete transition
Updated:
September 11, 2010, 6:36 PM ET
By
Calvin Watkins
| ESPNDallas.com
Wade Phillips talked about getting a gorilla off his back when he picked up the first playoff win of his coaching career after the Dallas Cowboys knocked off the Philadelphia Eagles in the NFC wild-card game last season.
[+] Enlarge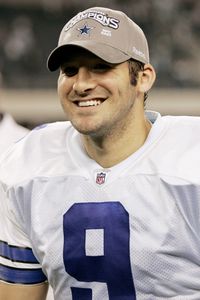 Tim Heitman/US PresswireTony Romo shook the Cowboys' playoff win drought last January but needs more postseason success to be considered elite.
The same could be said of Tony Romo.
It's hard to win in the NFL and, as Phillips noted, only quarterbacks and coaches get credit for wins and losses.
By winning his first playoff game as a full-time starter last season, Romo seemed to erase the demons of postseasons past. Yet to become an elite quarterback, Romo has to take his team deep into the playoffs and maybe win a Super Bowl.
The man Romo will meet Sunday, Donovan McNabb of the Washington Redskins, has been to a Super Bowl just once but reached the NFC title game five times with the Philadelphia Eagles.
McNabb said Romo is an elite quarterback but understands that it's wins that push you to that lofty status.
"For myself, it's all about winning and stats," said McNabb, who is one of just four players in league history to have at least 30,000 passing yards, 200 touchdown passes, 3,000 rushing yards and 20 rushing touchdowns. "I don't try to compare myself in numbers and things of that nature with anyone. Playing the quarterback position, if you don't win, nothing happens for you. I've had a lot of success with the [other] team I was with, and hopefully I have more success here in Washington."
After 55 starts, Romo has compiled a 38-17 record, which is fourth-best among active quarterbacks during the same span. The quarterbacks ahead of him -- Tom Brady (42-13), Ben Roethlisberger (39-16) and Kurt Warner (39-16) -- have won Super Bowls.
Romo won't talk about his individual goals, at least not in public, because he sees no sense in giving people ammunition if he fails to achieve them.
"I don't think about that stuff," he said. "That's just for people to talk about. It's just about winning and trying to be as good as you can be."
Romo knows he must win games to become an elite quarterback. In his four years as the starter he's never had a losing season.
Offensive coordinator Jason Garrett attributes that to Romo trying to get better and thinking of the big picture.
In the offseason, Garrett likes to show the quarterbacks on the roster the mistakes they made during the season. Sometimes, the sessions get quiet with Garrett doing all the talking.
Romo takes the sessions to heart because they fuel him. He sees the respect given Super Bowl winners Peyton Manning, Drew Brees and Brady. He understands the respect given to McNabb, who hasn't won a Super Bowl but has 92 victories.
"If you look at quarterbacks, you're not going to win a Super Bowl every year," Romo said. "But you can put your team in position to have a chance to play for the Super Bowl every year, and I think the quarterback's job is to help his team be in position to win football games. You need a full team and you need a lot of good players. That's why it's the ultimate team sport."
Each year Garrett tells Romo to improve his game, and he does. The quarterback has been told to cut down on turnovers and move his feet faster when taking the snap. Romo's done that.
Make faster reads to get rid of the ball. He's done that.
Get a better command of the offense so it can run more efficency. Romo has done that, too.
More on the Cowboys

Tim MacMahon, Todd Archer and Jean-Jacques Taylor have the Dallas Cowboys blanketed.
Blog » ESPN Dallas »
Top 50 Cowboys

"Certainly, Tony has proven himself as a starting quarterback. He's won a lot of games," Garrett said. "I think that's Line 1 when you're talking about quarterbacks: win-loss percentage. If you look at his over the last three regular seasons, it probably is up there with any of the top quarterbacks in the league. We as a football team need to take the next step. Certainly the quarterback is a part of taking that next step."
With this year's schedule, Romo's road to elite status will go through seven opponents that reached the postseason last year.
"I think he is a great quarterback," Redskins coach Mike Shanahan said. "He's just got a great feel for the game. He's got a great sense of timing and he can escape the rush. He can make plays when there is nothing there. I just like the way he handles himself both on and off the football field."
Calvin Watkins covers the Cowboys for ESPNDallas.com. You can follow him on Twitter or leave a question for his weekly mailbag.
2010 KICKOFF: COWBOYS AT REDSKINS
Cowboys Team Center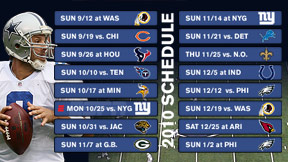 Follow ESPNDallas.com's coverage

of the Dallas Cowboys on Twitter
Get ready for the season opener by following the action on ESPNDallas.com's
Cowboys Blog
.
NEWS/COMMENTARY
SCOUT'S EYE: BROADDUS' BREAKDOWN
Former NFL scout Bryan Broaddus breaks down flim of practices for ESPN Dallas. Series »


NFL BLOG NETWORK