Commentary
Jones praises coach, hasn't signed him
Updated:
January 7, 2010, 6:20 PM ET
By
Ed Werder
| ESPNDallas.com
IRVING, Texas -- Even though he just motivated the Dallas Cowboys' defense to a historic feat, Dallas head coach Wade Phillips still inspires doubt.
Perhaps that is because of what happened two years ago, when the Cowboys had a 13-win team full of Pro Bowl players that created Super Bowl expectations for owner Jerry Jones. The Cowboys lost at home to an opponent they defeated twice during the regular season. Phillips delivered an indictment of himself when he insisted the better team lost.
What if that happens again Saturday night when Phillips and Tony Romo both again seek the first playoff victory of their careers? Unless the Cowboys suffer a blowout defeat, it's almost impossible to imagine that Jones would decide not to have Phillips return for a fourth season.
With the first back-to-back shutouts in franchise history, Phillips is clearly confident and has merely raised expectations with his rhetoric.
"I don't know anybody is going into the playoffs any stronger than we are," he said.
But speculation about whether Phillips is doomed will begin before the game ends if the Cowboys perform badly and are quickly eliminated at JerryWorld by a Philadelphia Eagles team they have defeated twice. That shouldn't happen. But if it does, Phillips will be 0-5 in playoff games with John Elway, Doug Flutie and Romo as his quarterbacks.
"I really don't know how you can sit here and make a change with the winningest percentage coach that we've ever had in the history of the Cowboys," Jones said.
Whereupon I immediately reminded Jones that he is the only owner in history to have replaced a head coach that had just won a second consecutive Super Bowl trophy. Jones has fired every coach the Cowboys have ever had who didn't quit on him first, a list that includes four Super Bowl winners: Tom Landry, Jimmy Johnson, Barry Switzer and Bill Parcells.
"I don't want to take anything away from our players, but I think what you're seeing develop and evolve is 100 percent Wade Phillips," Jones said. "I know how hard he's working. When our defense is playing [well] and our team really realizes how much of him is involved in the defense, then it does give him huge credibility."
Jones told me last week that he would have to change his mind not to retain Phillips. He has suggested his unwillingness to commit to this point has nothing to do with lingering uncertainty about Phillips' future than it does mere superstition about not eliminating a piece of motivation that seems to be having the desired effect.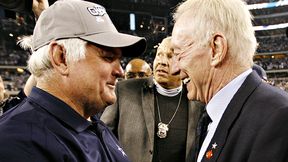 AP Photo/Erich SchlegelJerry Jones continues to heap praise on coach Wade Phillips, even though the owner has yet to extend Phillips' contract. "I really don't know how you can sit here and make a change with the winningest percentage coach that we've ever had," Jones said.
What is most interesting is that Jones said he and Phillips have not even discussed their future together but that the paperwork is in place and the team has the right to extend their current agreement. A source confirmed this week that Phillips' projected salary for 2010 is not much different than what he's currently making, meaning Jones does not face the kind of huge number that would compel him to renegotiate.
So it appears that Jones is content to extend Phillips for another season rather than offering him a multi-year extension.
One reason Jones has declined to make an impulsive and premature commitment is that he questioned himself after doing exactly that when he bribed Jason Garrett to reject two head-coaching opportunities.
But Jones wants Phillips to succeed. His return would let Jones be right about Wade to his critics, lets him save a significant amount of money and it lets Jones be himself around his football team in a way not every other head coach would appreciate.
"Jerry wants Wade back, but Wade has to earn it -- and he's earning it,'' a source said. "Wade is easy to like. The media kicks his ass for that. We want coaches to be mean dragons like Parcells and Jimmy. They don't all have to be that way. The guy at Indy [Tony Dungy] was a nice person.
"Wade's easy to like, and that could be his downfall. But I know Jerry likes Wade.''
Phillips has a 33-15 record and two NFC East championships in three seasons at Dallas. He's the only head coach who serves as his own defensive coordinator, and his appearance on the sidelines makes the Cowboys unique among the NFC playoff contenders. The other five teams are coached by offensive-minded head coaches with all but the Cardinals finishing the season ranked among the NFL's top five scoring teams.
I concede that Phillips is correct in describing himself as a great defensive coordinator. But he came to the Cowboys determined to demonstrate himself as a great head coach. He hasn't yet, in my opinion.
But he might prove me wrong.
At a time when everyone should be more convinced than ever that the Cowboys will defeat the Eagles, I'm not sure that is the reality at the moment.
More on the Cowboys

Tim MacMahon, Todd Archer and Jean-Jacques Taylor have the Dallas Cowboys blanketed.
Blog » ESPN Dallas »
Top 50 Cowboys

Phillips' defense has unquestionably outperformed the offense masterminded by Garrett, who had nonetheless done fabulous work developing Romo. And Phillips has done that same thing with young players such as Anthony Spencer and Mike Jenkins. Phillips also is personally responsible for two key free-agent acquisitions -- Keith Brooking and Igor Olshansky, both of whom played for him with other teams.
But here is where I question Phillips and his ability to prepare a team for postseason success: It has nothing to do with his refusal to motivate underachieving Roy Williams through a different approach, although that might prove detrimental at some point. I think Phillips is making a questionable decision this week that jeopardizes Romo's protection against an Eagles defense expected to emphasize blitzes.
Phillips is starting Marc Colombo at right tackle even though he's missed nearly two months with a broken fibula, even though the coach has described him as being less than 100 percent. He's benching Doug Free, who in the opinion of some inside the Cowboys' organization has been playing better than Colombo, even though Free just played effectively against the Eagles last week.
If Colombo takes even one play to acclimate himself to game speed, it could result in the kind of mistake that potentially ends another season with Cowboys players staring dejectedly at the ground. Phillips just refuses to make hard decisions.
When I inquired as to why Colombo was expected to start, a team source said, "Wade's back.''
And he will almost certainly be back for another season -- unless his team fails to show up for the playoffs.
Ed Werder covers the NFL for ESPN.com and contributes weekly to ESPNDallas.com.