Commentary
DFW shares compelling icons, quests
Updated:
September 28, 2009, 1:16 AM ET
By
Tim MacMahon
| ESPNDallas.com
There are sports towns that have enjoyed more recent success than Dallas-Fort Worth.
OK, most major towns have had more to celebrate over the past decade. But there aren't many cities that can match the passion Dallas-area sports fans have for their allegiances -- from high schools to America's Team. And there certainly aren't many -- if any -- local sports scenes as entertaining as ours.
There are plenty of storylines to cover for a Web site focused solely on the teams Dallas-area sports fans care about, even if the playoff wins don't come as often as desired.
Case in point: the Dallas Cowboys, who have managed to remain the NFL's most fascinating franchise (and have the TV ratings to prove it), despite a playoff-win drought that dates to 1996. Jerry Jones' presence, power and personality -- key ingredients in building the brand-new $1.2 billion football palace in Arlington -- ensure that the Cowboys will continue to be perhaps the most polarizing team in professional sports.
After some offseason cleansing of the locker room, it's not the soap-opera scene at Valley Ranch that it was in recent seasons. And Tony Romo isn't popping up on tabloid covers on a regular basis since he decided to part ways with Jessica Simpson. With the exception of 60-yard HD big screens and jam-packed "Party Pass" areas, the focus is on football with the Cowboys these days.
[+] Enlarge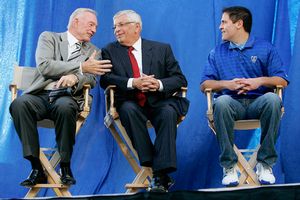 Glenn James/NBAE/Getty ImagesJerry Jones and Mark Cuban, with NBA commissioner David Stern, teamed up to help bring the 2010 NBA All-Star festitivities to Dallas-Fort Worth.
Jones, who believes the modern architectural marvel the Cowboys now call home will inspire his team, still has a Super Bowl-or-bust mentality. He can point to the 14 former Pro Bowlers on the roster, along with emerging young talents such as electrifying running back Felix Jones, as justification for the high expectations. That puts head coach Wade Phillips on the hot seat. He has assumed full control of a defense that has stumbled out of the gate in the final season of his contract. There is also plenty of pressure on Romo, the franchise quarterback, and new No. 1 receiver Roy Williams to perform up to their pay levels.
Jones' new stadium will also be home to many high-profile events. Already booked are the 2010 NBA All-Star Game and Super Bowl XLV. It will be the site of several college football games each season, including the Cotton Bowl and the next two Big 12 championship games. It will host the Final Four in 2014 and earlier rounds of March Madness in years before that.
If there's a more outlandish owner than Jones in professional sports, it's Mark Cuban, who has drawn attention for his courtside and online antics while overseeing the Dallas Mavericks' transition from laughingstock to one of the NBA's most consistent franchises.
Dirk Nowitzki, the cornerstone of a team that has nine consecutive 50-win seasons, was there when Cuban bought the team. Cuban is determined to win a championship during the 31-year-old perennial All-Star's prime, and is willing to spend to do it. The Mavs were a couple of wins away from a pre-planned parade in 2006, a sore subject in downtown Dallas.
After advancing to the second round of the playoffs for the first time since the Finals flop, the Mavericks accomplished their offseason goals of keeping their core intact while becoming a more athletic, tougher, better defensive team. They added Shawn Marion and others, while positioning themselves to be major players in the much-anticipated free-agent summer of 2010.
The Texas Rangers, who returned to baseball relevance this season -- a year ahead of their rebuilding schedule -- actually might give local fans the most reason for hope in the immediate future.
The Rangers' ownership situation is in flux, but the team, which has never won a playoff series, is set up to be a contender for several years. That's primarily because the farm system, built by general manager Jon Daniels and deemed the best in the game by Baseball America, has already begun bearing fruit.
Shortstop Elvis Andrus and pitchers Derek Holland, Tommy Hunter and Neftali Feliz are among the rookies who helped the Rangers stay in playoff contention into September. All this despite down years from Ian Kinsler and Josh Hamilton, a pair of young former All-Stars. Hamilton's odyssey from can't-miss prospect to addict to superstar -- and the battle he constantly fights to stay on the straight and narrow -- also happens to be one of the most intriguing personal tales in the sports world.
The Dallas Stars, the Tom Hicks-owned team in town that isn't for sale, is in transition. After missing the playoffs last season, the Stars hired a new general manager. And ex-fan favorite Joe Nieuwendyk's first major decision was to change coaches, firing Dave Tippett and hiring Marc Crawford. As a result, Mike Modano and his teammates will play an attacking offensive style that should be fun to watch.
The Stars' Stanley Cup title in 1999 marks the last major championship won by a local pro team.
However, in addition to SMU, TCU and North Texas, we stretch the boundaries of Dallas-Fort Worth, for sports purposes, to claim all of the Big 12 South. That's arguably the best division in college football, as evidenced by the national titles won this decade by Oklahoma (2000) and Texas (2005). The Red River Rivalry game between the two is played on Dallas turf at the Cotton Bowl each year.
The Metroplex has a well-rounded scene that extends far beyond the big four sports. Texas Motor Speedway in Fort Worth is one of the premier NASCAR tracks. The Colonial in Fort Worth and the Byron Nelson in Irving are a pair of annual stops for the PGA Tour. Frisco is home to Major League Soccer's FC Dallas and the Rangers' Double-A baseball club, the RoughRiders. Grand Prairie boasts Lone Star Park, which hosted horse racing's Breeders Cup in 2004.
Texans can also puff out their chests and confidently declare that the best high school football in the country is played right here.
Metroplex folks haven't been able to boast much about their pro teams, but at least the parade plans are in the can when the opportunity arises.
ESPNDallas.com
Joined ESPNDallas.com in September 2009
Covers the Dallas Cowboys and Dallas Mavericks
Appears regularly on ESPN Dallas 103.3 FM