Commentary
Title aspirations driving Texas' McCoy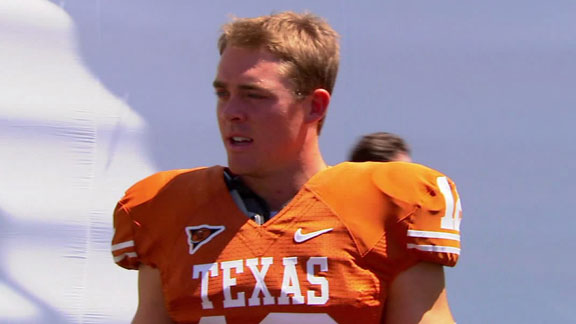 E:60: Colt McCoy
E:60 stops by Colt McCoy's ESPN The Mag photo shoot
E:60: Colt McCoy
AUSTIN, Texas -- Heisman Trophies aren't won in early-season games against inferior opponents. To earn the title of the best college football player in the country, you have to show up when the lights are the brightest and the games are the biggest.
The stage doesn't get much larger than the Cotton Bowl in Dallas for Saturday's Red River Rivalry.
"I understand these are big games, and my job is to go out there and do my best to help our team win," Texas quarterback Colt McCoy said. "And I also understand through experience, through four years, that if I go out there and play well and we win, those things come in the end."
In their words: Colt McCoy

What some former UT quarterbacks have to say about Colt McCoy:
JAMES BROWN (1994-97)
2-1-1 record vs. Oklahoma
"I've always liked Colt. He loves to win and he's going to do anything to put his team in position to win the game. He's tough and has a lot of heart. It's the same things you hear people say about Tim Tebow. He just has that will to win. He's got a very strong arm and he's fast enough to run the ball. I think he has the skills to play in the NFL and win a national championship this year."
VINCE YOUNG (2003-05)
1-2 record vs. Oklahoma
"I definitely think his skills translate to the next level. He's very coachable, tremendous athlete. He takes his time and pays attention. When I was there with him, he took the time to ask lots of questions. He was always there with me in the meetings early in the morning learning. Even though he was not getting a chance to play, he was getting the offense down so that when his time came, he'd capitalize on it."
TODD DODGE (1982-85)
0-0-1 record vs. Oklahoma
""I think his strength is his accuracy and his athleticism. I think that he will make an outstanding pro, I really do. I've had a chance to watch Colt come through the Texas program, being a high school coach and seeing him at camps. ... He's been ever-improving. He's a guy that is accurate, and that's big in the NFL. If you can put the ball on people and be on time, you can have a long career."
SHEA MORENZ (1992-95)
0-1 record vs. Oklahoma
"I think he's arguably the best quarterback that's been at Texas. I say that knowing that Vince is the best athlete there, but I just think of Colt as a pure, pro-style quarterback. His numbers speak for themselves. He has great instincts for the game. He's using his eyes properly, looking off defenders and he reads defenses well. He does a great job of managing the game. ... He makes people around him better and not everyone does that."
That's what happened for McCoy's counterpart on Saturday -- Oklahoma's Sam Bradford. He put up gaudy numbers against Texas last season: 387 passing yards and five touchdowns. And though he threw two interceptions in a losing effort, Bradford grabbed the attention of Heisman voters and just kept piling up the yardage and touchdowns for the rest of the season.
Bradford could become only the latest example of a player using the Red River Rivalry as a springboard to winning the Heisman Trophy.
OU quarterback Jason White threw for 290 yards and four touchdowns in a 65-13 whipping of the Longhorns in 2003. In 1998, Texas' Ricky Williams wore No. 37 to honor SMU's Doak Walker and rushed for 139 yards and two touchdowns in a 34-3 win over Oklahoma.
McCoy made it clear his priority is winning the game. He did that last season, putting together an accurate and impressive afternoon. He completed 28 of 35 passes for 277 yards and led UT on four consecutive second-half scoring drives.
But McCoy ended up second in the Heisman voting. If that near-miss still bothers McCoy, he isn't showing it. He said he hasn't even thought about last year's Oklahoma game or how the season finished.
"I'm only worried about this game," McCoy said.
After a slow start to the season, by his lofty standards, McCoy has played at a higher level since halftime of the Texas Tech game -- completing 82.6 percent of his passes with five touchdowns and two interceptions.
McCoy had the flu the week of the Tech game. But after eating a peanut butter and jelly sandwich and getting some fluids in his system at halftime, McCoy was 15-of-18 passing with a touchdown in the second half to lead Texas to a 34-24 win.
McCoy is showing an even greater understanding of the offense. Offensive coordinator Greg Davis said McCoy is progressing through his reads quicker, finding his third and fourth options more often through the first five games than he did all of last season.
"I've seen him relaxing more," Davis said. "He had set his bar so high, it was almost impossible to attain. He's playing more like himself, dropping the ball down. He's playing well."
Playing well in front of a sellout crowd, not to mention a national television audience, could vault him into frontrunner status for the Heisman Trophy.
"I think all the individual awards are a tribute to how well your team plays," McCoy said. "Those awards definitely reflect your team. If that happens in the end, I'll be extremely thankful and that will be awesome. It's a team award to me."
Make no mistake, McCoy wants trophies. But there are two others he'd like more.
"The national championship means the most and the Big 12 championship means the most," McCoy said. "Those are two things we haven't played for the last few years."
Richard Durrett covers colleges for ESPNDallas.com. E-mail him at richard.durrett@espn3.com.
ESPNDallas.com
Richard Durrett joined ESPNDallas.com in September 2009. He writes about colleges, the Dallas Stars and the Texas Rangers. Richard spent nine years at The Dallas Morning News covering the Rangers, Stars, colleges, motorsports and high schools.
Nike Men's Texas Longhorns #28 Burnt Orange Replica Game Football Jersey Shop »
MORE COLLEGE FOOTBALL HEADLINES