Commentary
Faster tempo eats away at OU defense
Updated:
October 19, 2009, 11:24 AM ET
By
Richard Durrett
| ESPNDallas.com
DALLAS -- It was a frustrated yet resolute Texas offense that gathered in the home locker room at halftime of Saturday's Red River Rivalry at the Cotton Bowl.
Something had to change. That much the Longhorns knew.
For the first 30 minutes, nothing went right. The Sooners dominated the line of scrimmage and confused the Longhorns with formations and schemes that hadn't been in the playbook in years.
"I saw four or five blitzes I'd never seen in my life," quarterback Colt McCoy said.
Texas had more penalty yards (68) than rushing yards (40) and was just 1-of-9 on third-down chances. The Longhorns wanted to attack the middle of the field with the passing game, but Oklahoma's front seven didn't give McCoy any time to do so. It didn't help that on one blitz, Sooners defensive tackle Gerald McCoy got so close he felt Colt McCoy's thumb slam into his helmet. Colt McCoy was left with part of a fingernail and a sore finger, but there was no way he was coming out of the game.
Yet despite an offense that was stalling, the scoreboard at the half read Oklahoma 6, Texas 3.
"We knew with the way our defense was playing that we had a chance," said center Chris Hall, from Irving. "We felt like if we kept pushing and kept going that things would open up. The coaches did a good job with adjustments."
Offensive coordinator Greg Davis cranked up the tempo to start the second half, trying to get his offense into more of a rhythm. He spread the field with five receivers and gave McCoy the opportunity to throw outside right after the snap, countering Oklahoma's blitz. That helped open up the middle for the running game. And the quicker pace made it more difficult on Oklahoma's defense to make substitutions.
"We knew we had to establish the running game, and that was the main thing we stressed at the half," said left tackle Adam Ulatoski, who was part of an offensive line that got more comfortable as the game went along. "Our running backs did a nice job and we gained some confidence on that first drive of the second half."
Fozzy Whittaker rushed for 30 yards on a 42-yard drive that tied the score with a field goal. The fact that the Longhorns were able to run the ball and get points allowed the offense to relax some.
The next time on the field, Texas' offense looked for another receiving option with top wideout Jordan Shipley blanketed by the Sooners' secondary. It turned to Marquise Goodwin, a true freshman from Rowlett. Goodwin, who hadn't had a catch up to that point, had two big third-down receptions to help the Longhorns take the lead.
He caught a pass across the middle at the Texas 36-yard line on third-and-8 to get the drive started. He then finished it off with a touchdown catch on a slant route, slipping the grasp of Oklahoma free safety Quinton Carter at the 5-yard line on his way to the end zone.
Late in the third quarter, McCoy began using his feet a little more. Texas had deliberately avoided using McCoy too often in the run game this season in an attempt to cut down on wear and tear. But it decided earlier in the week to add the wrinkle of McCoy running zone reads or designed draws. He ran a few of them on the Longhorns' final scoring drive, setting up a 32-yard field goal early in the fourth quarter. The Longhorns' defense made sure it held up.
Texas had 102 rushing yards in the second half, an amazing number considering how well Oklahoma's defense played. McCoy's numbers sure weren't shiny: 21-of-39 for 127 passing yards with a touchdown and an interception. But he ran for 65 yards on 14 carries and won the game.
The last part is what matters.
"He doesn't care if he throws for 300 or 127," Davis said. "He doesn't care if he has to run the ball. He wants to do whatever he can to lead his football team. I knew that, but it was re-emphasized today."
McCoy led a much better offense in the second half.
"We came together and executed," Hall said. "Both defenses were great, we did just enough on offense to win.
Richard Durrett covers colleges for ESPNDallas.com. E-mail richard.durrett@espn3.com.
RED RIVER RIVALRY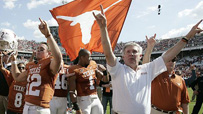 Texas' offensive adjustments and a dominant front four lead the way against Oklahoma. Recap »
COLUMNS / BLOG POSTS
VIDEO
Nike Men's Oklahoma Sooners Grey Resonator T-shirt Shop »
MORE COLLEGE FOOTBALL HEADLINES