Commentary
All eyes on Rangers' Neftali Feliz
Young flamethrower's command of off-speed pitches is key in bid to win rotation spot
Updated:
March 2, 2011, 7:31 PM ET
By
Jeff Caplan
| ESPNDallas.com
SURPRISE, Ariz. -- The most anticipated spring training day to date arrives Thursday afternoon when the American League rookie of the year, who saved 40 games hurling triple-digit heat, begins his run at the Texas Rangers' rotation.
Neftali Feliz will pitch his first two innings of the Cactus League when he starts a split-squad game against the Cleveland Indians in Surprise. Lefty hopeful Derek Holland will start the other split-squad game against the Chicago Cubs in Mesa. But make no mistake: All eyes will be keenly focused on the big, strong, 22-year-old Dominican, whose final destination will have ripple effects on the rotation and the bullpen.
[+] Enlarge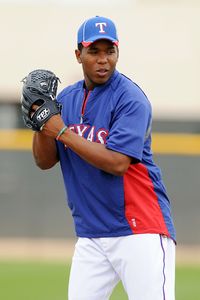 Norm Hall/Getty ImagesTeam president Nolan Ryan says Neftali Feliz is "the most gifted pitcher" the Rangers have.
"Feliz is an animal. He's a big kid," manager Ron Washington said. "We're going to find out if he can maintain his stamina and maintain his stuff at the same time."
There is no debate in the organization over the 6-foot-3, 215-pounder's obvious physical talent. As president Nolan Ryan pointed out earlier this week: "He's the most gifted pitcher we have. There's no getting around that."
That doesn't mean he's their best heading into his sophomore season.
"If he's my best pitcher, I want him to be out there every inning I can get out of him," Ryan said. "Now, we're talking potential."
The issue Washington, pitching coach Mike Maddux and the Rangers' front office will wrangle over the next few weeks is whether Feliz has gained enough command of his secondary pitches to allow him to become a consistent starter. One of the lasting images of the 2010 season was Feliz freezing Alex Rodriguez with an 83 mph slider to clinch the AL Championship Series.
If the command with his slider and changeup appears to be there, then the conversation becomes: Is it worth the risk to remove ninth-inning security and open competition for a new closer among a group -- Alexi Ogando and Mark Lowe being at the top of the list -- with little experience in the role?
The expected answer is yes.
"What you have to realize is when you have somebody of his magnitude and what he accomplished last year, that's a big void to fill [at closer]," Ryan said. "Those kinds of guys aren't hanging around. You have to evaluate the whole impact it would have on your ballclub."
Clearly, it won't be a move without some internal trepidation. Still, there's enough overriding giddiness over Feliz's potential to see this through.
"There's a lot of people in this organization that believe he can be a front-line starter," Washington said, "and we just want to make sure we give the organization an opportunity to look at that."
Feliz was a starter in the minors and has repeatedly said he will gladly do whatever the franchise asks of him. After the World Series, Rangers general manager Jon Daniels said there were no plans to move Feliz out of the 'pen. But that was when optimism ran high that Cliff Lee would return to anchor the starting rotation.
With Lee as the ace, followed by C.J. Wilson, Colby Lewis, and any combination of Tommy Hunter, Holland and other hopefuls in camp, maintaining the hard-throwing Feliz as the closer made perfect sense. Without Lee, who spurned the Rangers and New York Yankees to sign with the Philadelphia Phillies, Texas is doing what it must and giving its rising star a chance to shine as a starter.
The Rangers have something of a road map to follow after Wilson successfully made the transition from closer to starter last season. Wilson went 15-8 with a 3.35 ERA and pitched more than 200 innings. The difference between Wilson and Feliz at this stage last spring was Wilson's more seasoned repertoire.
More Texas Rangers coverage

For more news, notes and analysis of the Rangers, check out ESPN Dallas' Rangers Report. Blog
Wilson showed quickly last spring that he had enough command of multiple pitches to earn a starting job. Washington has already named him this season's Opening Day starter.
Last spring it was clear that Feliz did not have the command of his off-speed pitches. He was assigned to the bullpen as a setup man to Frank Francisco, where he could rely almost exclusively on his heater. Early mound misfortune for Francisco led Feliz to the closer's role, and once there, he never relinquished the job.
"For Feliz, the biggest thing from a pitch-selection standpoint is if he can use his changeup effectively," Wilson said, "because his breaking ball is good enough. His fastball is obviously good enough. It's just going to be the question of how well he can use his changeup in order to keep guys from picking one or the other. If you only have two pitches, it's hard. ...
"It's all about the changeup for him."
All eyes will be watching.
Jeff Caplan covers the Rangers for ESPNDallas.com