Commentary
A dose of pitching advice and humor
Part mentor, part quipster, Mike Maddux keeps his pitchers informed and loose
Updated:
March 15, 2010, 2:25 PM ET
By
Richard Durrett
| ESPNDallas.com
SURPRISE, Ariz. -- Darren O'Day vividly remembers the first lengthy conversation he had with Texas Rangers pitching coach Mike Maddux.
"We talked before I even had my own jersey," O'Day said. "And it helped change my season."
Less than 24 hours after O'Day's arrival with the Rangers in late April 2009 -- he was claimed off waivers from the Mets, didn't get to Toronto until late that evening, and gave up the winning hit in the 11th inning wearing Kason Gabbard's jersey because he didn't have one yet -- Maddux said he had an idea he thought would make O'Day more effective.
More Texas Rangers coverage

For more news, notes and analysis of the Rangers, check out ESPN Dallas' Rangers Report. Blog
"He took me out to the mound and told me that my splits against righties weren't as good as they should be for a sidearmer," O'Day said. "So he wanted me to move where I stood on the mound. He said I was on the first-base side of the mound throwing to righties and was basically putting the ball on a platter."
Maddux moved O'Day to the third-base side against right-handed hitters, making it more difficult for the batter to pick up the ball as it left O'Day's hand.
"He didn't just tell me to do it and that was it," O'Day said. "He showed me. He stood down there behind the catcher and pointed out where the ball was coming out of my hand and where it used to come out of my hand. It was obvious that it was better his way."
O'Day began applying the changes immediately, and he consistently saw results as a late-inning reliever. He had a 1.94 ERA in 55 2/3 innings for Texas with 54 strikeouts, 17 walks, 20 holds and two saves. And O'Day was extremely effective against right-handed hitters -- they batted .180 against him and didn't homer in 139 at-bats.
"

Commanding the baseball is the biggest thing. If you can command it, you have a good delivery. It's important to be a complete ballplayer. Don't just be a pitcher. Be a fielder. Be a cheerleader. Do it all.

"

-- Rangers pitching coach Mike Maddux
The Rangers' pitching staff improved its overall ERA in 2009 by nearly a full run from the previous season. The 4.38 ERA was the lowest for the club since 1993, a year before the Rangers started playing at Rangers Ballpark in Arlington.
O'Day isn't the only pitcher with a Maddux story. Some talk about a minor tweak that he made, and some remember a recommendation that they focus on one particular pitch to get better. But all of them talk about a coach with a fun-loving personality, an extreme attention to detail and a yearning to make each pitcher better.
Those were attributes that served Maddux well as a player. He pitched for 15 seasons, mainly as a reliever, and had a career 39-37 record with a 4.05 ERA.
"But I knew I was washed up that last year," said Maddux, who retired midway through the 2000 season. "Players had passed me up. They were younger, bigger and stronger. My skills kind of evaporated. Coaching was something I had always had in my mind. My last couple of years as a player, I was semi-coaching."
So Maddux decided to try to stay in the game that way. There was a vacancy at Double-A Round Rock, the Houston Astros affiliate owned by Nolan Ryan. Maddux joined the staff of manager Jackie Moore, now the bench coach for the Rangers. Maddux got to work with a good group of pitchers during his time there, including Roy Oswalt and Brad Lidge.
RANGERS STARTING PITCHING
How the Texas Rangers' starters improved in their first season with pitching coach Mike Maddux (2009):
| | 2008 | 2009 |
| --- | --- | --- |
| W-L | 52-53 | 68-56 |
| ERA | 5.51 | 4.61 |
| Opp BA | .300 | .268 |
| IP | 869.1 | 949.2 |
"It didn't take long to realize we had something special as a pitching coach," Moore said. "I could see improvement in all areas of the pitching staff. Mike was feeling himself through in some areas, but it didn't take him long. He has the type of personality that he could pass along a lot of knowledge. I knew he wouldn't be in the minor leagues for too long."
Maddux spent just 2» seasons in the minors before Milwaukee hired him as a pitching coach in 2003. He helped build that staff into one of the best in the National League before the Rangers hired him.
What sold the Rangers' brass -- including Ryan, the club president -- was Maddux's philosophy on conditioning. Maddux liked the idea of pitchers' throwing live batting practice to help build up strength, something Ryan advocated. They also liked his down-to-earth personality.
RANGERS RELIEF PITCHING
How the Texas Rangers' relief pitchers improved in their first season with pitching coach Mike Maddux (2009):
| | 2008 | 2009 |
| --- | --- | --- |
| ERA | 5.15 | 3.93 |
| Opp BA | .269 | .244 |
| Save Pct. | 56.3 | 77.6 |
"He relates well to players and made the transition from playing to coaching better than most guys," Ryan said. "He's as prepared for a game and prepared to do the job well as anyone I've ever been around."
So why would Maddux take on the challenge of turning around a pitching squad that posted a 5.37 ERA in 2008, the worst in the major leagues?
"The people involved," said Maddux, the brother of four-time Cy Young Award winner Greg Maddux. "There's a great group of front-office folks and coaches here, and I was told by people I trust about the direction the organization was headed. There were a lot of very promising players in the minor leagues."
And Maddux gets a chance to help mold them. He preaches preparation, pitching to strengths and the situation, and consistency.
"It's pretty simple, really," Maddux said. "There are absolutes of the game. Commanding the baseball is the biggest thing. If you can command it, you have a good delivery. It's important to be a complete ballplayer. Don't just be a pitcher. Be a fielder. Be a cheerleader. Do it all."
To make pitchers into complete players, Maddux first engages them on a personal level. He uses a variety of methods to do this, including nicknames.
"Many of them aren't suitable for print," said Scott Feldman, who has several nicknames, including "Marty," after the late actor and comedian Marty Feldman.
[+] Enlarge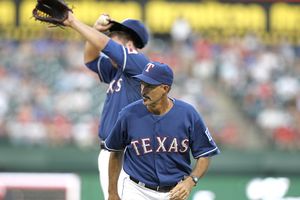 AP Photo/Tony GutierrezUnder Mike Maddux, the Rangers' team ERA improved from an AL-worst 5.37 in 2008 to a middle-of-the-pack 4.38 in 2009.
Some nicknames are based on personalities -- the jovial
Willie Eyre
is "Smiley." And some are whatever pops into Maddux's head --
Tommy Hunter
is "Tommy Boy," and
Matt Harrison
is "Goober."
"He thinks I'm from Mayberry," Harrison said. "I'm from North Carolina, and that's where 'The Andy Griffith Show' took place. He called me 'Opie' and 'Truck Driver' for a while, too. I don't know where he gets these names from."
Maddux says it gives each player a sense of individualism.
"It's your pet name," Maddux said. "Most people call their wives something that nobody else calls her because you love her. You call them by the nickname, and they know who's on the other end. Sometimes I don't even know their real name."
But he can recite their mechanical quirks and key personality traits. And he knows just which buttons to push -- and when. Many times, his humor helps lighten up a tense situation.
"I was having a rough inning against the Dodgers, and he came out and made some joke, and it made me laugh," reliever Doug Mathis said. "I don't even remember what he said, but it loosened me up. I got out of the inning."
Maddux also comes to the mound armed with specific instructions based on the situation.
"That takes the pressure off and lets me be the bad guy if it doesn't work," Maddux said. "Usually, I give a pat on the back and some encouragement and let them take a breath. If you have to tick somebody off, by all means you do that, too. But it's better to be positive, I find."
TEXAS TURNAROUND
Although Kevin Millwood is now with the Orioles, he made the biggest improvement after the Rangers added pitching coach Mike Maddux in 2009:
| | 2008 | 2009 |
| --- | --- | --- |
| W-L | 9-10 | 13-10 |
| IP | 168.2 | 198.2 |
| ERA | 5.07 | 3.67 |
| Opp BA | .312 | .257 |
Maddux's main work happens before the first pitch is thrown. He usually arrives in the clubhouse before lunch for a night game, compiling video of the opposing lineup with bullpen coach Andy Hawkins to formulate a game plan. Maddux then talks with that night's catcher about what to expect so that both are on the same page. Then it's a matter of communicating the plan to the pitcher.
"I've never seen anybody that could form scouting reports like they do," O'Day said. "They are so thorough. Without seeing some of the hitters before, I felt like I had already faced them. You trust their analysis, and most of the time it's right."
Maddux is also a stickler for conditioning. He champions Ryan's old-school approach, which includes plenty of running and long tossing even early in spring training to build up arm strength.
"We've done it firsthand," Maddux said. "In Nolan's case, he was a freak of nature, but the freak of nature lasted a long time. That wasn't by accident. The older you get, the harder it is to work. But you need to work harder, too. It's good to learn that as a young player and make that a habit. I see guys doing that on this team."
Lost in last season's improvement was that the Rangers' starting rotation went from throwing the fewest innings in the American League to one that held its own, decreasing the amount of pressure on the bullpen. Maddux and Ryan attribute some of that to conditioning.
During games, Maddux is constantly updating manager Ron Washington on when he thinks a certain part of the opposing lineup might come up and the various decision points on when to consider changing pitchers.
"He's made me a better manager," Washington said. "He's always on the lineup. He's always in my ear about who might fit better in a certain situation if a guy gets in trouble. He always has the numbers to back it up. He's well prepared and talks baseball the whole game. You can see what he's done with our pitching staff. He does whatever he can to make everybody better."
Richard Durrett covers the Rangers for ESPN Dallas. You can follow him on Twitter or leave a question for his weekly mailbag.