Commentary
Cruz missile gets Rangers' bats going
Flat start tossed to the wind with one swing, sets table for Saltalamacchia's walk-off
Updated:
April 5, 2010, 10:47 PM ET
By
Richard Durrett
| ESPNDallas.com
ARLINGTON, Texas -- This is the earliest a new carpet in the Texas Rangers' clubhouse has needed cleaning in 30 years.
Rangers catcher Jarrod Saltalamacchia, an unlikely hero in an unlikely 5-4 comeback win over Toronto on Opening Day, was drenched in a bath of Coors and Bud Light as soon as he set foot in the clubhouse entrance. A large stain on the blue carpet served as proof of what has become a traditional Rangers walk-off celebration.
Saltalamacchia provided the game-winning single in the bottom of the ninth, touching off a dog pile on the field and a wall of noise in the stands, where fans chanted, "Let's go Rangers" in the concourse as they departed with smiles and high fives. It was the first walk-off win in a home opener since 1980, when Mickey Rivers scored on a Goose Gossage wild pitch to beat the New York Yankees.
[+] Enlarge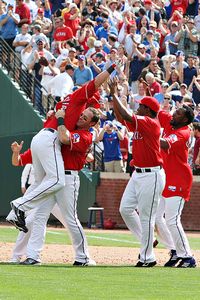 Matthew Emmons/US PresswireJarrod Saltalamacchia gets a lift from Josh Hamilton as the Rangers celebrate after Saltalamacchia's game-winning hit.
"In that situation, you want to come through for your teammates," Saltalamacchia said. "[Michael Young] came through with a leadoff double and we couldn't let that slide. We came out slow, but never gave up."
Who would have believed a dramatic win was possible just an hour earlier, when the Rangers didn't even have a hit?
An offense that stressed having patience and situational hitting couldn't do either for the first six innings. Toronto starter Shaun Marcum, who didn't even pitch in the big leagues last season while recovering from elbow ligament replacement surgery, had a nasty changeup that baffled the Rangers' lineup. He had the press box on no-hit alert with one out in the seventh inning. And a sold-out Rangers Ballpark in Arlington -- 50,299 -- sounded closer to a library than a sporting event.
"We had the first-game thing where we were a little overaggressive," Young said.
But the entire game and atmosphere changed with one wind-aided hit. Nelson Cruz, with two strikes, hit one into the high-powered ballpark jet stream and eventually into the Rangers' bullpen. The three-run homer tied the score.
"Nellie had half a homer and the wind had the other half," Young said. "Whatever it was, we'll take it."
The homer woke up the dormant Rangers offense. All of a sudden, the lineup started executing what was preached in the offseason and in Surprise, Ariz., the last six weeks. They got two-strike hits, hit the ball to the opposite field, used their speed to put pressure on the opposing pitcher and produced the big hits when needed.
All of that was evident in the ninth inning with the club down 4-3. The meat of the order got the job done. Young, as he seems to do often, led the way. He doubled to the gap in right-center to put the tying runner in scoring position with no outs.
"That set the tone for us," Julio Borbon said. "When you want to get something going, you want a guy like Michael that knows what his role is that inning. He knew his job was to get on base and give us a chance, and that's what he did."
Vladimir Guerrero, brought in this offseason to be a difference maker in the cleanup spot, hit a single right up the middle to put runners on the corners. He did it on an 0-2 pitch. Cruz followed with a first-pitch double the other way on a ball that was lofted over the first baseman and into shallow right field.
"I saw the ball bounce and kick to the right and I ran for second," Cruz said.
The hit not only tied the score, but Cruz's alert play eliminated the double-play possibility and forced Toronto to intentionally walk Chris Davis to load the bases.
That's when Saltalamacchia worked his magic, choking up on a 2-2 count and sending a slider into right field for the winning single.
Perhaps no one in the ballpark enjoyed it more than future owner Chuck Greenberg, who watched Saltalamacchia play for the Greenberg-owned Myrtle Beach Pelicans as a younger player.
More Texas Rangers coverage

For more news, notes and analysis of the Rangers, check out ESPN Dallas' Rangers Report. Blog
"He's still the most popular player in Myrtle Beach," Greenberg said. "They want to make him mayor."
He probably gained a few more votes Monday.
The Opening Day win doesn't mean there aren't things that this offense can work on as the young season goes from days to weeks to months. The idea of having Borbon lead off and Elvis Andrus bat in the nine hole is to make their speed a real weapon. But they have to get on base for that plan to come together. The two were 0-for-7 combined with four strikeouts.
But the fact that the offense kept plugging away and didn't give up even when they couldn't hit anything could serve this team well for the long haul. It's also a lineup that didn't include Ian Kinsler. Once he returns, that should further bolster a middle of the lineup that came through when needed Monday.
"Those guys play nine innings, man," manager Ron Washington said. "Never quit. I tell you what: That clubhouse is something special."
Richard Durrett covers the Rangers for ESPN Dallas. You can follow him on Twitter or leave a question for his weekly mailbag.