Commentary
Cliff Lee has ripple effect on Rangers
Dominating left-hander provides lessons for other starters, helps bullpen stay fresh
Updated:
August 11, 2010, 3:05 PM ET
By
Richard Durrett
| ESPNDallas.com
ARLINGTON, Texas -- While Cliff Lee loosened up before his start on Aug. 6 in Oakland, reliever Matt Harrison looked like a golfer stalking a long putt from all sides. Harrison circled Lee, watching him from the back of the mound and behind the plate, observing his arm angle, release point and lower-body position.
There is much to be learned from watching one of baseball's finest pitchers up close. And Harrison and the other Texas Rangers pitchers have been eager pupils. It's what pitching coach Mike Maddux refers to as Lee's "osmosis effect" on the rest of the pitching staff.
"I see more guys making it happen now that they've seen him firsthand," Maddux said.
They'll get another chance to see the ace on Wednesday, when Lee takes the mound against the New York Yankees in front of a packed house on a hot Texas evening.
If you judge Lee purely on the Rangers' record during his outings, you might be a little disappointed. Texas is 3-3 with Lee on the hill even though the left-hander has pitched at least eight innings in all six starts.
A lack of run support is a big reason his record is only 2-2 since he arrived via trade from the Seattle Mariners in July. Even when you factor in the five runs in Lee's last outing, the Rangers are averaging just 2½ runs in games he has started.
But ignore what the offense has done in Lee's starts and look at the big picture: Lee's impact ripples across the rest of the team, even on days he doesn't pitch.
It starts with his ability to be a sounding board and teacher. Lee takes time to answer questions and share anything he can with his new teammates. And those players, many of them young, aren't afraid to ask Lee for advice.
"That's part of experience and maturing as a player," Lee said. "You want to try to figure out what other guys do well and what makes them successful and try to apply that to your game. I like to think that some of these guys are trying to do that. I'm trying to do the same thing with some of these guys.
"There are a lot of good pitchers on this team that do a lot of things well. You're always trying to improve on something. Any time you can pick up on something that somebody else is doing and apply it to your game, you'd be a fool not to pay attention to that."
Lee said he has done the same thing in his career, gaining pitching insight from, among others, former Cleveland Indians teammates CC Sabathia and Kevin Millwood and Seattle hurler Felix Hernandez.
C.J. Wilson, the other left-handed starter in the Rangers' rotation, has talked at length about how charting Lee's games and discussing strategy has helped make the former reliever a better pitcher.
[+] Enlarge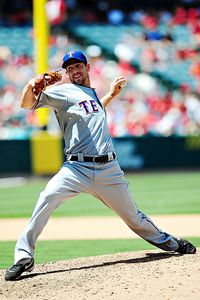 Gary A. Vasquez/US PresswireCliff Lee has pitched at least eight innings in each of his six starts since joining the Rangers.
"It's like when Kenny Rogers was here," Wilson said. "Kenny really went out of his way to help me when I was younger. With Cliff, it's me asking him what he does in situations and how he deals with things. He shares things with all of us and is really helpful."
Lee's bullpen sessions and warm-up routine before games have become an outdoor classroom for the other pitchers.
"What he's doing is working, so I hope they are smart enough to take what he's doing and apply it in their own game," bullpen coach Andy Hawkins said. "He's very communicative. He talks to all of the pitchers. He's trying to share the wealth. There's no doubt about it. Guys can only do what they can do. They can't all be Cliff Lee. But they can take parts of his game and apply it and be a little bit better for it."
It's not just the starting pitchers who have benefited from Lee's presence.
In Lee's six starts, the bullpen has thrown just four innings, and 2 1/3 of those were in games that went extra innings. The Rangers' relief corps led the league in innings pitched before Lee's arrival, but its workload has gone down by more than 1/3 of an inning per game since the trade.
"We're rested because we don't pitch much at all when he's out there," reliever Darren O'Day said. "We're not leading the league in innings pitched as a bullpen anymore."
A more rested bullpen has been a more effective bullpen. Rangers relievers had a 3.39 ERA before the Lee trade. Since Lee has been in the rotation, however, the bullpen's ERA has been nearly a full run lower at 2.42 (through Monday).
"He goes eight or nine innings every time, and it's such a consistent thing," Wilson said. "The bullpen is fresher. That rest has helped them. It's easier for the rest of us because he's not using the bullpen up."
Lee, who will be a free agent after the season, has quickly assimilated within the Rangers' clubhouse environment. He jokes around with teammates, goes out with many of them while on the road and enjoys a competitive game of chess, usually with second baseman Ian Kinsler. The Rangers are hoping Lee becomes so comfortable -- and has a successful-enough stretch drive and possible playoff run -- that they can sway him to stay in Texas.
Keeping Lee was one of the first things members the new ownership group, led by Pittsburgh lawyer Chuck Greenberg and team president Nolan Ryan, talked about after they made the winning bid to purchase the team at an auction last week.

#33 SP
Texas Rangers
2010 STATS
GM

19

W

10

L

5

BB

9

K

126

ERA

2.44
"We've got a period of time where we've got a chance to demonstrate to him how special it's going to be to be a part of the Rangers family, and that's what we're going to be, a family," Greenberg said. "We've got a great group of guys on the team, a committed ownership and a great front office. We're going to do the best we can to show him he's found a home and that this is a place where he wants to be."
In the meantime, Lee's teammates can marvel at his ability and learn everything they can. He still impresses some of the pitchers with the way he can dominate despite having a fastball that tops out in the low-90s.
O'Day remembers reading scouting reports during spring training and asking his pitching coach what made Lee so good.
"I'm looking at his four pitches, and he doesn't throw 98 or anything," O'Day said. "Maddux said that he commands four pitches and throws them to both sides of the plate and up and down. If you can do that, you'll have success. He just has way better command than everybody else is what it boils down to. The hitters know the outside fastball is coming, but he puts it in the right spot, and they can't do anything about it. That's what we're all trying to do, and he's a great blueprint to follow."
That blueprint is spreading ink to the rest of the team.
Richard Durrett covers the Rangers for ESPNDallas.com. You can follow him on Twitter or leave a question for his weekly mailbag.