Commentary
Cliff Lee finds himself against Yankees
Lefty returns to form in time to help Rangers complete three-game sweep of New York
Updated:
September 13, 2010, 6:40 AM ET
By
Richard Durrett
| ESPNDallas.com
ARLINGTON, Texas -- The New York Yankees recognized the Cliff Lee they saw Sunday afternoon.
And that's very good news for the Texas Rangers.
More Texas Rangers coverage

For more news, notes and analysis of the Rangers, check out ESPN Dallas' Rangers Report. Blog
The Lee that faced the Yankees was not the one who gave up four runs on eight hits in 6 1/3 innings against them on Aug. 11, an outing that began one of the roughest five-game patches of his career.
No, the guy who was on the mound wearing a white Texas uniform in Sunday's 4-1 win -- which completed the first three-game sweep of New York in Arlington since 1996 -- looked more like the pitcher who dominated the Yankees as a member of the Philadelphia Phillies.
He pounded the strike zone and was aggressive. He pitched efficiently and didn't allow the Yankees many opportunities to score. And he pitched deep into the game, something that was habit early in the season and had fallen off in recent starts.
Lee went 8-plus innings and allowed just one run on two hits -- both of them coming in the sixth inning.
Maybe most importantly, Lee showed no signs of back stiffness, something that clearly contributed to his recent struggles.
"I wanted to go out there and get us as deep in the game as I could and put up as many zeroes as I could," Lee said. "We used our bullpen so much lately, so it was big for us."
It was big for Lee. He admitted during his recent layoff (he hadn't started since Aug. 31) that he felt as if he wasn't himself.
"I want to go out there and be me," Lee said while the club was in Minnesota this past weekend.
That meant finishing pitches, locating his fastball and being more consistent overall. That's exactly what he was Sunday. He had a no-hitter through 5 1/3 innings and until Eduardo Nunez's single to center, the Yankees hadn't even managed to get a ball out of the infield.
Lee ended up allowing a run that inning, but the Rangers got it right back for him in the bottom of the sixth. They then added three runs for him in the bottom of the seventh inning, using speed on the bases and timely two-out hitting.
[+] Enlarge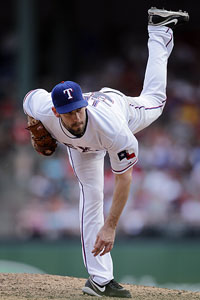 Tim Heitman/US PresswireThe only two hits Cliff Lee allowed Sunday against the Yankees came in the sixth inning.
That was all Lee needed. He got a nice standing ovation as he came out of the game with a runner on and no outs in the ninth. Lee wasn't happy as he left, showing his competitive side. He felt a 3-2 pitch to
Derek Jeter
caught the inside corner to start the ninth. Instead, it was called a ball by home-plate umpire Alfonso Marquez, putting Jeter at first with a walk.
"I knew that walk meant I was out of the game, and that was the most frustrating part," Lee said.
It was Lee's third walk of the outing, one of the rare things he didn't do well. In fact, his biggest mistake all day may have been telling the Little Leaguer who was waiting for him on the mound before the first inning to run off the field the wrong way. The youngster found his way quickly and Lee got to work.
Three walks of the non-intentional variety are rare for Lee. It was the first time he'd walked that many in one outing since last September.
"You're never content, and there's always something you can do better," Lee said. "I look back and I walked three guys and that's something I can do better."
It's difficult to imagine a better comeback outing for Lee. He hadn't pitched in 10 days yet was able to throw 109 pitches and give the bullpen a break. Only Neftali Feliz was needed.
The outing helps erase the five-game stretch when Lee was 0-3 with an 8.28 ERA. The team was 0-5 in those starts as opponents hit .333 against Lee. He hadn't made it through the sixth inning in three straight starts before Sunday.
And Lee needed 17.6 pitches per inning in that stretch. On Sunday, he had 100 pitches through eight innings, a 12.5 pitch-per-inning average. That's a big difference.
Lee was asked, as he always is, about the heat. It didn't appear to bother him Sunday.
"You can't control the weather," Lee said. "You keep hearing that a lot since I've been here: the weather this, the weather that. It is what it is. There's nothing you can do about it. It's pointless to worry about it. Yeah, it was hot. But everybody had to play in the same conditions today."
The Rangers need this Lee -- the one with a Cy Young Award and the ability to pitch lots of innings and give the club a chance to win -- down the stretch and into the postseason. Manager Ron Washington made it clear that he expected Lee's form to return, announcing a few days ago that the club would set up the rotation so that if the Rangers clinched before the end of the season that Lee would start the first game of the postseason.
Washington and pitching coach Mike Maddux have lined up the rotation so that Lee pitches in the final regular-season game in case the team needs a win to secure a playoff spot. If not, it would be essentially a bullpen session and he'd be ready to go on Oct. 6 -- probably in Tampa Bay or New York.
Lee isn't worried about any of that yet.
"We're not there yet," Lee said. "We have to keep playing and execute. But we just swept one of the best teams in baseball, so obviously we're playing good baseball."
This wasn't any sort of playoff preview, really. The Rangers would face CC Sabathia, Andy Pettitte and probably Phil Hughes in that order to start the playoffs. None of those three took the mound in Arlington. But for confidence and comfort in keeping a good-sized lead in the AL West, taking three from the team the Rangers could see in the first round of the playoffs doesn't hurt.
"We can play with anybody, and we proved that this weekend," Washington said. "This group plays nine innings and is never out of a ballgame."
Meanwhile, the Yankees' lingering memory of the Rangers until postseason play will be another masterful performance by Lee against them. He's now 6-1 with a 2.62 ERA in 58 1/3 innings against New York since 2008, including the postseason.
That could make for an interesting opening game in just a few weeks, couldn't it?
Richard Durrett covers the Rangers for ESPNDallas.com. You can follow him on Twitter or leave a question for his weekly mailbag.