Commentary
Rangers remember what got them here
Texas sticks to regular-season plan against Tampa Bay, returns with 2-0 ALDS lead
Updated:
October 7, 2010, 10:36 PM ET
By
Richard Durrett
| ESPNDallas.com
ST. PETERSBURG, Fla. -- Bad news for those with Game 4 ALDS tickets: You may not get a chance to use them Sunday.
Blame that on the Texas Rangers' ability to shake off pesky postseason butterflies and execute in all phases of the game to jump out to a 2-0 lead in the best-of-five series against the Tampa Bay Rays.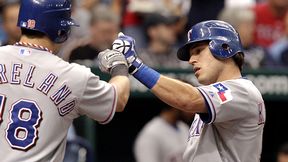 AP Photo/Chris O'MearaIan Kinsler (right) worked the count in his favor and belted a home run in Game 2, while Mitch Moreland flashed his glove at first base.
The Rangers took care of business with a 6-0 win in Game 2 on Thursday, sweeping both road games at Tropicana Field.
Rather than worry about how his team might react to October baseball, manager Ron Washington made it a point to not change much of anything that the club did in the regular season. That included his rotation, his lineup against right-handed or left-handed pitching and his use of the bullpen.
He figured his players would find a way to get the nerves under control and play ball.
"You go with what got you here," Washington said. "Everybody has contributed, so you play the guys just like you would and ask them to do the same things."
So not unlike the golf swing with few moving parts to better handle the pressure of the back nine in a major, the Rangers have kept the simple but effective approach they used to win the AL West. It's translated into two dominating performances that have the team on the cusp of its first playoff series victory and, consequently, a trip to the American League Championship Series.
"We played our style of game the first two games, got great pitching and battled offensively," Michael Young said. "One thing about this club is that we don't think about anything beyond our next game. We're going to empty the tank in Game 3. That's the way we've played the whole time."
The Rangers' winning recipe consists of ingredients that Washington has helped grow for four years now. It consists of four main parts:
Solid pitching.
Reliable defense.
Timely, versatile hitting.
Taking advantage of breaks.
It's not easy to apply those same principals in the playoffs. At least it's not supposed to be if you're new to the postseason like many of these Rangers.
"

Playoff games are still baseball games. They are on a bigger stage, but they're still baseball games and we haven't forgotten that.

"

-- Rangers hitting coach Clint Hurdle
"We didn't expect it to faze us," Young said. "We expected to come out here and play baseball. People love to talk about lack of postseason experience, but we have hard-fought game experience. We got a ton of it this year. We're going to hang our hat on that."
Lefty C.J. Wilson sure didn't seem fazed. He looked a lot like Cliff Lee did in Game 1. He threw strikes, found a good rhythm and limited the Rays' scoring chances. He used both sides of the plate and wasn't afraid to throw his assortment of pitches, including some devastating sliders and cutters.
Wilson allowed just two hits in 6 1/3 innings and earned a win in his first postseason start.
"C.J. went out there and dealt," Washington said. "He really showed maturity out there today. He stayed within himself. He went around the strike zone with it. He never really got shaken."
Neither did the bullpen led by veteran Darren Oliver, who turned 40 on Wednesday. Oliver went 2 1/3 innings Thursday for just the second time all season. He walked one batter, but otherwise retired everyone he faced. That came after Darren O'Day retired his only batter in the seventh.
The duo got the job done in Game 1 as well. In both games, the bullpen has allowed no runs on one hit in 4 2/3 innings.
"Pitching and defense is the foundation of your team and our bullpen has been the cornerstone," Rangers pitching coach Mike Maddux said. "They have bailed us out. They've brought home wins. They've been very good at that."
Good pitching becomes even more effective when it's supported with timely hitting. Rangers hitting coach Clint Hurdle, with aid from Young and the veteran core of the club, has stressed hitting to the situation. It's helped make the offense more versatile.
Nelson Cruz and Vladimir Guerrero received green lights on 3-0 counts in Game 1 and made something happen. Ian Kinsler and Young pounded homers in Game 2 after working counts in their favor. But this club also has the ability to move runners around to manufacture a run when needed.
"We want to be aggressive, but not reckless," Hurdle said. "Everyone has stayed relaxed and focused on what we did all season. Playoff games are still baseball games. They are on a bigger stage, but they're still baseball games and we haven't forgotten that. If you get a pitch you can hit, you hit it."
Defense has been a constant theme since the day Washington was hired, and it's been solid this series. They've made two errors, but neither hurt them. And those have been overshadowed by highlight-reel plays.
Mitch Moreland made a diving catch in foul territory in the first inning of Game 2 that gave the team a lift. Josh Hamilton was all over center field Thursday. He made a diving catch, but also got to many balls hit on a line with his great speed. The Rangers' outfield has been well-positioned all series, playing shallow enough to get to balls that might otherwise fall.
Add to all of that the Rangers' ability to take advantage of the breaks that the game gave them the past two days and you get a club that's headed home in total control.
On Wednesday, a foul-tip call with the bases loaded in the first went Lee's way, turning what could have been a hit-by-pitch or a ball into a 2-2 count. Lee got out of the jam and was on his way to a sensational outing. On Thursday, Young checked his swing on a 2-2 pitch, but appeared to go around.
"Put it this way: If he had rung me up, I would not have argued," Young said.
Young stepped back in and drove a 3-2 pitch -- the extra pitch he was given on the call -- 431 feet to center field for a three-run homer that turned a 2-0 game into a 5-0 game.
It caused a lot of claws and antlers in the dugout too.
DIVISION SERIES: RANGERS VS. RAYS


Complete coverage of the Rangers-Rays matchup. ESPNDallas.com
ALDS blog » Player cards » More »
"Everybody's having fun," outfielder Jeff Francoeur said. "We know we're a good team. We feel like we're a complete team and can do good things if we play the way we're capable of. I think you're seeing a team that can play with anybody."
Previous Rangers playoff teams weren't able to put all of it together. They couldn't get the big hit or make the proper defensive plays consistently against the Yankees in the three previous ALDS series and went out of the postseason with a whimper. This team is dictating control of the game and serving notice that they plan on an extended October stay.
"We've still got to win another game," Oliver said. "Everyone understands that."
As long as they follow the recipe, don't bet against them.
Richard Durrett covers the Rangers for ESPNDallas.com. You can follow him on Twitter or leave a question for his mailbag.