Commentary
Josh Hamilton did it all to rally Rangers
MVP moment by Rangers outfielder showcased hustle, hitting and defense in same game
Updated:
November 24, 2010, 3:54 AM ET
By
Richard Durrett
| ESPNDallas.com
Josh Hamilton was named the American League's Most Valuable Player on Tuesday. But he vaulted to contender status with a ridiculous June and bumped himself into the top spot with a memorable effort on Aug. 13.
AL MVP Voting

Josh Hamilton collected 22 of 28 possible first-place votes to collect his first American League MVP.
• ESPN Dallas: He did it all

Player

Pts.
1st Pl.
Votes
Josh Hamilton, Tex.
358
22
Miguel Cabrera, Det.
262
5
Robinson Cano, NYY
229
0
Jose Bautista, Tor.
165
1
Many an MVP season has one signature game. It's a moment when a player who is considered elite puts up a performance worthy of universal acclaim. That's what happened on a Friday night in Arlington against one of baseball's most revered franchises.
Hamilton showed off his all-around game in one dramatic extra-inning outing that took his MVP candidacy to the next level.
The Rangers entered the game looking to put one of the club's toughest losses in the rearview mirror. Two days earlier, with Cliff Lee on the mound, Texas had taken a 6-1 lead against the New York Yankees into the sixth inning. The Yankees wound up winning in the ninth, and a near-sellout crowd in Arlington left stunned. The Rangers even got to spend an off day thinking about it.
Then, in the first game of a series against the Boston Red Sox, the Rangers fell behind 8-2 and appeared out of it.
That's when Hamilton went to work.
Hamilton hit a home run in the fifth inning to cut the deficit to 8-4. He singled in the seventh and scored on a sacrifice fly. With two outs in the eighth, Hamilton laced a double to get himself into scoring position for Vladimir Guerrero.
That's when the slugger's speed and smarts on the bases helped change the game.
[+] Enlarge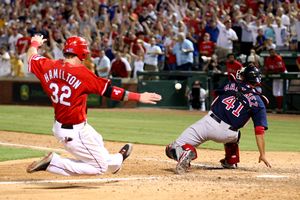 Matthew Emmons/US PresswireJosh Hamilton helped the Rangers run down the Red Sox on Aug. 13 by scoring from second on an infield single.
Guerrero hit an infield single, and Hamilton just kept running. He didn't hesitate as he rounded third and headed toward home. In the confusion, the Red Sox fired the ball to the plate late, and Hamilton slid in ahead of the tag with the tying run.
The outfielder had just gone from second to home on an infield single to stun the Red Sox.
"Shortstop went to his left, Josh didn't stop and he beat the throw by 15 feet," Rangers pitcher C.J. Wilson said later. "It wasn't even close. MVP moment."
Hamilton ended up 4-for-5 with four runs scored in the game, which the Rangers won on a Nelson Cruz homer in the bottom of the 11th. But well before that big hit, Hamilton had altered the game with his glove. He made three great plays in the outfield, diving for balls or scaling walls to get outs. The biggest one came off the bat of Jed Lowrie, whose long fly ball in the sixth might have been a home run if Hamilton hadn't jumped to corral it.
"I'm running back to the dugout, thinking, 'What just happened?'" Lowrie said to Boston reporters. "It was disheartening. But it was also awe-inspiring. A man that big who can run that well, I mean, it's incredible."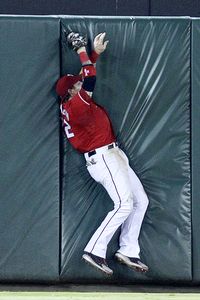 AP Photo/Tony GutierrezAnd as if his hustle and hitting weren't enough, Hamilton made three great plays in the outfield versus the Red Sox on Aug. 13 -- including this body-slamming catch against the fence in center field.
The game had many longtime Rangers fans and reporters wondering if they'd ever seen a better all-around game played by a position player in club history. The fact that it happened against Boston in a dramatic comeback made news around the country. MVP voters took notice of the effort.
But putting together an MVP résumé must, of course, include more than one remarkable game. There has to be a big stretch full of key hits and critical contributions that determine the value of a player.
For Hamilton, that was June.
After a slow start in April, Hamilton had started to come around at the plate but wasn't quite comfortable. He was working with hitting coach Clint Hurdle in Chicago as June began, and both of them decided it was time to eliminate the toe tap in Hamilton's swing. The timing mechanism was throwing Hamilton off at times.
All of a sudden, Hamilton couldn't stop hitting. He batted .454 for the month with 31 RBIs, 49 hits, 88 total bases, an .815 slugging percentage and a .482 on-base percentage, all of which led the majors for the month. He hit nine home runs, which led the AL. The Rangers went 21-6 that month, taking firm control of the AL West.
"When we won the West and distanced ourselves in that June-July window, he was the best player in baseball," assistant general manager Thad Levine said. "Who was the most valuable to their team when they were winning? He was. He was just spectacular."
More Texas Rangers coverage

For more news, notes and analysis of the Rangers, check out ESPN Dallas' Rangers Report. Blog
Because of Hamilton's importance to the team and his impressive numbers, the outfielder won the MVP despite missing most of the final month of the season. He played in just 133 games, the fewest for any MVP since Barry Bonds participated in 130 games in 2003. It's also the fewest number of games played for an AL MVP since George Brett, who took part in 117 back in 1980.
Yes, it helped that no other candidate went on a tear while Hamilton missed most of September, but his major league-leading .359 batting average and .633 slugging percentage were enough to get the majority of the BBWAA writers to write his name in the No. 1 slot.
The award is determined before the postseason begins, but Hamilton's value was clear in the ALCS as the Yankees intentionally walked him three times in the clinching Game 6. That allowed Vladimir Guerrero to come through with a key two-run double in the sixth to break open a tie score. Even when Hamilton wasn't allowed to hit, he impacted games.
"He made a difference for us when it mattered most," club president Nolan Ryan said.
Sounds like an MVP to me.
Richard Durrett covers the Rangers for ESPNDallas.com. You can follow him on Twitter.