Commentary
Rangers took best shot at Cliff Lee
In the end, it wasn't about money or years, as pitcher preferred playing for Phillies
Updated:
December 14, 2010, 11:32 AM ET
By
Richard Durrett
| ESPNDallas.com
The Texas Rangers sure put up a good fight in their quest to sign Cliff Lee.
They sent the cavalry to Arkansas three times, meeting personally with Lee, his wife, Kristen, and agent Darek Braunecker. They chatted repeatedly with Lee's representatives at the winter meetings. They came in hesitant to consider anything more than five years and altered that thinking once they realized that the market appeared to require a longer commitment.
And in the end, none of it mattered. Lee didn't find anything on the Rangers' "menu" of offers more appetizing than the last-minute feast cooked up by the Philadelphia Phillies. Even the New York Yankees' attempt to bury the free-agent left-handed pitcher in stockpiles of cash and a seven-year deal weren't enough to keep him from heading to Philadelphia, no longer the "mystery team" in this offseason saga.
[+] Enlarge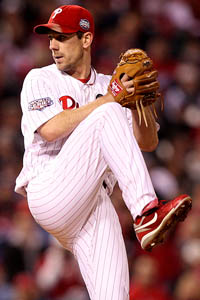 Jed Jacobsohn/Getty ImagesCliff Lee must have really liked Philadelphia the first time around. He's leaving money on the table to return to Philly.
Rangers president Nolan Ryan spent most of the past month figuring that the Yankees were the chief obstacle in landing Lee. Turns out it was the Phillies -- whom Lee helped take to the World Series in 2009 before he was traded to Seattle -- who won the sweepstakes with a reported five-year offer in excess of $100 million. Lee was willing to leave money on the table to go to Philadelphia.
On Wednesday night, the Rangers appeared to be very much in the mix for the left-handed free agent. Ryan seemed to understand it was going to take six years, and the club wanted Braunecker to tell it what it would take to get Lee. The Rangers felt Lee was leaning toward returning to Texas -- he fit into the clubhouse culture and was even hunting with some teammates during the winter meetings -- and the club wanted to know what it could do to keep him.
But that was when the Yankees' offer was six years.
Then free-agent outfielder Carl Crawford decided to join the Boston Red Sox on Wednesday night. In that moment, Lee had some major leverage. The Yankees couldn't afford to stand by and let the Red Sox get appreciably better without doing something. So by Thursday morning, the Yankees were proposing a seven-year deal, and Lee's agent was saying he didn't like the Rangers' strategy of asking what it would take rather than issuing its own proposals.
"Early in the day, we thought one avenue was the best, and that changed," Rangers CEO Chuck Greenberg said Thursday. "We adapted accordingly."
That included a hastily arranged trip to Arkansas. Greenberg, assistant general manager Thad Levine and co-chairman of the board Ray Davis raced to Little Rock as the winter meetings concluded, hoping to present a package enticing enough to get Lee back to Arlington.
After word came out Monday night that Lee was headed back to the Phillies, a source confirmed that the Rangers' longest offer was for six years with a vesting option for a seventh.
But all that talk about six or seven years didn't matter in the end. Lee obviously chose Philadelphia because that's where he's comfortable pitching. He decided against the bigger-money deals to play for the Phillies.
So the Rangers can only wish him the best. They did all they could to try to keep him. Ryan talked about how six years was outside his "comfort zone." Now, at least, the Rangers don't have to worry about whether they gave a 32-year-old pitcher a contract that wasn't going to pay dividends by Year 5 or 6. And they didn't lose Lee to another AL rival. If they face him in the postseason, it won't be until the World Series.
"It's hard to take fault with Cliff's decision when he chooses a spot that he and his family are comfortable, have a chance to win," Rangers GM Jon Daniels said. "He was a part of the most successful team in club history, to this point, and we thank him for his role here."
There's no doubt, though, that this is a big blow to the Rangers' rotation. Texas wouldn't have won its first playoff series ever without Lee. He was sensational when it counted most against the Tampa Bay Rays, winning Game 1 at Tropicana Field and then returning to Tampa to silence the Rays' bats with a complete-game victory in Game 5 to clinch the series. The performance earned praise from the highest of sources -- Ryan himself -- who told Lee how impressed he was shortly after Lee propelled the Rangers into the ALCS.
Lee also helped the Rangers beat the Yankees to reach the World Series. Even before the ALCS began, Lee dominated the headlines. New York felt as though it had to take both games in Arlington for fear of being down 2-1 after Lee started Game 3. The Yankees weren't able to do that and did fall behind 2-1 before losing the series in six games. There was no doubt that Lee as the No. 1 made the entire rotation better.
More Texas Rangers coverage

For more news, notes and analysis of the Rangers, check out ESPN Dallas' Rangers Report. Blog
But now he's in Philadelphia, and the Rangers are busy looking at backup plans on the mound. They still have a strong enough farm system to make a deal for the Rays' Matt Garza or the Kansas City Royals' Zack Greinke. Both teams are asking a high price, but Texas has to consider it at this point. The Rangers also could move Neftali Feliz into the starting rotation and find another closer.
But Feliz isn't Lee. Neither is Garza or Greinke, for that matter.
The pressure shifts back to Daniels and his front-office team. The Rangers, with a young nucleus, appear poised to be an annual contender in the American League. But Lee helped shove the winning window open.
Now the Rangers must find a way to keep it open without him.
The good news: Greenberg, Ryan, Daniels and the gang have a lot more fight left in them.
They'll need it.
Richard Durrett covers the Rangers for ESPNDallas.com. You can follow him on Twitter or leave a question for his mailbag.