Commentary
Two things top Rangers' worry list
For Texas to remain a contender, it needs to find solutions at catcher, first base
Updated:
May 19, 2010, 9:14 PM ET
By
Jim Reeves
| ESPNDallas.com
Read somewhere recently that the Texas Rangers' problems are multiplying like blondes on Tony Romo's arm, yet last time I looked, they'd just completed a nice little two-game series sweep of the archrival Los Angeles Angels and held a couple lengths' lead on the rest of the American League West field as it nears the quarter mark.
We should all have it so bad.
More Texas Rangers coverage

For more news, notes and analysis of the Rangers, check out ESPN Dallas' Rangers Report. Blog
Long way to go, but it's a lot better view here than from where the Rangers are usually looking at things in mid-May.
Sure, things could be better and it's true that general manager Jon Daniels may be running out of fingers he can use to plug the leaks that keep springing up, but so far, so good.
Some problems are just going to have to work themselves out; Rich Harden, for instance. The Rangers have invested too much money in him, and his track record warrants extra patience. Same goes for Scott Feldman, who hasn't been himself yet this year but works too hard not to show improvement soon.
Both of them are going to have to get better and go deeper into games or the Rangers' bullpen will be running on fumes before the All-Star break.
There are two pressing problems that Daniels must address, however, if he expects the Rangers to hang in there for the long haul: at catcher and first base.
If the Rangers don't come up with solutions there, they'll never make it to October.
The Rangers knew they might have problems at catcher going into the season and it was even worse than expected, when both Jarrod Saltalamacchia and Taylor Teagarden wound up in the minor leagues.
[+] Enlarge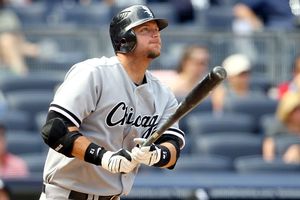 Jim McIsaac/Getty Images A.J. Pierzynski could be the answer for the Rangers' lack of production from their catchers.
Saltalamacchia couldn't stay healthy, and now that he is, he's having to run the ball back to the pitcher at Triple-A Oklahoma City because he can't seem to throw it anywhere near the mound. And Teagarden had been an absolute disaster at the plate until being sent all the way down to Double-A Frisco.
Thank the baseball gods for Matt Treanor, a journeyman catcher the Rangers added in spring training. He's at least stanched the bleeding, and even Max Ramirez has started contributing some offensively. The best news I've heard in a while, though, came in reports out of Chicago that the Rangers have at least inquired about veteran catcher A.J. Pierzynski.
Pierzynski is available because he can become a free agent after this season and the White Sox have a young prospect named Tyler Flowers who may be ready for the big leagues by the second half of the season. True, from all accounts Pierzynski has the temperament of a badger on 'roids, but a little edginess won't hurt the Rangers one bit.
Nor would I worry too much about the fact that Pierzynski's batting average is barely over the Mendoza Line. He hit .299 with 13 homers a year ago and .280 the year before that. He's struck out only six times in 120-plus plate appearances this season. He'll be fine. Just get him here.
That's potentially yet another problem because of the Rangers' muddled ownership situation. Will Major League Baseball allow them to take on the rest of Pierzynski's $6.5 million contract? If it won't, then this whole thing is a farce and the Rangers are playing with one hand tied behind their back in the first place.
It's also important to understand that Pierzynski isn't the only catcher the Rangers have inquired about and that this has been an ongoing situation since the spring.
"Treanor and Max are doing a respectable job," Daniels said Wednesday. "It's not Joe Mauer, but both guys have really shown us something."
In other words, the Rangers will keep their eyes open, but they're far from desperate.
The other problem facing Daniels is a bit more complicated and will take a delicate touch. It's highly doubtful that the Rangers can get to October if they can't get offensive production out of first base. It is traditionally a power/RBI position in baseball, and the Rangers need it to be just that as well.
They have been patient with Justin Smoak, almost as patient as Smoak himself is at the plate. But that can't last much longer, not with Smoak hitting in the .180s, even with 15 walks to his credit.
[+] Enlarge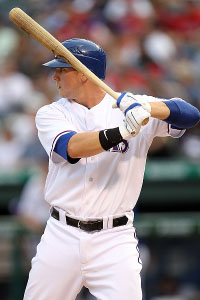 Ronald Martinez/Getty ImagesThe Rangers expect Justin Smoak to hit, but it hasn't happened yet.
This is a strange dilemma the Rangers find themselves in because this should be one of their strongest positions. They had Chris Davis, who averaged a home run every 18.6 at-bats both in 2008 and 2009, and they had the up-and-coming Smoak, the 11th pick in the 2008 draft and considered to easily be the top hitting prospect in the organization.
Davis, who hit just .188 in 48 at-bats before being demoted in April, has hit .322 since arriving back in OKC, but oddly has just two homers in 87 at-bats.
"It's not like he went down and overhauled anything," Daniels noted. "He's trying to get a level of consistency back. He hasn't made any major changes to his approach or his mechanics."
Davis' quick demotion two weeks into the season after they stuck with him seemingly forever last year when he struggled was a signal that the Rangers are serious about winning in 2010. So how long can they hold out now, waiting for Smoak to figure it out and hit like everyone seems to believe he's capable?
Maybe as long as it takes, or at least until somewhere near the trade deadline. If neither Smoak nor Davis is carrying his weight in Texas by then, the Rangers may have to think about bringing in a short-term answer, a free-agent-to-be like Paul Konerko or Lance Berkman.
"I don't think anybody necessarily expected Justin to come up and produce at an MVP level right way, and if they did that just wasn't fair," Daniels said. "We've been pleased with the quality of his at-bats, and I think it will come with time."
Give it two more weeks and then it may be time to try Davis again. With interleague play coming, the Rangers will lose the DH in National League cities. No doubt, Ron Washington will use Vlad Guerrero in the outfield as often as possible, but that hurts the team defensively. They need Smoak to hold up his end of the offense, and soon.
Like Daniels, I'm convinced he can do that. All of us would feel better if he started right away.
The good news is that none of the Rangers' problems are unsolvable. It's barely past the ides of May; maybe we should quit worrying and simply enjoy the view.
Jim Reeves, a former columnist with the Fort Worth Star-Telegram, is a regular contributor to ESPNDallas.com.