Commentary
It's up to Cliff Lee to finish this job
Rangers couldn't close out series at home, but they still have rested ace up their sleeve
Updated:
October 21, 2010, 3:54 PM ET
By
Jim Reeves
| ESPNDallas.com
ARLINGTON, Texas -- Put the corks back in the champagne. Hold the confetti and hope -- pray -- that you'll be able to use it when/if the New York Yankees come to town next Friday for the American League Championship Series. The Texas Rangers still have unfinished business in Tampa Bay.
This isn't the way it was supposed to work. A community and a franchise with this much pent-up frustration and heartache should have been able to properly celebrate on either of two glorious October afternoons at Rangers Ballpark in Arlington this weekend.
[+] Enlarge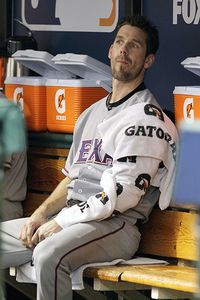 AP Photo/John RaouxThe Rangers are counting on a fully rested Cliff Lee for the deciding Game 5 at Tampa Bay.
Alas, all isn't fair in love and baseball. Long-suffering Rangers fans have still never been able to celebrate a postseason victory on their home field.
Yet.
Believe it or not, that's still the operative word here.
The Tampa Bay Rays refused to cooperate Sunday and the Rangers' offense, raising the specter of past postseason futility at home, vanished like ghosts the day after Halloween. Reversing everything that had happened in the series' first two games in the dismal Tropicana Dome in St. Pete, the Rays sent the best-of-five ALDS winging back to Florida with a thorough 5-2 spanking of the Rangers, who have managed to blow a two games-to-zero lead and now must win a pressure-packed Game 5 on the road Tuesday night in order to stay alive in the postseason.
I know what you're thinking. Where was Cliff Lee when we needed him?
There's an easy answer to that most blatant of second-guesses -- he's right where the Rangers need him most: on tap to pitch the biggest game in franchise history.
The argument, of course, was that the Rangers should have started Lee on three days' rest in Game 4 on Sunday and, if necessary, have C.J. Wilson ready on regular rest for Game 5. The counterargument, and the reason the Rangers didn't go that way, was that Lee has never started on less than four days' rest and the numbers for those left-handers who have in the postseason are, in a word, pitiful.
The Rangers -- or at least manager Ron Washington -- were leaning toward going to a three-man rotation for the playoffs, meaning Lee would come back in Game 4, until they researched the numbers and realized their ace left-hander had never worked on just three days' rest before. So Sunday's start went to Tommy "Not So Big Game" Hunter instead.
Considering the fact that the Rangers' offense went basically comatose for the second straight game, this time against Rays rookie starter Wade Davis, starting Lee on Sunday would have probably just wasted him anyway.
As it is, the one small comfort the Rangers can take out of this lost weekend in Arlington is that they still have their ace in the hole. Now, they have to hope that's enough. Or maybe, believe that's enough, is the right way to put it. That seems to be the way they're thinking.
"Cliff was made for this moment," third baseman Michael Young said.
Exactly. This is why the Rangers traded a great prospect like Justin Smoak to get Lee here, for just such a moment as this.
[+] Enlarge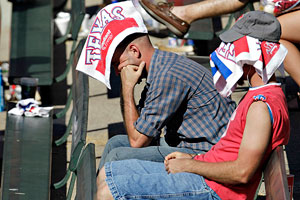 AP Photo/LM OteroRangers fans still haven't seen their team win a postseason game in Arlington or win a playoff series.
"This is exactly where I would want to be, in a situation like this," Lee said in the postgame interview room. "To end up here, to end up in a 2-2 series, playing the last game ... it is win or go home at this point, yeah. It's playoff baseball at its best here."
That the Rangers wasted two golden opportunities to put the Rays away and rest up for the Yankees in the ALCS goes without saying. But despite all the gloom and doom that is sure to follow, the Rangers are not yet dead. All is not yet lost.
"We would have loved to have closed this out in front of our home fans, but it didn't work out," Young said. "So we'll get on a plane tomorrow, get ready to play, win the series, celebrate over there and then come back home."
Sounds like a plan, Stan.
Maybe it's just wishful thinking, but my instincts tell me that's exactly what they will do.
Sure, there's disappointment in not getting it done it front of the home fans, who have waited so long for a moment like this. But the key now is for the Rangers to make sure the fans get another chance in this most special of Octobers.
"You want to do it for them and you want to do it for us," outfielder David Murphy said. "This is what we've been aiming for since spring training.
"It's frustrating to not get it done, but you can't dwell on anything right now. The bottom line is, we have to win one game and move on. Cliff is going for us and you have to like our chances."
Yes, there will be pressure. And who knows how that may show up in the young Rangers players? What they must do is understand that where they are is a reward for all their hard work this season. Enjoy it, don't overthink it.
"It's the first time a lot of guys have been in this situation before," said Murphy, who is one of them. "It's fun to go to a fifth game where the winner takes all and the loser goes home."
Really, I asked Murphy, you mean that?
DIVISION SERIES: RANGERS VS. RAYS


Complete coverage of the Rangers-Rays matchup. ESPNDallas.com
ALDS blog » Player cards » More »
"Hey, we didn't envision coming home 2-0 and then seeing this thing go to a fifth game, but now we're here and I think it's important that we enjoy the moment," Murphy answered.
Well said.
The Rays bounced back to win two games after first baseman Carlos Pena made a 15-minute inspirational speech in a closed-door meeting after Friday's workout here. Perhaps someone will light the Rangers' fire with a similar oration Monday. Or maybe they don't need any speeches now.
Maybe they just need someone, or a lot of someones, to step up -- Lee, Young, Josh Hamilton, Vladimir Guerrero, Neftali Feliz -- and do what Murphy suggests: Enjoy the moment.
The way things go with this franchise, who knows when it may come again.
Jim Reeves, a former columnist with the Fort Worth Star-Telegram, is a regular contributor to ESPNDallas.com.