Commentary
Texas sheds 'Strangers' perception
Rangers leave behind moribund history, position themselves for complete makeover
Updated:
October 26, 2010, 4:35 PM ET
By
Jim Reeves
| ESPNDallas.com
SAN FRANCISCO -- Once upon a time, almost three decades ago, the Texas Rangers' franchise was such a moribund, laughingstock of a baseball organization -- whatever could go wrong did go wrong -- that the team was literally dubbed "The Texas Strangers."
The idea was an offshoot of the more than two-month strike that idled baseball in 1981. With no baseball to fill the sports pages, the Fort Worth Star-Telegram decided to create the "Strangers." Stories and notes columns ran about the fictional team, peopled with odd characters -- many based on real players -- spewing baseball clichés.
It wasn't as though the Rangers, in their first decade in Texas, hadn't already provided plenty of fodder for such an undertaking. By that time such on-field characters as Billy Martin, Mickey Rivers and Dock Ellis had worn a Rangers uniform and even owners like Brad Corbett and Eddie Chiles were bigger-than-life personalities, making headlines at every turn.
[+] Enlarge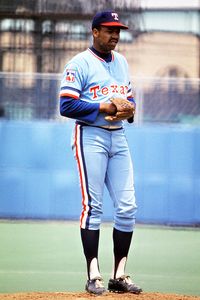 Al Messerschmidt/Getty ImagesEver the personality, Dock Ellis' pink hair curlers may have been responsible for Eddie Stanky's one-game tenure as Rangers manager.
A despondent Corbett once called his players "dogs, on the field and off." Eddie Stanky took the manager's job in 1977 and left after one game. Some speculated that the sight of Ellis in pink hair curlers in the clubhouse was more than the old-school Stanky could bear.
Chiles once put armed guards at every entrance to old Arlington Stadium to keep the media at bay on an off-day while the players, coaches and manager Don Zimmer, who couldn't help rolling his eyes, went through a day-long management seminar, stressing personal and team goals.
A former Rangers beat man, Mike Shropshire, penned a book about the Rangers' dismal early years and dubbed it "Seasons in Hell." He even 'fessed up to bringing a grocery sack full of weed to camp one spring, becoming the team's unofficial dope supplier.
"Strangers" indeed.
The Star-Telegram parody was done so cleverly -- staffers actually posed as players, wearing baseball uniforms -- the series, which continued for many weeks, garnered attention on national newscasts.
The Rangers were such a sad-sack franchise back then, fans and readers didn't know whether to get mad at the not-quite-gentle ribbing of the home team or simply chuckle along with the rest of the country. It was, after all, an amazingly witty concept.
Now, almost 30 years later, the Rangers stand on the threshold of a world championship, four victories away from the game's highest pinnacle. If they haven't already done it, four more wins should bury the memory of the scruffy "Texas Strangers" once and for all, making it simply another dubious and faded chapter in their colorful history.
The "Strangers" may still live somewhere deep in the hearts of longtime fans, but the new Rangers are on the verge of becoming world champions and changing the perception of this franchise forever.
"If we can win, I think it will put us on the radar screen on how the Rangers are perceived throughout baseball," owner/president Nolan Ryan said. "It could help us by attracting the attention of potential free agents who might not otherwise have taken us seriously."
This is the Rangers' fourth American League West Division championship, but they were previously dismissed from the playoffs so easily and completely by the New York Yankees, going 1-9 in those first three best-of-five playoff series in 1996, '98 and '99, that they gained little credibility from those brief postseason appearances.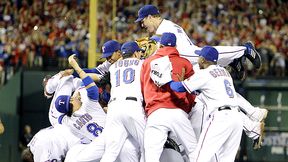 AP Photo/Chris O'MearaBy winning the AL pennant for the first time, the Rangers received an infusion of much-needed confidence and credibility.
Now they have ousted the Tampa Bay Rays, the team with the best record in the American League, in the ALDS and dominated the Yankees in the ALCS, vanquishing that ghost in the process. The Rangers' combination of power, small ball and pitching should translate well in the World Series, whether on the road or at home.
The most immediate impact from the Rangers' winning a World Series is the effect it may have on the man who is their starting pitcher for Game 1 on Wednesday night. There is no question that Cliff Lee is enjoying the moment. So is his family, which happens to be from Arkansas.
"All I know," Ryan said, "is that I was able to spend some time with Cliff's wife, Kristen, [on Friday night, as the Rangers were clinching their first trip to the Fall Classic] and she couldn't have been happier."
Lee has been called a "hired gun," and many assume that if the Yankees want him, the Yankees will get him. That may not be as cut-and-dried as the Yankees, their media and fans seem to think.
"The Rangers have an owner in Dallas [Ray Davis] that's a billionaire and an owner in Fort Worth [Bob Simpson] that's a billionaire," said a Rangers' insider. "I didn't see them back down from Mark Cuban."
At the same time, those who see Lee as some country bumpkin, unable to adapt from Benton, Ark., to the big city, haven't been paying attention either. The composed and laid-back Lee is obviously at ease in most any setting and he remains close friends with Yankees pitcher CC Sabathia from their days in Cleveland together.
Still, winning a World Series together can form a bond between teammates that would be difficult to resist. Lee seems happy and comfortable in Texas, and winning a World Series ring with these teammates can only help the Rangers' chances of signing him to a long-term deal ... but only after he tests the free-agent waters. He's no dummy.
With or without Lee in the future, a world championship on their resume can only bring added confidence and credibility to the Rangers, both the players and franchise. The minor league cupboard is well-stocked and the team's philosophy and long-term strategic planning have brought them to this point much sooner than anyone had reason to expect.
WORLD SERIES: RANGERS VS. GIANTS


Complete coverage of the Rangers-Giants matchup. More
Rangers Blog » ESPNDallas.com »
The team just signed a 20-year TV rights deal with Fox that will bring somewhere between $1.5 and $2 billion into the Rangers coffers and the extra provided by all the unexpected postseason games won't hurt a bit either. The Rangers shouldn't be cash-poor for a while, like they had been for the last years of the Tom Hicks regime.
The "It's Time" slogan notwithstanding, count Ryan among those at least mildly surprised that the Rangers have arrived at this point so quickly. He still vaguely remembers being persuaded to compete in a cow milking contest at old Arlington Stadium back in the mid-'70s when he came to town with the then-California Angels.
"I can't remember whether I won or not," said Ryan, who has been in the cattle business most of his life. "I want to say I did, but I'm not sure. I know when I was with the Mets I beat Willie Stargell in Pittsburgh in one of those contests."
From cow milking, to seven no-hitters, to a strikeout record and the Hall of Fame, Ryan and the Rangers have both come a long, long way in the past 38 years.
One thing for sure: They're not the Strangers any more.
Jim Reeves, a former columnist with the Fort Worth Star-Telegram, is a regular contributor to ESPNDallas.com.