Bankruptcies challenge leagues' control
Updated:
August 14, 2010, 2:50 AM ET
Associated Press
FORT WORTH, Texas -- The Texas Rangers, Major League Baseball and fans are thrilled now that Nolan Ryan's group owns the team. The contentious bankruptcy case is over, the nail-biter of an auction just another victory for the Hall of Fame pitcher.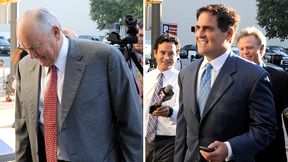 AP PhotoThe auction showdown between Nolan Ryan's group and Mark Cuban for the Rangers may have revealed the vulnerability of sports leagues in a court of law.
But the case may have been a wake-up call for owners and sports executives across the country because it made one thing clear: When a team files for bankruptcy, the leagues are no longer in charge.
"This shows that leagues could be vulnerable in a court of law, and leagues are no longer an omnipotent presence," said Wayne McDonnell, a professor at New York University's Tisch Center for Hospitality, Tourism and Sports Management.
An auction was the last thing the Rangers and Major League Baseball wanted when the team filed for Chapter 11 protection in May, about five months after Ryan and sports attorney Chuck Greenberg's group was announced as the Rangers' new buyer. The team hoped the filing would finally push through that sale, stalled for months by angry creditors who said the team had rejected higher offers.
Amid all the arguing that ensued, U.S. Bankruptcy Judge D. Michael Lynn had an almost reverent tone toward Ryan, complimenting him or referring to his accomplished career. Lynn also said he didn't want to hurt the AL West-leading team, which is making a strong push to make the playoffs for the first time since 1999.
However, Lynn also declared early on: "Major League Baseball is not in charge of this case. I am." Lynn eventually set the auction for Aug. 4, and rejected two last-minute attempts by the Greenberg-Ryan group to stop it.
The auction ended in the wee hours of Aug. 5 as the Greenberg-Ryan group emerged victorious with a winning bid valued at $590 million -- about $100 million more than its starting bid. The auction almost went the other way, as a group led by Dallas Mavericks owner Mark Cuban and Houston businessman Jim Crane pushed the bidding late into the night.
"I have to honestly tell you there were more than a few times I thought we had the thing won," Cuban wrote in his blog afterward. "They were arguing about everything and anything to knock down our bid. I thought it was because they were out of it. As it turns out, they obviously were not. They beat us fair and square."
That meant that Major League Baseball avoided a potential showdown with the judge.
After the Rangers auction, the league had the right to select the second-highest bidder. But the judge wanted to hold the league accountable and added a caveat: Had MLB rejected the top bidder, it could have faced fines or other sanctions if the judge determined that it didn't have a valid reason.
Final approval of Greenberg-Ryan rested with team owners, who gave their unanimous blessing Thursday. It's unclear whether they would have approved the Cuban-Crane group since both men had tried, unsuccessfully and separately, to buy other baseball teams before.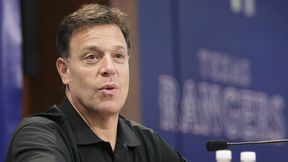 AP Photo/Tony GutierrezChuck Greenberg's winning bid kept baseball from invoking its "best interests" clause and thwarted potential lawsuits against MLB.
Before the team filed for bankruptcy, baseball commissioner Bud Selig told creditors he might try to push through the Greenberg-Ryan deal by invoking the rarely used "best interest of baseball" provision in the league's constitution. It allows the commissioner to act on issues he believes would hurt the sport, but its scope was limited in 1994 and cannot be used on any issue subject to a team owners' vote, including franchise sales.
Selig threatened to nullify the lenders' liens on the team and take over the Rangers. But questions arose about whether he had that authority, and Selig never tried that tactic.
"You don't pull that card out unless it is a dire situation," McDonnell said. "There's no question Major League Baseball wanted the Greenberg-Ryan group all along. ... [But] they waited to let the court case play out."
How Lynn handled the case sends an important message to sports leagues in light of the "disturbing" trend where they use bankruptcy courts to lower a team's value and then control its sale to a preferred buyer who does not have the highest bid, said Thomas Salerno, co-chairman of the international financial restructuring practice of the law firm Squire, Sanders and Dempsey.
Last year, a federal bankruptcy judge rejected Canadian billionaire Jim Balsillie's nearly $250 million bid for the Phoenix Coyotes, although he was the team owner's preferred buyer. The National Hockey League vehemently opposed the deal with Balsillie because he would have moved the team to Hamilton, Ontario.
That judge's ruling upheld the league's rights to determine its franchises' owners and locations. The NHL ended up buying the Coyotes for about $140 million when two potential buyers dropped out, and it is still trying to sell the team.
"To have a professional league come in and skew the process -- they're hurting the values of teams," said Salerno, who represented the Coyotes organization in its bankruptcy case.
If more teams head to bankruptcy court, judges will probably be less "in awe" of sports leagues and will treat them as any other business, Salerno said.
"This [Rangers case] will make owners and leagues have a more realistic understanding of the bankruptcy process," Salerno said. "You don't get to have a private deal. There will be an auction in bankruptcy court."

Copyright 2010 by The Associated Press