Commentary
Imperfect 10 could impede Mavericks
Dallas 7-3 after New Orleans stumble, which shows margin for error in division is slim
Updated:
November 18, 2010, 8:41 AM ET
By
Jeff Caplan
| ESPNDallas.com
NEW ORLEANS -- Dallas Mavericks coach Rick Carlisle was still smoldering from a haywire third quarter that led to a 99-97 defeat to the New Orleans Hornets on Wednesday night. He was too hot to separate it from an otherwise-positive start to a season now 10 games old.
"I think it sucks," Carlisle said of his team going 7-3 to start his third year on the bench. "I thought our third quarter was terrible tonight, and that hasn't been our character to not respond in that situation. So that's the disappointing part. I'm not into looking back, I'm into what's going on right now and I'm into what's going on tomorrow and the next day, and this is an opportunity lost."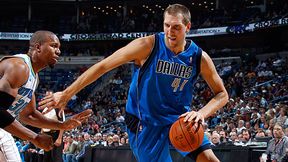 Layne Murdoch/NBAE/Getty ImagesDirk Nowitzki and the Mavericks had a 10-point halftime lead in New Orleans but ultimately lost out on a crucial opportunity within the division.
And perhaps Carlisle's disgust is warranted after the Mavs blew a 10-point halftime lead, got overheated at the officiating and got outscored 27-7 -- and 13-0 within that -- in the first eight minutes of the third quarter. Even though the Mavs fought back with a chance to win it with 6.2 seconds left, Carlisle sees what's brewing here.
The Mavs and Hornets split this intense, back-to-back series with the home team protecting its court. All that separated the two teams was five points.
On Monday, it was the Mavs who rallied from 10 points down with seven minutes left to take a 98-95 victory. It was New Orleans' first loss in nine games.
Talk entering the season centered on which teams could close the gap on the Los Angeles Lakers and legitimately challenge for the Western Conference crown. But conference talk has cooled as the Southwest Division's scorching start has quickly changed the tone of the discussion.
"Forget the conference. Forget the Lakers and all that," Jason Terry said. "Look at our division."
Lower the microscope on the Southwest Division, and a win that slipped away Nov. 17 could be the difference when a division title or a playoff seed is on the line with how things have unfolded through the first 10 games.
As promisingly as the Mavs have played, displaying a distinct edge on defense with the arrival of center Tyson Chandler and still holding hope that Roddy Beaubois will add a dynamic, X-factor element to the offense upon his return from injury, the Mavs are 7-3, good for just third place in the division. They are two games behind both the surprisingly defensive-minded Hornets and the rejuvenated San Antonio Spurs.
The Hornets handed the Spurs their only loss the season. Of course, the Mavs gave the Hornets their only defeat, and two of the Mavs' three losses have come within the division. Dallas frittered away a fourth-quarter lead at home to a young-and-improving Memphis team, and the Mavs believe they should have won Wednesday in New Orleans.
"We've got to learn from this. We've got to get better, but we should have won tonight," Chandler said. "We had this team down by 10 at halftime. We lost this game in the third quarter. We allowed them to go on a 27-7 run, and that's what won the game. We fought back, but we have to grow and learn. When you're up by 10 at halftime, you make them call the first timeout [in the third quarter]. You push the lead and you give yourself a little bit more of a cushion, and we didn't do that that tonight."
And that's Carlisle's concern, one that predates this season. The killer instinct has often eluded this team. The Mavs won 55 games last season but had one of the slimmest point-differentials among the playoff teams at plus-2.7, which ranked 12th in the league.
Entering Wednesday's game, Dallas ranked higher, sixth overall at plus-5.4, but still off the pace of the Lakers (plus-9.1), the Hornets (plus-8) and the Spurs (plus-7.8).
Clearly, scheduling after just 10 games can make a difference, but ultimately, the lower a team's point-differential, the more its margin for error shrinks.
More on the Mavericks

News, notes and analysis of the Mavericks from ESPNDallas.com's Tim MacMahon, Richard Durrett and our team.
Blog » ESPN Dallas »

"The biggest thing is we sometimes might relax, and when we do that's when we give our opponent the chance to get back in the game," said Jason Kidd, who had four of his five turnovers in the treacherous third quarter. "As a veteran ballclub, we can't do that. We have to be able to maintain that intensity and that tempo because we are deep and we have to use that to our advantage."
The Mavs will see Southwest Division teams just three more times before the New Year. They face San Antonio twice (Nov. 26 and Dec. 30) and the Houston Rockets once (Nov. 29).
They won't see the Hornets again until March 9. By then, Carlisle knows where his team must have improved.
"We've got to get tougher. We've got to get tougher," Carlisle said. "You can't get in situations where we get distracted by officials' calls. This is a game about aggression and poise, and we have to have the right amount of both."
Jeff Caplan covers the Mavericks for ESPNDallas.com. You can follow him on Twitter or leave a question for his mailbag.
adidas Women's New Orleans Pelicans Cityscape Tri-Blend Navy V-Neck T-Shirt Shop »