Commentary
Mavericks' team bus waits for no man
As Spurs and Brendan Haywood learned, Dallas is serious with talk of togetherness
Updated:
November 27, 2010, 4:02 PM ET
By
Jeff Caplan
| ESPNDallas.com
SAN ANTONIO -- Backup center Brendan Haywood learned the hard way Friday that Dallas Mavericks coach Rick Carlisle will have no patience for shenanigans. Not now. Not when they're plugged in as a team and riding some electric positivity to one big win after another.
The Mavs suspended Haywood for one game, making the announcement about an hour before tipoff. Haywood participated in the morning shootaround but was later jettisoned to Dallas for what is being called a violation of team rules.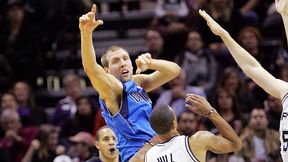 Soobum Im/US PresswireDirk Nowitzki had a well-rounded game in San Antonio with 26 points, eight rebounds and five assists.
What exactly provoked the rare team suspension isn't clear, but it is clear that the Mavs' recent talk of togetherness is more than talk. It is the top priority, and they proved it again against the San Antonio Spurs, the hottest team in the league coming in with a 12-game win streak and 13-1 record.
Dallas followed its recent winning formula. It kept things close and then dominated the fourth quarter, just as it did against Detroit and Oklahoma City. The 103-94 victory over the Spurs marked the third consecutive time during this four-game win streak -- including the first three of this difficult stretch of four games in five nights -- in which the Mavs scored 30-plus points in the fourth and surrendered no more than 23 points.
The Spurs scored 21 on 36.8 percent shooting.
Without the 7-foot Haywood, the Mavs didn't miss a beat. For an encore to his season-high 17-point, 18-rebound performance in Wednesday's win at Oklahoma City, Tyson Chandler notched a new season high of 19 points -- 13 coming at the free throw line on a career-high 16 attempts. Active throughout, he grabbed eight rebounds, three on the offensive glass, in 32 minutes.
"Chandler is a beast," said Dirk Nowitzki, who continued to lay down MVP-type performances with 26 points on 12-of-14 shooting, eight rebounds and five assists. "I've got to give it up to him."
When Tyson wasn't on the floor, the Mavs outscored San Antonio by seven points, with former Spurs backup center Ian Mahinmi giving nearly 14 minutes of inspired play. In his first game of more than four minutes, the 6-foot-11 Frenchman scored three points, including a power slam for an 82-79 lead with about eight minutes to play. He pulled down four rebounds and blocked Tony Parker's shot about two minutes before unleashing his dunk off a pretty feed underneath from Nowitzki.
Even fourth-string center Alexis Ajinca got in on things, playing 2:35 and grabbing an offensive rebound and a defensive board. Add it up, and Mahinmi and Ajinca equaled Haywood's season averages of 3.7 points and five rebounds against the Spurs' frontline trio of Tim Duncan, Antonio McDyess and 6-11 newcomer Tiago Splitter.
"Chandler has been giving this to us all year," Carlisle said. "I thought that Mahinmi came in and gave us a big lift. Ajinca hasn't played in a game all year and gave us length and a couple of rebounds. Everybody was supporting those guys, and that was great."
Team basketball is propelling the Mavs, who are now tied for the second-longest current win streak in the NBA.
Haywood might have to take a clue from his Washington teammate Caron Butler, who is doing his best to remain team-oriented as he sits through entire fourth quarters and cheers on Shawn Marion as he excels in the final 12 minutes.
Marion helped to hold Kevin Durant to six points in the fourth quarter Wednesday. On Friday, his job was to slow down the streaking Manu Ginobili, who scored 16 of his 31 in the first quarter. Ginobili scored nine points in the fourth, but he earned every one. He was 2-of-5 from the floor and just 1-of-4 from behind the arc, where he was 3-of-4 through three quarters.
More on the Mavericks

News, notes and analysis of the Mavericks from ESPNDallas.com's Tim MacMahon, Richard Durrett and our team.
Blog » ESPN Dallas »

The veteran Marion, asked to come off the bench this season, is providing much the same "spiritual" lift -- as Carlisle calls it -- as Chandler. When the season ended last year on San Antonio's home court, Marion's role for this season was cloudy at best. His minutes diminished in the playoffs and he made the comment after Game 3 that he felt like he was being pulled in and out of the lineup like a rag doll.
Now, Carlisle can't afford to take The Matrix out of the fourth quarter.
Marion scored 11 of his 19 points in the fourth after contributing six at OKC. His swooping drive with 4:42 for a 3-point play gave the Mavs an 89-88 lead, one they would extend to 100-90 with less than a minute to go and the AT&T Center crowd filing out.
"It's fun, man; it's competitive," Marion said. "We've all got this competitive nature and want to help the team the best way we can, so that's what I'm doing. That's what happened. That's what's up."
Yes, that is what's up, and surely Haywood got the message watching on TV.
Jeff Caplan covers the Mavericks for ESPNDallas.com. You can follow him on Twitter or leave a question for his weekly mailbag.