Commentary
Rick Carlisle: 'Not what we're about'
After early joyride, the Dallas Mavericks have badly lost their way as Lakers pay a visit.
Updated:
January 19, 2011, 12:25 AM ET
By
Jeff Caplan
| ESPNDallas.com
The Dallas Mavericks' tally board reads like a who's who of NBA contenders: the Boston Celtics, the San Antonio Spurs, the Orlando Magic, the Miami Heat (twice), the Utah Jazz (twice), the Oklahoma City Thunder (twice).
It adds up to a league-high total for wins over quality opponents.
Along the way, they had become known as the streak-busters, the bane of every hot team unfortunate enough to slam into a bit of bad scheduling and tenacious fourth-quarter defense.
[+] Enlarge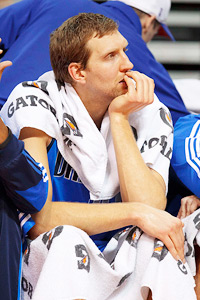 Rick Osentoski/US PresswireDirk Nowitzki on the Mavs' six-game losing streak: "If you are on a losing streak, you've got to create your own breaks. ... You just can't walk in here and then let them shoot 60 percent. ... Our defense has gone haywire and I don't know what happened."
Yet, the Mavericks always knew the test everyone cared most about wouldn't come until game No. 41, when No. 24 and his pals in purple and gold finally got a look at the new swagger in Big D.
This was supposed to be the time for the Mavs, self-promoters of a fiercer brand of ball -- Jason Terry recently proclaimed that no one will dare call Dallas soft anymore -- to dunk the skeptics and sell fact over fiction on ESPN's national airwaves.
Instead, what Kobe, the "Boy Toy" coach and the rest of the two-time champion Los Angeles Lakers might find Wednesday night at American Airlines Center is the shrinking, scattered mess of a team that's been recently dusted by the Toronto Raptors, the Indiana Pacers, the Memphis Grizzlies and, as of Monday afternoon, the Detroit Pistons.
And people think the Lakers have problems.
"We all own it, myself on down to the other coaches, to every player," Mavs coach Rick Carlisle said after Monday's 103-89 pummeling at The Palace. "This is not what we're about and we've got to remedy it quickly."
At the halfway point of the season, with a once-stellar 24-5 record having faded to a fragile 26-14, a team that prided itself on having one another's back must decide if it has a backbone.
Injuries derailed the joyride. Dirk Nowitzki's return from injury in the last two games has been countered by Tyson Chandler's untimely exit with an illness that has knocked him for a loop. Legitimate excuses for a slide to be sure, but for a team to so thoroughly lose its way?
All four setbacks on the just-completed road trip, and three to teams with losing records, were by double-digit margins. In the last three, San Antonio, Memphis and Detroit all had the Mavs buried by 20 in the third quarter.
"This game is about effort, and we're not giving the effort," said point guard Jason Kidd, whose struggles on the trip -- 5.8 points, 25.8 field goal percentage and 6.8 assists -- punctuated the ongoing offensive impotency.
More on the Mavericks

News, notes and analysis of the Mavericks from ESPNDallas.com's Tim MacMahon, Jean-Jacques Taylor and our team.
Blog » ESPN Dallas »

"There are guys that can come and give that effort so I think everybody has to do a little bit more effort-wise. And the big thing is never to get frustrated because then you start doing things out of the ordinary."
Talk has often hit the right notes, but somber moods and quicker-than-usual locker-room exits have spoken more loudly to the bubbling frustration.
Because out of the ordinary, with or without injuries, are the emotionless starts, the confounding offensive sets and uninspired defense. The Mavs couldn't crack 89 points in the four road losses and hit an embarrassing season-low 70 points at Memphis. They scored fewer than 20 points in eight of the last 16 quarters and coughed up a 30-point quarter in each of the last three games.
The Pistons, among the NBA's lower echelon in scoring and shooting, and with Rip Hamilton benched, got theirs in a 34-point third quarter and piled on 62 second-half points while shooting 57.5 percent -- for the game.
"If you are on a losing streak, you've got to create your own breaks. You've got to jump through three people to get a rebound. You just can't walk in here and then let them shoot 60 percent," said Nowitzki, who scored 32 points Monday in his second game back from a sprained right knee. "There's no way you can win that way. We won by defense earlier in the season.
"Our defense has gone haywire and I don't know what happened."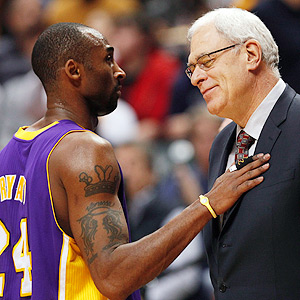 Kamil Krzaczynski/Newspix/Icon SMIThe Mavericks, who were 24-5 at one point, enter the halfway point of the season with a 26-14 mark and face Kobe Bryant, Phil Jackson and the Los Angeles Lakers on Wednesday.
And so the new tally board reads like this: Six consecutive losses for the first time since Nowitzki's rookie season and nine defeats in 11 games. The Mavs sit 8.5 games behind the West-leading Spurs and just one game in front of the sixth-place and re-emerging New Orleans Hornets.
"The good thing is on a losing streak," Nowitzki said, "everybody has got to look in the mirror at themselves first: Am I bringing it all? Am I giving it everything I have for the franchise and for the fans? Hopefully, everybody has to sit on this one and come out strong again on Wednesday."
If not, it could be scary what the Lakers might do, and how the fans might react.
But, backing up from the cliff for a moment, it remains only the halfway point of the season. Nowitzki still isn't moving like he used to or like he will, and presumably Chandler will soon overcome an illness that since Thursday has weakened the club's 7-foot-1 emotional leader, top rebounder and best interior defender.
Perhaps those two elements will be enough to realign the Mavs as quickly as it has all fallen apart.
If not, trade chatter will grow louder and the already heady (and perhaps unrealistic) expectations of the ever-so-slowly healing Rodrigue Beaubois will grow larger.
So the Mavs are at an unexpected crossroads at the halfway point. Do they fight or concede a once-promising season to a cruel twist of fate?
Jeff Caplan covers colleges for ESPNDallas.com.