Commentary
Marion goes above and beyond
Emerging unscathed after alley-oop dunk was good sign in forward's first game back
Updated:
April 13, 2010, 10:41 AM ET
By
Tim MacMahon
| ESPNDallas.com
LOS ANGELES -- Shawn Marion declared himself ready for a test night after missing the previous three games with a strained left oblique.
[+] Enlarge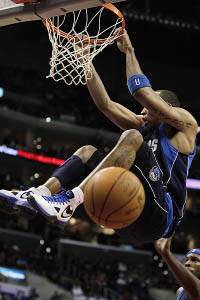 AP Photo/Jae C. HongIn his first action after missing three games with an injury, Shawn Marion was his usual high-flying self.
Jason Kidd took that test to heights that Marion didn't have in mind.
If there was any doubt about Marion's health, it evaporated when he soared to snatch Kidd's lob pass off the glass and finished with a ferocious two-hand slam. That play moments before halftime was the highlight of the Dallas Mavericks' 117-94 win over the lottery-bound Los Angeles Clippers.
"Oh, man," the Matrix said with a shake of his head when asked about the AND1 remix-style play. "I was like, 'Whatcha doing out here, man? What are you trying to have me doing?' But it was all right."
Marion's return was much better than all right. It couldn't have gone much better.
Against a team not exactly known for defense, Marion ran and slashed for 21 points in 26 minutes. He made 9 of 12 shots from the floor, including three dunks, before watching the fourth quarter from the bench with the rest of the starters.
Marion's oblique (better known as a love handle for most of us) was a little sore the few times he took a direct hit, but his movement wasn't restricted at all. That's great news, considering he was last seen failing to get high enough to dunk before missing a breakaway layup in the April 3 loss to the Oklahoma City Thunder.
Coach Rick Carlisle used the term "efficient" to describe Marion's offensive performance, and that's exactly what the Mavs need from a guy who rarely has plays drawn up for him. His buckets come on fast breaks and cuts to the basket, which he excelled at against the Clippers. There were no signs of rust after his eight-day layoff.
"When you have a team that shares the ball like we do, it makes it easier," Marion said after the Mavs matched their season high with 37 assists, including a dozen by Kidd.
Of course, offense wasn't the primary reason the Mavs acquired Marion last summer. He's fulfilled expectations despite exceeding 20 points only three times this season because he's been their best, most versatile defender.
The Mavs are most likely to see the San Antonio Spurs in the first round, although the Portland Trail Blazers are still a possibility. Dallas will need Marion at his best to match up with Manu Ginobili, who missed last season's playoff spanking by the Mavs but has been the Spurs' best player since the All-Star break.
More on the Mavericks

News, notes and analysis of the Mavericks from ESPNDallas.com's Tim MacMahon, Richard Durrett and our team.
Blog » ESPN Dallas »

"We need every healthy body," Dirk Nowitzki said after scoring 25 points in 23 minutes during the Mavs' fourth consecutive win, "and our best defender is ready."
There actually might have been a silver lining to Marion's strained oblique. Maybe his soon-to-be 32-year-old legs benefited from a few games off with the playoffs approaching.
Not that Marion agreed with that theory.
"You saw all that running I was doing?" Marion said, referring to his conditioning work the last week. "What do you mean fresh? Man!"
Could have fooled his point guard.
Tim MacMahon covers the Mavericks for ESPNDallas.com. You can follow him on Twitter or leave a question for his weekly mailbag.
ESPNDallas.com
Joined ESPNDallas.com in September 2009
Covers the Dallas Cowboys and Dallas Mavericks
Appears regularly on ESPN Dallas 103.3 FM