Commentary
Finding a silver lining for Dirk Nowitzki
As the Mavs slip in the standings with their star injured, his MVP candidacy rises
Updated:
January 12, 2011, 12:51 AM ET
By
Tim MacMahon
| ESPNDallas.com
DALLAS -- The past couple of weeks have been miserable for the Dallas Mavericks.
Dirk Nowitzki hasn't even been through a full practice since suffering a sprained right knee Dec. 27 in Oklahoma City. A bad situation turned a lot worse when Caron Butler suffered a season-ending knee injury five nights later.
Looking for a silver lining? Well, Nowitzki's MVP campaign has certainly added credibility during his absence.
[+] Enlarge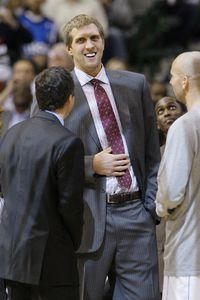 AP Photo/Tony GutierrezDirk Nowitzki's MVP candidacy looks stronger after the Mavs have struggled while he's been in street clothes.
With their perennial All-Star power forward in the lineup, the Mavs were 24-5 and breathing down the San Antonio Spurs' necks for the top spot in the Western Conference standings. They've matched that loss total in seven games with Nowitzki serving as a men's fashion model on the bench.
The fact that the Mavs are mediocre -- and that's maybe too kind -- without Nowitzki is only surprising to those who were delusional or in denial. The fact that he had a league-high 27.0 plus-minus differential before the injury, with the Mavs outscoring opponents by 13.3 points per 48 minutes with him on the floor and getting outscored by 13.7 without him, was a pretty strong predictor of rough times during his recovery.
The good news: Nowitzki, who is averaging an amazingly efficient 24.1 points per game, expects to return at some point during the four-game road trip that begins Wednesday night against the 15-20 Indiana Pacers.
"Right now, we just have to get the big fella healthy and go from there," center Tyson Chandler said. "We can't get too crazy."
Now is not the time to panic. Butler's injury was a major blow, but nothing has happened in this rough stretch that will be considered an acceptable excuse for the Mavericks failing to make a playoff run in the suddenly watered-down West.
The loss of Butler put even more importance on Rodrigue Beaubois making a successful return from the broken foot that has sidelined him all season and finding his rhythm before the postseason.
It's been a frustrating time for the Mavs, as evidenced by coach Rick Carlisle getting kicked out of Saturday night's loss to the Orlando Magic and roughing up a trash can en route from the court to his office. But the Dirk-less stretch hasn't been a disaster.
Sure, it might end up costing the Mavs a spot or two in the standings. They've fallen five games behind the Spurs and were leapfrogged by the Los Angeles Lakers late Tuesday night, falling to third in the West.
More on the Mavericks

News, notes and analysis of the Mavericks from ESPNDallas.com's Tim MacMahon, Jean-Jacques Taylor and our team.
Blog » ESPN Dallas »

But the playoff seed is pretty much meaningless to the Mavs. And that's not because they've failed to make it out of the first round as a No. 1 and No. 2 in the past four seasons. This is a team that, for reasons it hasn't been able to figure out, performs much better on the road than in the familiar confines of the American Airlines Center.
A team that has an NBA-best 12-2 road record has no reason to fear beginning and/or ending a playoff series on the road. With Nowitzki, the Mavs became only the fifth team since the ABA-NBA merger to win 11 of its first 12 games on the road, a run highlighted by victories over a few legitimate contenders (San Antonio, Miami and Orlando).
"We've got to stay positive right now, understanding that we're in a tough period right now," said Carlisle, who has been forced to get a better feel for which lineups work best without Nowitzki. "But we're working to get healthy, and I've got a strong belief in the guys we have available."
It'll be much easier to believe once the MVP candidate is back in the mix. In the meantime, the depleted Mavs will try to win as many games as possible and take it easy on trash cans.
Tim MacMahon covers the Mavericks for ESPNDallas.com.
ESPNDallas.com
Joined ESPNDallas.com in September 2009
Covers the Dallas Cowboys and Dallas Mavericks
Appears regularly on ESPN Dallas 103.3 FM