Commentary
Carlisle focused on task at hand
Coach not using 1986 championship ring as a player as a motivational tactic
Updated:
June 11, 2011, 4:39 PM ET
By
Tim MacMahon
| ESPNDallas.com
DALLAS -- Rick Carlisle never wears the championship ring he earned as a reserve on the 1985-86 Boston Celtics. He rarely even removes the ring from the secure spot where he stores it.
The sweet smile of his 6-year-old daughter, Abby, persuaded the Dallas Mavericks' coach to make a recent exception.
"My daughter asked to see it this year one time, and I showed it to her," Carlisle said. "Then she asked if she could bring it to show-and-tell. So we talked through that."
Abby settled for a miniature replica model of the Boston Garden with a roof that could be removed to see the yellow and orange seats.
[+] Enlarge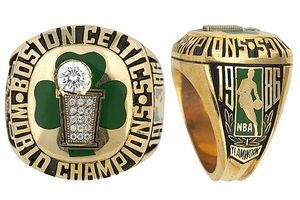 Courtesy of Boston CelticsRick Carlisle earned an NBA championship ring as a reserve with the 1985-86 Boston Celtics.
"That was broken anyway," Carlisle said. "We let her have that."
As fond as Carlisle's memories are of that title run 25 years ago, it's not a subject he finds relevant right now. He's too busy trying to double his championship ring collection, still a realistic possibility with his Mavericks leading the Miami Heat 3-2 in the NBA Finals.
Don't expect to see Carlisle wear his ring as some sort of motivational ploy, a tactic that didn't work for ex-Dallas coach Avery Johnson a few years ago. A team loaded with veterans fighting for their first title isn't interested in show-and-tell.
"I've never seen it, but I don't want to see it," Mavs forward Shawn Marion said of Carlisle's ring. "I want to get my own."
Carlisle hasn't even mentioned his championship to the Mavericks since ex-Celtics star Kevin McHale accepted his old friend's invitation to hang around training camp for a few days.
Even then, Carlisle didn't focus on the result of the '86 playoff run. He used the Celtics, who lost to the Lakers in the Finals in Carlisle's other two years in Boston, as an example of a team that had the mental focus and unselfishness the Mavs would need to make a title run.
NBA CHAMPIONSHIP RINGS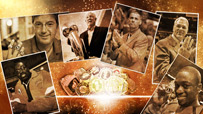 It's all about the ring. Our ESPN Local sites share about past NBA champions.

• Heat Index: Wade's ring revelation »
• ESPN Dallas: Carlisle chases No. 2 »
• ESPN LA: Jackson, lord of the rings »
• ESPN NY: Earl the Pearl and his ring »
• ESPN NY: The Pearl's diamonds


• ESPN Boston: Havlicek has only five? »
• ESPN Chicago: Kukoc's ring stories »
• ESPN Chicago: Kukoc in photos


• Championship rings: Complete chart »
Of course, those Celtics were also loaded with star power. They had five future Hall of Famers: Larry Bird, McHale, Robert Parish, Dennis Johnson and Bill Walton. Mavs sixth man Jason Terry smiled when asked what he knew about Carlisle's role on that team.
"We know he poured a lot of Gatorade and he was pretty much the whuppin' boy for his team," Terry quipped. "Now, that's coming from a great source: Rick himself. He'll be the first one to tell you that he takes no credit for what they did in the Finals. But he said it was a great experience."
Carlisle, a third-round pick who was in his second NBA season, didn't just wave towels and warm the bench to earn his five-figure salary.
A 6-foot-5 guard, Carlisle averaged 2.6 points, 1.4 assists and 1.0 rebound in 9.9 minutes while playing in 77 games in the regular season. His role was reduced in the playoffs, when he had a total of 19 points, 8 assists and 5 rebounds in 54 minutes.
"In terms of my career, I played more games and more minutes that year than any other year. So I was proud of that," Carlisle said when asked about his personal memories from that season. "Beyond that, it was really about the fact that we were able to win it.
"But that's over. I'm moving on to now and what's ahead of us here."
RING COLLECTING
Rick Carlisle has the potential to become the 11th person to win an NBA title as a player and as a coach. The 10 who have already done it are listed below. Carlisle won a title as a player with the '86 Celtics.
Name
Billy Cunningham
Tom Heinsohn
Red Holzman
Phil Jackson
Buddy Jeannette
K.C. Jones
Pat Riley
Bill Russell
George Senesky
Bill Sharman
Carlisle's stint in Boston -- and the strong relationship he built with Bird -- played an indirect role in getting him here. Bird and Carlisle remain close friends, with Carlisle noting that his buddy was "particularly active on the texting" during the Mavs' Western Conference semifinals sweep of the Lakers.
Carlisle's coaching career started the day his playing career ended, when then New Jersey Nets coach Bill Fitch released him as a player and hired him as an assistant coach/scout in the same conversation early in the 1989-90 season. But Carlisle got his big break from Bird, who hired him to run the Indiana Pacers' offense during the NBA legend's three seasons as a head coach.
That led to the Detroit Pistons' giving Carlisle his first head-coaching job in 2001-02 and to Carlisle returning to Indiana as the head coach two seasons later. After guiding the Pistons and Pacers to the Eastern Conference finals, Carlisle finally made the NBA Finals in his third season in Dallas.
"Rick's one of our better coaches," Bird said. "When we coached together, Rick was really the brains behind it. I gave him a lot of responsibility, and he did a lot for us -- that was his life. I have the utmost respect for Rick as a coach."
The Mavs also have the utmost respect for Carlisle as a coach, if not for his contributions to the Celtics' title team in '86.
"He's like, 'That wasn't a championship for me,'" Terry said. "Winning it this year would be a championship for him."
Who knows? Carlisle might even wear this ring.
Check out NBA championship ring stories
Dwyane Wade
|
Rick Carlisle
|
John Havlicek
|
Phil Jackson
|
Toni Kukoc
|
Earl Monroe
|
Chart
Tim MacMahon covers the Mavericks for ESPNDallas.com.
ESPNDallas.com
Joined ESPNDallas.com in September 2009
Covers the Dallas Cowboys and Dallas Mavericks
Appears regularly on ESPN Dallas 103.3 FM
2011 NBA FINALS: MAVERICKS BEAT HEAT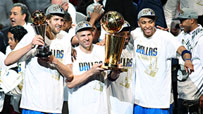 The Mavericks are world champions!
Mavs Playoff Center | Mavericks Blog
Heat Index | TrueHoop | Playoffs


Mavs win best-of-7 series, 4-2