Commentary
ESPNDallas.com grades the Mavs
The seasons over, and here's Jeff Caplan's take on the 2010 Dallas Mavericks
Originally Published:
April 23, 2010
By
Jeff Caplan
| ESPNDallas.com
Jeff Caplan breaks down the roster of the Dallas Mavericks, who were eliminated in six games by the San Antonio Spurs in the first round of the NBA playoffs:
Dallas Mavericks 2010 Report Card
| | | |
| --- | --- | --- |
| | ($21.5 million next season, early termination option) - The face of the franchise put together another sensational season, averaging 25.0 points and 7.7 rebounds, which was actually the first time Nowitzki's rebounds dipped below 8.0 a game since the 1999-2000 season. Once again, Nowitzki, who will probably be first-team All-NBA, had to carry the scoring load the majority of the time, and that included the playoff series against the San Antonio Spurs in which he averaged 26.7 points and 8.2 rebounds. Most disappointing was the Game 4 meltdown in which Nowitzki had three turnovers, plus his awful first half in Game 6. He put the team on his shoulders in the second half, finishing with 33 points, but it wasn't enough to stave off another first-round exit, his third in four years. | |
| | ($17 million through 2011-12) - After the All-Star break, Kidd put together a remarkable stretch of games that easily qualified as his best basketball since returning to the Mavericks in February 2008. His scoring was up to about 12 points a game, a significant help on a team that doesn't always get much scoring punch from its starting lineup outside of Nowitzki. Kidd finished the season averaging 10.1 points and 9.1 assists, while shooting a career-high 42.5 percent from 3-point range. Of concern, however, was the 36.0 minutes he averaged at 37 years of age. It might have caught up to him in the playoffs, where his play suffered. Kidd averaged 8.0 points and 7.0 assists and shot 30 percent in the six-game playoff loss to the Spurs, a major disappointment for a team of veterans. | |
| | ($32.7 million through 2013-14) - Expectations coming in weren't high because Marion's offensive production dipped the last two seasons as he bounced around since being traded away from Steve Nash in Phoenix. The hope was he'd find a groove in Dallas in a free-flow offense in the hands of Jason Kidd. Marion's offensive game never really took off. He averaged 12.0 points a game -- not great for a starting small forward -- but he did excel as the team's defensive stopper. That is, until the postseason, where coach Rick Carlisle chopped Marion's minutes and often failed to move the Matrix over to guard George Hill when the Spurs guard was tearing up Kidd in Game 4. | |
| | ($10.8 million through next season) - Butler, acquired in the big Josh Howard trade, was supposed to bring toughness to a finesse team. He got off to a rocky shooting start but gradually picked up his game as the season moved along, averaging 15.2 points and 5.4 rebounds in 27 regular-season games with the Mavs. The playoffs were a mixed bag. In the early part of the San Antonio series, Butler took a lot of jumpers, converting on about 38 percent. Rick Carlisle was so displeased at his volume shooting and lazy defense that he benched Butler for the entire second half of the Game 3 loss. Butler bounced back from that setback and scored a career playoff-best 35 in Game 5 and 25 in Game 6. Butler's expiring contract makes it attractive in a trade package, especially if the Mavs are ready to insert Roddy Beaubois into the starting lineup. | |
| | ($13.1 million non-guaranteed for next season) - The team's long-overpaid center finally comes off the books. Dampier finished about 900 minutes shy of meeting the incentive of playing 2,100 minutes in 2009-10 to guarantee his contract. The Mavs are hopeful of packaging Dampier's contract to attract a big-name free agent. That doesn't mean Dampier won't be back. Dampier will be waived by the team that trades for him, providing it with instant financial relief, and he will be free to sign with the Mavs at a drastically reduced price. Dampier averaged 6.0 points and 7.3 rebounds. He remains a solid screen-setter and rebounder, but he is limited on the offensive end, which is nothing new -- only more pronounced. He did not have a single field goal in the San Antonio series. | |
| | ($21.5 million through 2011-12, second year not guaranteed) - Terry, coming off a Sixth Man of the Year award in 2009, failed to match his production of a year ago, when he averaged nearly 20 points a game. He didn't have a terrible year, averaging 16.6 points a game but on just 43.8 percent shooting from the floor. Terry did hit on 36.5 percent of his 3-point shots, but that didn't impress the NBA enough to put him in the 3-Point Shootout during All-Star Weekend at American Airlines Center. Terry missed two weeks with a broken orbital bone but returned sooner than expected, which is nothing new for Terry. He was most disappointed with a second consecutive playoff flop. He shot just 37.7 percent in the series and in Game 6, he finished with just two points. | |
| | ($1.7 team option for next season) - Barea tends to take a lot of grief from fans because of his size and his penchant for dribbling the air out of the basketball. But that's also how he finds slits in the defense to slide through and get off one of his patented high-banking scoop shots. Barea averaged 7.6 points and nearly 20 minutes a game in his fourth season, and there's no one on the team who plays with more heart and determination. He's often been used as part of a three-guard lineup that Rick Carlisle routinely used to add a spark. He is being passed up by smooth rookie Roddy Beaubois, whom the team sees as its point guard of the future and possibly starting shooting guard next season. The Mavs will almost assuredly pick up the cheap option year, which would make Barea an attractive trade piece if they feel he's no longer needed in the backcourt. | |
| | (Unrestricted free agent July 1) - Few players make the kind of instant impact that Haywood did. Because Erick Dampier got hurt in Haywood's first game with the team, the new acquisition immediately jumped into the starting lineup. He quickly produced double-doubles and excited a fan base not used to a dominant inside presence. It wouldn't last all that long. Rick Carlisle took issue with Haywood, especially on defense, and reverted to Dampier as the starter. Haywood's response to the first time Carlisle flopped his centers? "I just work here," not the kind of response a coach wants to hear. The Mavs will study the kind of interest Haywood draws from around the league while monitoring other possibilities before considering bringing him back into the fold. | |
| | ($1.2 million next season with team options the following two seasons) - What more can be said about the exciting rookie from Guadeloupe? Every time he got a chance to play, he impressed. Rick Carlisle kept him on a tight leash and played him only sparingly, mostly against poor teams. His ability to slash through the lane, glide to the basket and make 3-point buckets made him a fan favorite complete with a "Free Roddy B" campaign. When he finally got his shot in the playoffs, he entered a desperate situation in Game 6 and instantly lit a spark under the team as he had done several times in the regular season. He finished Game 6 with 16 points in 21 minutes. The plan is to bring him along as a combo guard, much like San Antonio's George Hill. Beaubois could possibly be the team's starting shooting guard next season while being groomed to be Jason Kidd's successor. | |
| | ($3 million non-guaranteed for next season) - The Mavs reacquired the physical power forward in what was actually a cost-cutting move. He's a great locker-room guy and certainly serves a purpose, as the Spurs found out a couple of times in the series. The downside is that Najera seems to always be dealing with nagging injuries, particularly with his lower back. The Mavs can bring him back at the veteran's minimum and benefit from a top-notch hustler. | |
| | ($4.2 million player option for next season) - You can pretty much guarantee that Stevenson will be back next season. Where else can he sign and make a cool $4.2 million? He was the third wheel in the trade that netted Caron Butler and Brendan Haywood, and he spent the majority of his time seated on the bench. Stevenson drew a couple of defensive assignments when Butler was out, but otherwise his role was limited, and it would seem that won't change next season. | |
| | ($14.4 million through 2012-13) - It's hard to give such a harsh grade to such a nice guy. But at the salary he's drawing, Carroll should be able to get on the court. He was once a deadeye shooter, and that's what the Mavs wanted when they acquired him in a trade with Charlotte. While his contract is not his fault -- who wouldn't sign it if offered? -- he's taking up a roster spot for the next three seasons. If garbage time is his only chance to play now, why would that change? | |
GONE FISHING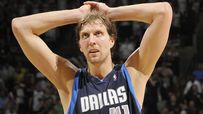 The Mavericks ended their 10th straight season of 50 or more wins with a first-round playoff exit against the Spurs.
Breakdown »
|
Blog »
NEWS / BLOGS / COLUMNS
AUDIO / VIDEO